The rice cakes in this stir fried rice cake recipe is made from rice flour rather than rice grains. This is different from my shrimp with sizzling rice recipe that uses a different kind of rice cake. This is another traditional Chinese New Year dish. The name for this dish is "Shanghai chao nian gao" literally Shanghainese style fried sticky cake. The homophone for "nian" is year and "gao" is high; therefore wishing you to go higher every year!
I cook this dish regularly as it's another one dish meal with veggies, protein and carb in one delicious bowl. My girls like the chewy, soft texture of the rice cakes together with the abundance of vegetables and tasty morsels of meat. It's easy to make when you know the tips and tricks for cooking these rice cakes.
Tips for making stir fry rice cakes.
Rice cakes / ovaletts.
These rice cakes are usually found in the refrigerated section in Asian markets. Unused rice cakes can be frozen. This stir fried rice cake recipe is very different from most due to the proportions of veggies and carb. The proportion of veggies to rice cake is 2:1. The rice cakes do not require soaking as the recipe uses a large quantity of vegetable relative to the rice cake. The cakes cook in the "juice" released by the vegetables. The small proportion of rice cakes also helps keep the rice cakes separated rather than sticking together which frequently happens when there is not enough liquid! If you are using frozen rice cakes, defrost them by either emersing them in water (quick method) or letting them come to room temperature.
You may be tempted to double the quantity of rice cakes with this recipe. The downside may be uncooked, hard rice cakes. If you want to add more rice cakes with the same amount of vegetables, I would suggest soaking the rice cakes in water (preferably chicken broth) for several hours before adding it to the dish. In that way, this will ensure that they are all uniformally cooked and softened. I don't suggest food prepping this dish for several meals, because there is a marked decline in the quality of rice cakes leftovers over time!
So, if you are making this for the first time, I would recommend sticking to the recipe before getting too creative!
Vegetarian - tofu.
This dish can either be made with tofu as a vegetarian alternative. It is better to use the preserved tofu or dried bean curd as shown below, because it holds up better in the dish. Also, according to an article, dried bean curd should be used for Chinese New Year, because it stands for happiness. The white color of fresh tofu signifies misfortune in Chinese culture.
Vegetables.
The base vegetables for this dish are Chinese napa cabbage, bamboo strips and dried shitake mushrooms. The Chinese napa cabbage is a must and a good amount is needed as the "juice" from the napa creates the broth in which the rice cakes will soften and cook. It is preferable to use the bamboo strips rather than the bamboo shoots, but this is purely for aesthetic reasons. You can always cut the shoots into strips if you want. This gives the dish some crunch! Rehydrate the rinsed, dried shitake mushrooms with a little water and soy sauce. Rehydrating the shitakes in this mixture enhances the mushroom's umami flavor! Do not throw this mixture away. You can add it to the vegetables if you do not have enough liquid or if you prefer your rice cakes with more sauce.
Meat.
Thin stips of meat is usually served with this dish, but you can also use ground meat. I like marinating the meat before stir-frying so that you get tasty morsels scattered throughout the dish! If you are using strips of meat, it is best to remove the meat before cooking the vegetables to avoid overcooking the meat. It is not that imperative with ground meat!
Flavorings.
Dark soy sauce adds some color to the rice cakes, but there is not much difference in the taste. It is purely for aesthetic reasons.
Equipment.
A wok is ideal for this dish. The meat and vegetables are stir-fried first. You can then push the mixture to the side of the wok which allows the vegetable juices to run down the side and the rice cakes to cook and soak up the vegetable juices at the bottom. If you don't have a wok, you can cook the meat and vegetables in the pan first, remove the mixture with a slotted spoon and then cook the rice cakes in the leftover juice.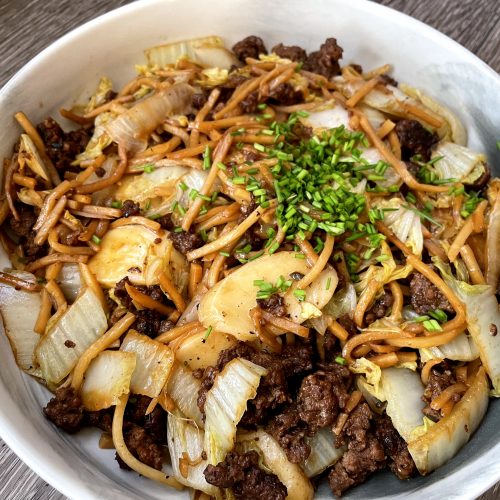 STIR FRY RICE CAKES
Stir fry rice cakes made of rice flour. These tender ovaletts are stir fried with veggies and a protein to make an all-in-one complete meal.
Ingredients
250

grams

rice cakes /ovaletts

2

Tbsp

cooking oil.

360

grams

napa cabbage

142

grams

bamboo shoot strips

1 small can

1

tsp

oyster sauce / light soy sauce

1

Tbsp

fresh minced garlic

about 3 cloves

chopped scallions

for garnish
Shitake mushroom soaking solution
Instructions
Soak Shitake Mushrooms
Soak rinsed mushrooms in boiling water and soy sauce for at least an hour to soften. Do not throw away mixture. (You MAY need this to cook the rice cakes or for more sauce.)
Marinate meat
Combine meat with marinade ingredients and let marinate for at least an hour.
Prepare Vegetables / Tofu
Slice tofu into strips. (If using as a meat alternative.)

Slice Chinese napa cabbage into 1 " (2.5cm) strips.

Slice softened shitake mushrooms into thin strips.

If your bamboo shoots are large, cut into thin strips.
Stir fry meat
Preheat pan and add 1 Tbsp oil.

Saute garlic until golden.

Add marinated meat strips. Do not throw away marinade. Remove from wok when 80% cooked to avoid being overcooked.

If using ground meat, add marinated ground meat and stir to break up the pieces. You do not have to remove cooked GROUND meat.
Stir fry vegetables
Add shitake mushrooms and stir fry until 80% cooked.

Add bamboo shoots, napa cabbage.

Add the oyster sauce / light soy sauce and any leftover meat marinade.

Stir fry until the juice from the cabbage is released.

Move the vegetables to the side of the wok or remove the vegetables with a slotted spoon when using a frying pan, leaving the vegetable juice in the wok / pan. See video

Add the rice cakes / ovaletts to the vegetable juice, stir, cover and allow it to cook until soft. If you have insufficient liquid to cook the rice cakes, add the mushrshoom mixture. The end product should be somewhat dry so the rice cakes should soak up the juice.

Incorporate the vegetables into the cooked rice cakes.

Season with extra soy sauce if needed.

Place on a serving plate, garnish with chopped scallion and serve.
Nutrition
Serving:
4
g
Calories:
350
kcal
Carbohydrates:
61
g
Protein:
8
g
Fat:
9
g
Saturated Fat:
1
g
Trans Fat:
1
g
Cholesterol:
1
mg
Sodium:
212
mg
Potassium:
533
mg
Fiber:
5
g
Sugar:
3
g
Vitamin A:
291
IU
Vitamin C:
26
mg
Calcium:
85
mg
Iron:
2
mg
Tried this recipe?
Let me know how it was or if you have any questions or suggestions!