I'm not a big "pasta" or carb eater after being diagnosed with prediabetes, but I will make and enjoy "dumplings" every so often. I actually enjoy the art of dumpling making and believe me, it is an art! These pumpkin / squash tortellini are a great way to repurpose pumpkin / squash during the Fall season when pumpkins and squash that were purchased for ornamental reasons, usually get discarded.
Last year, I did an externship at a Fusion restaurant in New York City. One day, one of the kitchen prep people called out sick. My "job" was to make beef tortellini since I knew how to wrap basic dumplings. 400 tortellini later, I can claim tortellini wrapping proficiency. I was even able to "eyeball" the amount of filling without weighing it and come within 1 gram of the required weight! What I learned from the experience is that any filling, together with some "themed" vegetables can make a nice cohesive dish. For example, these squash tortellini are great when accompanied with sauteed zucchini, parsnips and multi-colored carrots, making it a colorful, fall dish.
Tips for making pumpkin / squash tortellini
Pumpkin / squash
The pumpkin / squash, when cooked, should be fairly dry. Excessive moisture will make the filling difficult to work with. Either bake or microwave the pumpkin / squash. DO NOT boil it. Cube the pumpkin / squash for faster cooking.
When the filling is warm, the butter and mascarpone cheese will have melted, making the filling very viscous. Allow the mixture to cool, preferably overnight, until it has firmed up and it no longer sticks to your fingers when touching it.
Food processor or blender?
The smoothness of the mixture will be very dependent on the power of the food processor or blender. More powerful blenders like the Vitamix will be able to blend the pumpkin into a smooth puree consistency. The puree from the food processors will be more granular. This really just affects the mouthfeel.
Mushroom bouillon or salt?
Mushroom bouillon is absolutely amazing! It provides a savory umami and is now my go-to salt replacement. It just provides a rounded salty umami balance that also brings out the flavor of the item, almost like a natural flavor enhancer. I highly recommend buying some mushroom bouillon and using it in place of salt, especially when sautéing vegetables!
Dumpling wrappers.
If you go to an Asian grocery store, there is a wide variety of dumpling wrappers. There are square wrappers and oblong / round wrappers. They used to make wrappers out of egg. I have not been able to find them though. It would be preferable if you can find wrappers made of egg, but the thickness is more important.
For tortellini, you want to find the THICKEST wrappers. Most dumpling wrappers come fairly tightly sealed. If you can "fan" out the stacked wrappers, you will be able to see the thickness of the wrapper. Wonton wrappers or Hong Kong style wrappers are usually thinner than gyoza or pot sticker wrappers and should be avoided. However, if you do use thin dumpling wrappers, just be careful when boiling the tortellini as they have a tendency to rip and fall apart.
Caramelizing sage leaves.
Make sure that the sage leaves are clean and dried with a paper towel. Sauté the leaves in the butter until crisp. Add salt, let cool on a plate until serving.
Folding pumpkin / squash tortellini.
Garnish.
Garnish your tortellinis with crisp sage leaves, freshly grated parmesan cheese and fresh ground pepper.
Storing.
This recipe will make approximately 28 tortellinis. They can be easily frozen and used later. Lay them on a baking tray, making sure they do not touch and place them in the freezer until frozen. Transfer to a freezer bag for storage.
Enjoy making these morsels of deliciousness. If you made these pumpkin tortellini, let me know what you think in the comment section.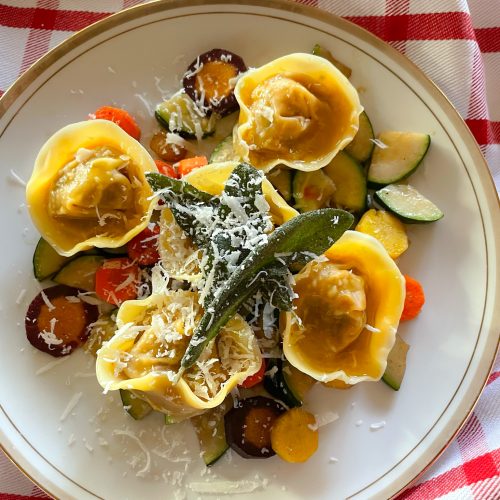 PUMPKIN / SQUASH TORTELLINI
An easy and creative way to re-purpose Halloween squash and pumpkins with the help of dumpling wrappers, mascarpone cheese and some herbs and spices!
Equipment
Food processor or blender
Ingredients
Sage brown butter for 12 raviolis
4

Tbsp

sweet butter

1/16

tsp

sea salt

a pinch

8

fresh sage leaves

depending on size

4

Tbsp

water from boiled tortellini

parmesan for grating

bittersweet chocolate for grating
Instructions
Squash filling using oven
Place cubed squash on a foil on a baking tray. Sprinkle 2 Tbsp brown sugar, 2 Tbsp of butter, salt and pepper.

745 grams cubed squash or pumpkin,

3 Tbsp dark brown sugar,

1 tsp sea salt,

3 Tbsp unsalted butter,

½ tsp fresh ground pepper

Bake for 40 minutes until squash looks soft.
Squash filling using microwave
Place cubes squash in a microwave-safe bowl.

Sprinkle 2 Tbsp brown sugar, 2 Tbsp of butter, salt and pepper onto squash

Microwave on high for 10 minutes or until soft.
Squash filling
Add remaining brown sugar, butter, balsamic vinegar, mascarpone, parmesan, cinnamon and nutmeg.

½ cup mascarpone cheese,

½ tsp ground cinnamon,

½ tsp freshly grated nutmeg,

1 Tbsp balsamic vinegar,

2 Tbsp grated parmesan cheese,

1 tsp mushroom bouillon

Place squash in food processor and puree squash until smooth.

Season to taste with additional salt and pepper if necessary. Mix well. Cover and refrigerate for 4 hours. Can be made 2 days in advance.

Puree squash until smooth. Squash should feel like mashed potato. If it's too wet, place it back in the oven to dry.

Boil tortellinis in lightly salted water until tender, about 2-3 minutes.
Sage Brown Butter
While tortellinis are boiling, melt butter in a large skillet with a pinch of salt.

4 Tbsp sweet butter,

1/16 tsp sea salt

Place tortellinis into melted butter and transfer to a serving platter or individual dishes.

Add the water from the boiled tortellinis to the skillet and swirl with residual butter.

4 Tbsp water from boiled tortellini
Video
Notes
This recipe makes about 28 tortellinis.   5-6 raviolis per serving.  Freeze uncooked tortellinis for future use.
Nutrition
Serving:
6
pieces
Calories:
105
kcal
Carbohydrates:
13
g
Protein:
2
g
Fat:
5
g
Saturated Fat:
3
g
Polyunsaturated Fat:
0.2
g
Monounsaturated Fat:
1
g
Trans Fat:
0.1
g
Cholesterol:
13
mg
Sodium:
232
mg
Potassium:
108
mg
Fiber:
0.5
g
Sugar:
2
g
Vitamin A:
2414
IU
Vitamin C:
2
mg
Calcium:
25
mg
Iron:
1
mg
Net Carbohydrates:
12
g
Tried this recipe?
Let me know how it was or if you have any questions or suggestions!