Black forest chocolate cake is one of my favorite cakes. It reminds me of the days growing up in South Africa. On set evenings, my family would go to the Fontana supermarket in Hillbrow and buy a black forest chocolate cake. I like this particular cake because it's not sweet. The cherry filling is tart with a hint of cherry liqueur and the chocolate shavings adds just the right amount of sweetness to the cake.
In doing research about the history of the black forest Chocolate cake, this cake was not invented in the Black Forest of Germany. However, the Schwarzwalder Kirsch(wasser) or cherry brandy that's traditionally used in the cake is from that region.
I make this black forest chocolate cake on special occasions which is now my brother's birthday every year! Over the years, I've been experimenting with the type of chocolate cake to use with this black forest chocolate cake. This particular cake recipe not only tastes good, but also holds up when trying to make a layered cake. It is also light but has enough structure to absorb the moisture from the cherry filling and cream without becoming a mushy sponge. Greek yoghurt is used in place of sour cream, making it a healthier and less caloric version of this cake! This is a tall cake so thinner slices are highly recommended.
Tips for making Black Forest Chocolate Cake
Making it "healthy" with yoghurt.
Although black forest chocolate cake is more indulgent than healthy, I feel less guilty substituting with healthier ingredients if it doesn't compromise the taste and overall outcome. For this recipe, instead of sourcream which has more calories, 2% Greek yoghurt is used. Regular yoghurt has more moisture than Greek yoghurt and will affect the outcome as the liquid content will be higher. Sour cream can be substituted for Greek yoghurt, but it has more calories!
Chocolate chips.
Use UNSWEETENED chocolate chips with absolutely NO SUGAR ADDED otherwise this cake will be too sweet. Be careful not to buy chocolate chips that use artificial sweetener and claim "NO SUGAR ADDED". If in doubt, look at the ingredient list. There should be no artificial sweetener listed.
Coffee.
This recipe calls for hot coffee. Coffee intensifies the chocolate flavor. Caffeine free coffee or boiling water can be used. The coffee or water needs to be boiling when added to the batter to dissolve the sugar better.
Cherries.
This recipe calls for the tart or Montmorency cherries. Tart cherries can be found canned, bottled and frozen. Any of these forms will work. If using frozen cherries, use pure tart cherry juice for the filling. Tart cherries have wonderful health benefits. It is worth paying a little extra for the tart cherry juice that is not made from concentrate.
Marinating the cherries in the kirsch (cherry brandy) can be done ahead of time if needed.
Whipped cream.
This black forest chocolate cake uses whipped cream rather than frosting. Whipped cream has a tendency to deflate with time. To stabilize the whipping cream, confectioner's sugar or powdered sugar, which contains cornstarch, is used.
Chocolate shavings.
Chocolate shavings can be made various ways. Large chocolate "shards" can be made by applying a layer of melted chocolate to parchment paper and rolling up the parchment paper. When cooled and hardened, unroll the parchment paper to break the chocolate into shards.
The other easier way to obtain chocolate shavings is to use a THICK bar of chocolate that won't break easily. Using a handtowel to insulate the chocolate from the heat of your hands, user a vegetable peeler to grate the chocolate.
Baking tips
Do not use springform pans, unless they don't leak. The cake batter is thin and may leak if the springform pan does not have a tight seal.
It is important to line the pans with parchment paper. This helps release the cakes from the pans easily without them pulling apart and sticking to the pan. Trust me on this!
When melting the chocolate, ensure that the steam will not get into the chocolate, causing the chocolate to seize and become granular, rather than smooth and runny.
Like many cake batters, ingredients are added at various times. If using a Kitchenaid stand mixer, I recommend using a pouring shield. I never use my Kitchenaid without it. It allows you to add ingredients while the machine is running with minimal mess!
After adding the eggs, make sure you beat the batter until light and fluffy. This will take about five minutes. This allows the cake to rise and be light and voluminous.
When decorating the cake, use the flat, smooth cake disc that was on the base of the cake pan as the top of the cake. This will allow the cake to be uniform and perfectly flat.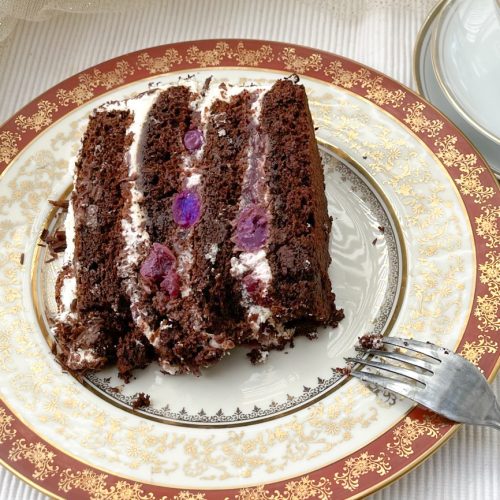 BLACK FOREST CHOCOLATE CAKE
A four layer traditional German supermoist chocolate cake with whipped cream and sour cherry with kirsch filling.
Ingredients
270

g

cake flour or all purpose flour

2

tsp

baking soda

½

tsp

sea salt

113

g

unsalted butter

480

g

brown sugar

3

large

eggs

1

tsp

pure vanilla extract

240

grams

2% Greek yoghurt

substitute with sour cream

1

cup

hot coffee

decaf or regular
Filling
700

g

Sour pitted cherries in water or light syrup

Can be canned, bottled or frozen. If using frozen cherries, use 1½ cups of sour cherry juice for the filling.

9

whole cherries

Remove 9 whole cherries for decoration.

2

Tbsp

cherry juice

for cornstarch slurry from separated cherries or sour cherry juice.

1½

cup

cherry juice

for cherry filling from separated cherries or sour cherry juice.

2

tsp

corn starch

2-4

Tbsp

kirsch or liquer of your choice
Instructions
Chocolate Cake
Preheat the oven to 350° fahrenheit (177° celcius)

Line 2 9" pans with parchment paper to prevent the cakes from sticking to the bottom of the pans.

Sift dry ingredients together to ensure that all the soda and salt are uniformally distributed.

270 g cake flour or all purpose flour,

2 tsp baking soda,

½ tsp sea salt

Melt unsweetened chocolate chips in a double boiler, stirring occasionally and watching carefully so that it does not burn. Remove when melted.

180 g UNSWEETENED chocolate chips

With an electric or stand mixer, beat the butter and sugar until well combined.

113 g unsalted butter,

480 g brown sugar

Add the eggs, one at a time.

Beat at high speed for 5 minutes until light and fluffy.

Lower speed and add the vanilla and melted chocolate until combined.

1 tsp pure vanilla extract,

180 g UNSWEETENED chocolate chips

Stir in the dry ingredients and sour cream, alternating between the two until combined.

240 grams 2% Greek yoghurt

Stir in the hot coffee and mix until combined. Batter will be thin.

Immediately pour equal amounts of batter into the prepared cake pans.

Tap the cake pans to ensure that the surface is level and the cakes will bake evenly.

Bake for 25-32 minutes until done. Cake should be domed with a few cracks. Be careful not to overbake!

Cool completely before decorating. Prepare cherry filling and cream while cooling.
Cherry Filling
Separate the juice from the cherries, placing cherry juice into a small saucepan.

700 g Sour pitted cherries in water or light syrup

Remove 9 plump whole cherries for topping.

Remove 2 TBSP of cherry juice and place in small bowl. Pour remaing juice into small saucepan.

2 Tbsp cherry juice,

1½ cup cherry juice

Combine the 2TBSP cherry juice in small bowl with 2 tsp of cornstarch to make a slurry.

Over medium heat, bring the cherry juice to a simmer. Stir the slurry and pour into saucepan, stirring constantly until thickened.

Remove from heat and pour the thickened cherry filling over the tart cherries.

Add the kirsch or liqueur of your choice. Allow to cool and thicken.

2-4 Tbsp kirsch or liquer of your choice
Cream
In a stand mixer, beat whipping cream

Add vanilla and POWDERED sugar.

1½ tsp pure vanilla extract,

3 Tbsp powdered sugar

Whip until cream reaches stiff peaks.
Chocolate Shavings
Use a peeler, shave chocolate, insulating the chocolate from melting by holding a towel around the chocolate bar.

115 grams Dark chocolate bar for shavings
Assembling cake
When cakes are cooled, remove from pans.

Remove parchment paper and slice each cake in half, creating 4 even discs.

Add cream and ⅓ cherry mixture for each layer. (3 layers with filling)

3 cups whipping cream,

700 g Sour pitted cherries in water or light syrup

The top-most cake layer should be a flat bottom layer. This will make the cake appear more uniform and aesthetically more pleasing.

To decorate the outside of the cake, create a crumb coat by spreading a thin layer of cream over the entire cake to hold all the crumbs.

If time permits, allow the cake to rest before adding the final coat.

Place cake on pedestal stand on baking tray when applying chocolate shavings.

Decorate with chocolate shavings and whole cherries. (Pipe rosettes on top of cake before adding the cherries if desired!)

115 grams Dark chocolate bar for shavings,

9 whole cherries
Video
Nutrition
Serving:
16
servings
Calories:
597
kcal
Carbohydrates:
78
g
Protein:
7
g
Fat:
30
g
Saturated Fat:
18
g
Polyunsaturated Fat:
1
g
Monounsaturated Fat:
7
g
Trans Fat:
0.2
g
Cholesterol:
102
mg
Sodium:
261
mg
Potassium:
215
mg
Fiber:
2
g
Sugar:
44
g
Vitamin A:
1212
IU
Vitamin C:
1
mg
Calcium:
92
mg
Iron:
3
mg
Net Carbohydrates:
76
g
Tried this recipe?
Let me know how it was or if you have any questions or suggestions!