My happy place, if it's not in nature is in the kitchen, anyone's kitchen! I could spend hours baking or cooking when I'm in the mood and I love making things from scratch if the end product is worth the time and effort. These easy Chinese egg tarts are one recipe that making it from scratch is just not worth it! I love Hong Kong egg tarts or dan tart. On a vacation to Hong Kong one year, my goal was to sample as many bakeries that sold egg tarts to determine which one had the best. My family was so annoyed with me as we'd cross streets several times to visit the various bakeries. I even bought 2 dozen egg tarts at the airport and brought them home in my hand luggage!
From my personal egg tart research, I realized that there were two distinct egg tarts. Despite the close proximity of Hong Kong, previously colonized by the British and Macau, a previous Portuguese colony, the egg tarts today are influenced by this history. Portuguese egg tarts tend to be sweeter than the Hong Kong version, the egg custard is caramelized (browned on the top, probably due to the higher sugar content) and made with a flaky pastry. The British influenced egg tarts in Hong Kong are less sweet and made with a short crust, crumbly pastry like the English shortbread.
Tips for making easy Chinese egg tarts.
Easy pastry for Chinese egg tarts.
Pastry from scratch is very time consuming, especially laminated dough that requires refrigeration between rolling. (This is different from sourdough bulk fermentation where the end-product's health benefits justifies the slow process.) As a result, I prefer to buy ready-made, egg tart pastry which saves time and the results are better than if you made them from scratch, especially when egg tart making is an occasional endeavor and not a professional occupation. I would have preferred that these tart shells were made of butter rather than margarine, but no one produces that yet!
I tried cutting and making the tart shells from ready-made, all-butter pastry sheets, and it was a disaster. The shells weren't uniform and as a result, the dough was undercooked while the egg was overcooked and they looked awful!
So, for these easy Chinese egg tarts, purchase the frozen pastry shells that are specifically made for the Chinese egg tarts. Both the Hong Kong and the Portuguese egg tart shells are available in the frozen section of an Asian grocery store. In a side-by-side test, there is hardly a difference between the two egg tart shells. Both seem to come out flaky.
Filling for easy egg tarts.
I've experimented with the egg custard filling, using milk and water to dilute the evaporated milk, egg mixture. The taste difference is ever so slight. In a blind test, the mixture made with water was preferred than the mixture made with milk. The milk mixture tended to create small bubbles on the surface of the custard while the water mixture was very smooth. The texture of the water mixture also tended to be smoother than the texture of the milk mixture. The tarts made with milk tended to be slightly sweeter than those made with water. So, if you want more calcium in your egg tarts, use milk. Otherwise, water is just as good.
Making smooth and silky custard.
The key to smooth and silky custard is to make sure that the sugar in the mixture is completely dissolved and the egg mixture is well combined with egg bits. To achieve a smooth consistency, pour the mixture through a fine mesh sieve to remove any stringy egg that will affect the silkiness of the custard. It also helps to allow the egg mixture to rest to dissolve all the sugar and get rid of the air bubbles.
Filling the egg custard shells.
Pour the egg mixture into a pourable container and quickly pour the mixture into the individual tart shells until it's about 80% full, allowing room for expansion. Carefully place it into the preheated oven to bake.
Preventing underbaked shells.
Part of the challenge is to cook the pastry shells quickly so that they won't be underbaked. To achieve this, heat the baking tray while preheating the oven. This will allow the baking tray to reach the temperature faster when the pastry shells are placed onto the tray. It also helps to use a hot oven so preheat the oven to 400
Storing and reheating easy Chinese egg tarts.
Since the egg custard mixture will keep in the refrigerator, I highly recommend to keep the pastry shells raw and frozen and just make fresh Chinese egg tarts as needed. If you have extra baked egg tarts, store them in the refrigerator. Reheat these egg tarts by placing them on a baking tray without the foil in a toaster oven. This will allow the outer shell to crisp. Enjoy and hope this recipe helped in making it easier and tasting just like the pros!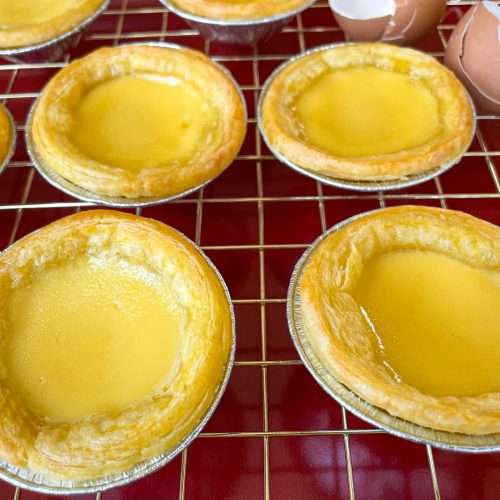 EASY CHINESE EGG CUSTARD TARTS
Easy Chinese Egg custard tarts made with frozen pre-made dough. The custard is silky smooth and the tart is delicious with the perfect crust. It's SO easy to make!
Ingredients
½

cup

warm water

warm milk can be substituted

¼

cup

evaporated whole milk

¼

cup

sugar

2

large

eggs

2

large

egg yolks

1

tsp

vanilla extract

¼

tsp

sea salt

1

package

frozen egg tart shells
Instructions
Preheat oven to 395° F (200° C) Non-convection with baking tray to preheat baking tray.

Remove frozen tart shells from freezer to allow them to slightly defrost while making the custard filling.

In a large bowl, combine ingredients for filling.

½ cup warm water,

¼ cup evaporated whole milk,

¼ cup sugar,

2 large eggs,

2 large egg yolks,

1 tsp vanilla extract,

¼ tsp sea salt

Using a fork, slowly combine the ingredients, making sure NOT to incorporate too much air into the mixture.

Strain the egg mixture through a sieve into a pourable container jug, to remove any egg solids and to eliminate the air bubbles.

Pour the egg mixture into each tart pan until 80% filled as the egg mixture will expand in the oven.
Nutrition
Serving:
12
g
Calories:
270
kcal
Carbohydrates:
23
g
Protein:
5
g
Fat:
18
g
Saturated Fat:
5
g
Polyunsaturated Fat:
2
g
Monounsaturated Fat:
10
g
Trans Fat:
0.003
g
Cholesterol:
63
mg
Sodium:
170
mg
Potassium:
56
mg
Fiber:
1
g
Sugar:
5
g
Vitamin A:
99
IU
Vitamin C:
0.1
mg
Calcium:
27
mg
Iron:
1
mg
Net Carbohydrates:
23
g
Tried this recipe?
Let me know how it was or if you have any questions or suggestions!