These banana macadamia coconut pancakes are no ordinary pancakes. They are made with a sourdough, kefir base and cooked with sliced bananas and toasted macadamia nuts and coconut. Syrup is definitely optional! On a recent trip to Hawaii, we asked friends for restaurant suggestions. One of the suggestions was Tip Top Restaurant in Kauai. My daughter googled it and crossed it off the list.
While in Kauai, we met a security guard who helped us with some BBQ challenges we were having at the townhouse in which we were staying. We asked Caesar what he was doing for Valentines since it was the day before Valentines Day. He said he was going to take his wife to Tip Top Restaurant. My daughter was immediately curious since she had crossed it off her list and asked why. Caesar said they had the best banana pancakes. Sold!
We made a trip to Tip Top Restaurant to try their banana pancakes. The restaurant wasn't quite the place I would want my husband to take me for Valentines, but the food was surprisingly good. We had their famous oxtail soup and the banana nut pancakes. The pancakes were large and fluffly with the bananas and macadamia nuts cooked into the pancake. I thought that with a few tweaks, the pancakes could be amazing!
Upon returning home, I decided to use my original sourdough kefir pancake dough (which I have now included) as the base, because I like the texture of the sourdough pancake better. I then made a few changes. With these changes, you don't need to use syrup with these pancakes. I loved my addition of the toasted coconut and coconut oil into the batter. If you love coconut like I do, these banana, macadamia and coconut pancakes are for you. Yum!
Tips for making banana macadamia coconut pancakes.
Pancake batter.
This pancake batter includes 3 ingredients that are different than regular pancake batter. This pancake includes sourdough, kefir and coconut oil. It is well worth the extra time if you plan ahead since the resting period allows the sourdough and kefir to break down the gluten and release more nutrients, making it a healthier pancake with a lower glycemic index. The kefir and sourdough ingredients also add a little acidity that balances out the sweetness of the pancake.
When pouring the pancake batter into the pan, use about a cup so that the batter will spread throughout the entire pan. It is better to make larger pancakes so that the banana slices can be distributed better. The pancakes I make takes up the entire medium sized skillet and are about 8" (20cm) in diameter.
Bananas.
Use ripe bananas. As bananas turn from green to yellow, they become sweeter and more flavorful. The sweeter the bananas, the more they will caramelize and the banana flavor will be more pronounced. Slice the bananas thin and be generous when adding this to the batter. You want to add them in a single layer so that they will make contact with the pan and caramelize.
Macadamia Nuts.
Chop the macadamia nuts to a 1/4" small dice. You can toast them to bring out the nuttiness of the mac nuts.
Coconut.
For extra flavor, toast the coconut, preferably non-sweetened, before adding. Place the shredded coconut briefly in a toaster oven. It burns quickly so keep an eye on it!
Adding the "goodies" to these banana macadamia coconut pancakes.
The key to make these banana macadamia coconut pancakes amazing is not to add the add-ins when making the batter, but add the add-ins after the pancake batter has been poured into the pan. In this way, you will have more control with the placement and amount of add-ins used.
Enjoy plain or try them with passion fruit butter and let me know what you think of these tropical banana, macadamia, coconut pancakes in the comment section. Does it transport you to the sunny beaches of a tropical island?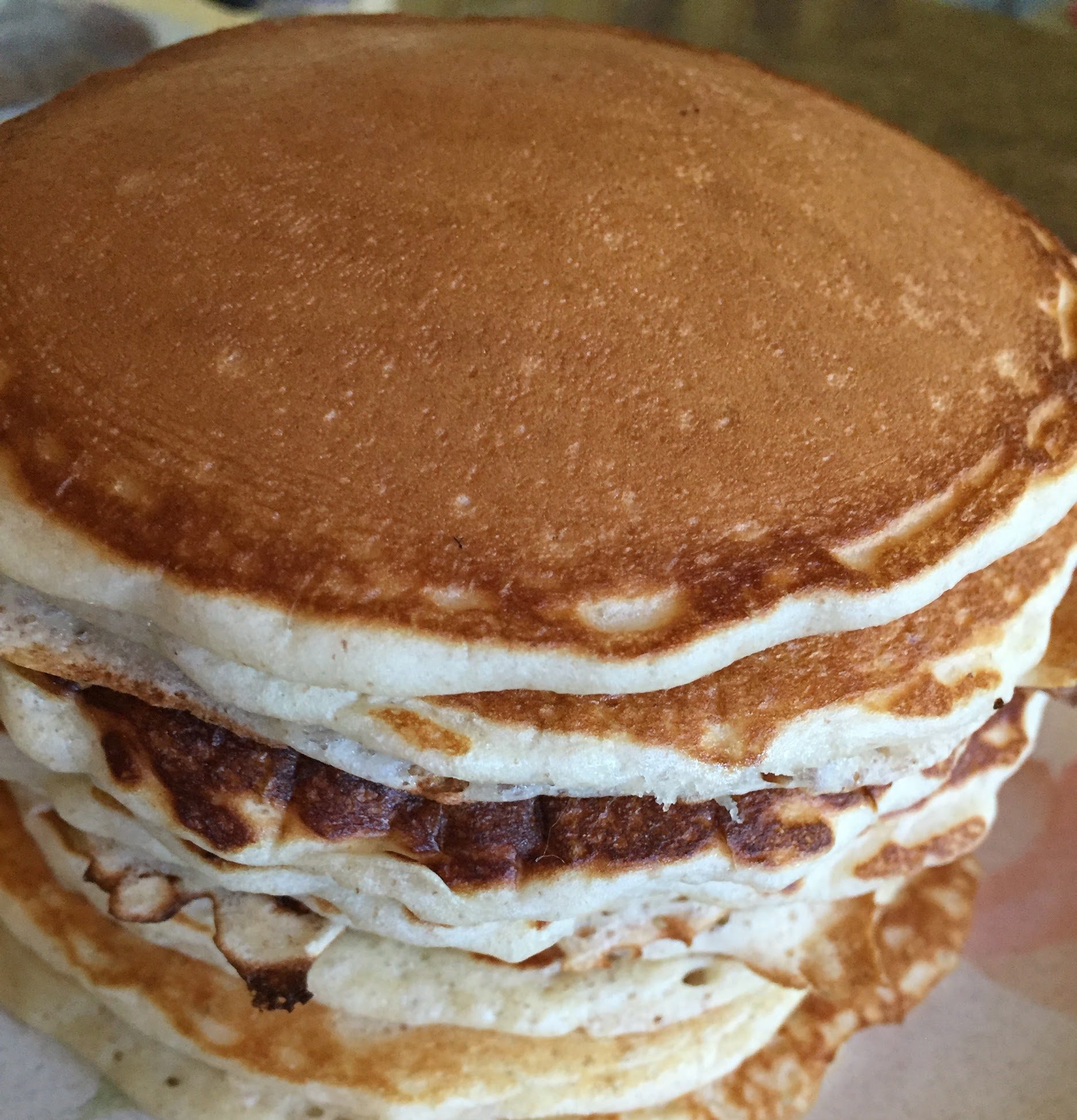 SOURDOUGH KEFIR PANCAKES
These delicious pancakes have a chewier body and texture with an interesting mouthfeel and complex taste. They are not only delicious, but are so much healthier for you!
Equipment
Mixing bowl

Whisk

Non-stick Griddle / skillet
Ingredients
60

grams

active starter

150

grams

all purpose flour

200

ml

kefir

100

ml

milk

Need milk to thin the batter

25

grams

sugar

1

egg

room temperature to prevent the butter from solidifying

1

tsp

pure vanilla extract

1/4

tsp

salt

30

ml

coconut oil or melted butter

Use coconut oil for the tropical pancake with banana, mac and coconut

3

grams

baking powder

3

grams

baking soda
Instructions
In a large mixing bowl, stir together your starter, milk and kefir until the starter is dispersed.

Add the flour and sugar until mixed.

Cover and let rest at a cool temperature for about 12 hours, making a type of levain.

In a small bowl, beat together the egg, vanilla extract, salt, coconut oil or melted butter, baking soda and baking powder. This mixture will bubble

Gently fold into the levain.

Pour the batter onto preheated non-stick skillet or oiled steel.  

You can add your add-ins to your cooking batter here.

Flip when bubbles appear. Sourdough pancakes have a lot more bubbles than regular pancakes.

Serve warm with your favorite accompaniments.
Nutrition
Serving:
5
pancakes
Calories:
244
kcal
Carbohydrates:
33
g
Protein:
6
g
Fat:
9
g
Saturated Fat:
7
g
Trans Fat:
1
g
Cholesterol:
40
mg
Sodium:
387
mg
Potassium:
72
mg
Fiber:
1
g
Sugar:
8
g
Vitamin A:
162
IU
Calcium:
117
mg
Iron:
2
mg
Tried this recipe?
Let me know how it was or if you have any questions or suggestions!