I learned how to make tomato soup decades ago when I was in Junior High in South Africa and we had to take "domestic science"! Recently, a friend asked me to teach her how to make "easy tomato soup", because her daughter loves it. I decided to take the opportunity to not only teach her how to make tomato soup, but also do a side-by-side comparison between using fresh tomatoes and canned tomatoes for the soup.
Throughout the tomato soup making process, we constantly tasted the progress of the soups. My friend and I both thought that the canned tomatoes had a bold, tart flavor, and the fresh tomatoes were somewhat bland until I suggested we add one key ingredient before blending the mixture. This made all the difference and the fresh tomato soup was the hands down winner!
Soup vs. bisque
Bisque is a French term for a thick soup usually made with shellfish broth and heavy cream. Heavy cream is added at the beginning of the cooking process and is allowed to reduce and thicken over the cooking period, resulting in a rich and creamy soup. Personally, I never order rich creamy bisques at restaurants, nor do I cook with a lot of cream. This tomato soup's creaminess comes from using half and half. The half and half provides a little richness to the soup, neutralizes the color and mellows out the acidity of the tomatoes. It is added at the end, just before blending. For extra creaminess, you can use heavy cream instead.
Tips for making easy tomato soup.
This easy tomato soup recipe is SO easy that it almost seems pointless writing up a blog post. However, there are some tips to this recipe which will take this simple soup to the next level. An immersion blender or regular blender is needed to puree the soup to a creamy consistency.
Vegetable size.
The size of all the vegetables don't have to be small but just large enough to be sauteed uniformally since all the vegetables are going to be pureed. This should save time in the preparation.
Tomatoes.
From my side-by-side experiment, the soup made with fresh tomatoes plus tomato paste tasted more complex than the soup made from canned tomatoes. However, if you are tight on time and there is no side by side comparison, canned tomatoes work just as well and take half as long to make! Many recipes call for thickeners such as flour, cornstarch or rice flour. This recipe doesn't add any thickener, because the type of tomato used is key!
Plum or roma tomatoes.
Some tomatoes are really juicy and watery while others are more meaty. The plum or roma tomatoes tend to have less seeds, less moisture and more meat. These are the best tomatoes to use for tomato soup and tomato sauces.
Onions as a Sweetener.
Garlic and lots of onions are sauteed and caramelized to provide the sweetness to the soup that balances the acidity of the tomatoes. This avoids adding sugar.
Red pepper.
Red pepper provides a vibrant red color as well as a different kind of sweetness to the soup.
Blending the mixture.
An immersion blender is convenient as the mixture can be blended right in the stock pot. However, it does leave the soup more granular than using a regular blender. The regular blender results in a smooth, silky soup.
Toppings.
I like to add some color and crunch to the tomato soup. Fried, crisp diced bacon; sharp, shredded cheese and fresh herbs make delicious toppings for this hearty and beautiful soup! Enjoy and let me know what you think in the comment section!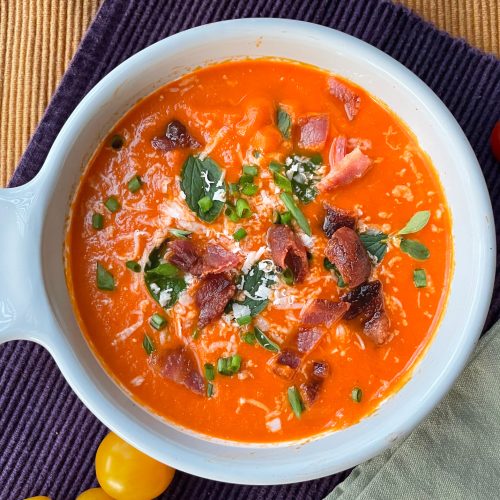 EASY TOMATO SOUP
This easy tomato soup is packed with flavor. Complex, sweet, tangy and creamy soup that is perfect for fall or winter evening.
Ingredients
Fresh tomato option
5

large

roma tomatoes

1

Tbsp

tomato paste
Canned tomato option
794

g

can of whole tomatoes
Other ingredients
1

whole

large onion

3

cloves

peeled garlic

1

medium

red pepper

⅔

cup

water

½

tsp

bouillon powder

¼

tsp

fresh ground black pepper

1

tsp

fresh oregano

2

tsp

fresh basil

½

tsp

sea salt

1

Tbsp

butter

2

Tbsp

olive oil

½

cup

half and half

additional salt to taste
Garnish
2

strips

bacon

shredded cheese like cheddar

additional fresh herbs
Instructions
Slice garlic into pieces.

Chop onion into large slices or wedges.

Cut tomatoes into large pieces.

Deseed and cut red pepper into large slices.

Heat oil and butter in a large stock pan.

2 Tbsp olive oil,

1 Tbsp butter

Add garlic and onion and saute until caramelized but not overbrowned.

3 cloves peeled garlic,

1 whole large onion

Add red pepper and saute until tender.

Add tomatoes, tomato paste and saute until tender and juicy.

5 large roma tomatoes,

794 g can of whole tomatoes,

1 Tbsp tomato paste

Add ground black pepper, salt, water and chicken bouillon. Cover and let simmer for 5 minutes.

⅔ cup water,

¼ tsp fresh ground black pepper,

½ tsp sea salt,

½ tsp bouillon powder

Cook bacon until crispy. Dice. Set aside.

Add half and half, fresh basil and oregano. Stir.

2 tsp fresh basil,

½ cup half and half,

1 tsp fresh oregano

Taste and add additional salt if needed.

Blend using immersion blender or regular blender until smooth.

Use diced bacon, shredded cheese and additional fresh herbs as a garnish

shredded cheese like cheddar,

additional fresh herbs
Nutrition
Serving:
4
g
Calories:
140
kcal
Carbohydrates:
8
g
Protein:
2
g
Fat:
11
g
Saturated Fat:
3
g
Polyunsaturated Fat:
1
g
Monounsaturated Fat:
6
g
Cholesterol:
12
mg
Sodium:
412
mg
Potassium:
350
mg
Fiber:
2
g
Sugar:
4
g
Vitamin A:
1763
IU
Vitamin C:
50
mg
Calcium:
62
mg
Iron:
1
mg