When I order a salad at a restaurant, I'll usually order the balsamic vinaigrette on the side. I love this olive oil-based dressing, especially when it's made with good balsamic vinegar and olive oil. There are various grades and qualities of balsamic vinegar. During a trip to Tuscany, Italy, the vineyard we stayed at made a few containers of balsamic vinegars of different ages. We learned that as the years increased, the vinegars got thicker and sweeter. A twenty year old balsamic vinegar almost tastes like syrup!
I actually learned how to make this vinaigrette dressing in high school when I was an exchange student in France. My french family made this unbelievably delicious dressing that I just needed to learn. During that stay, I learned that a good mustard is imperative in a dressing. Not only does it give it taste, it also acts as an emulisier or thickener. The more mustard you add, the thicker the dressing.
In my balsamic vinaigrette dressing recipe, I add a few extra dried herbs which is optional but it tends to give it an interesting, well-balanced taste.
Tips to making balsamic vinaigrette.
Balsamic vinegar.
Use a good quality balsamic vinegar, it will have a good sweet-sour balance. Otherwise, you may have to adjust the taste by either adding a sweetener like honey, grape juice concentrate or brown sugar.
Cheaper balsamic vinegars are usually thinner and more sour while more aged balsamic vinegars tend to be more syrupy and sweet. There are some balsamic vinegars that are so aged, that they tend to be too sweet for a salad dressing!
Remember to read your balsamic vinegar label. There are some manufacturers that will add sugar, thickeners and coloring to try to pass it off as balsamic vinegar.
Olive oil.
I prefer to use extra virgin olive oil. It tastes better...what can I say!
Dijon mustard.
Depending on the amount of mustard you add, this can affect the taste of your dressing. I have used French's mustard in a dressing which was more for an emulsifier or thickener than for the taste. However, it is better to use a good quality mustard for your dressing. What's an emulsifier? When oil and vinegar is whisked or agitated with an emulsifier, it will help combine the oil and the vinegar and prevent or slow it down from separating. If you are desperate and are out of mustard, you can also use mayonnaise.
Electric blender. The speed of a personal blender also helps combine or emulsify the oil and the water.
Fesh garlic.
Fresh chopped garlic is key to the salad dressing. Allow the dressing to rest for at least a half an hour so that the garlic and spices can be fully absorbed into the emulsion.
Additional spices.
Basic additions to the balsamic vinaigrette are salt and pepper. You can also add dried oregano and thyme. If your balsamic vinaigrette is "young" and sour, add some honey, grape juice concentrate, brown sugar or any sweetener depending on your taste.
Storing balsamic vinaigrette.
Balsamic vinaigrette can be stored in a container either at room temperature or refrigerated. Sometimes, the dressing may thicken in the refrigerator and may be unpourable. Simply leave it out for a few minutes until the oil liquifies again.
Enjoy this wonderful, light dressing. Make a container and leave it in the refrigerator for those days that you just don't feel like making the dressing from scratch!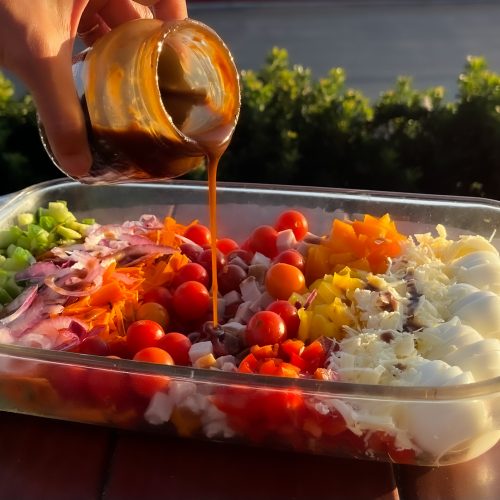 BALSAMIC VINAIGRETTE
Simple balsamic vinaigrette that you can whip up anytime!
Ingredients
⅓

cup

olive oil

¼

cup

balsamic vinegar.

good quality

1-2

tsp

dijon mustard

2

cloves

fresh chopped garlic

¼

tsp

sea salt

⅛

tsp

fresh ground pepper

¼

tsp

dried oregano

¼

tsp

dried thyme
Instructions
Add all the ingredients into the personal blender.

Blend for at least 30 seconds until emulsified.

Let stand for 30 minutes for flavors to mellow.

Stir if mixture separates.
Nutrition
Serving:
8
g
Calories:
128
kcal
Carbohydrates:
2
g
Protein:
1
g
Fat:
14
g
Saturated Fat:
2
g
Polyunsaturated Fat:
1
g
Monounsaturated Fat:
10
g
Sodium:
82
mg
Potassium:
14
mg
Fiber:
1
g
Sugar:
1
g
Vitamin A:
3
IU
Vitamin C:
1
mg
Calcium:
6
mg
Iron:
1
mg