There's nothing more rewarding than harvesting and eating your own homegrown tomatoes. I enjoy growing cherry tomatoes. The taste of homegrown tomatoes cannot be beat. This year, my husband decided to sprinkle compost all over our yard. To our surprise, rogue tomato plants started to sprout EVERYWHERE! We decided to keep these tomato plants and it has been fun waiting to see what kind of tomatoes were going to fruit. This roasted cherry tomato salad comes from the rogue tomato plants that sprouted!
This is a simple and delicious salad which is SO good with tasty homegrown cherry tomatoes. You can make the roasted tomatoes (jammy tomatoes) into a salad dressing or just store then in a container and use them as an accompaniment or bread topping.
Tips for making roasted cherry tomatoes salad.
Foil.
To avoid extensive cleanup, I usually roast these tomatoes and sliced onions on foil on a baking tray. This makes cleanup really easy.
Seasoning.
Season the tomatoes, chopped garlic, sliced onions generously with olive oil, salt and pepper. Do not roast your herbs as the taste willl diminish in the salad. Add the fresh herbs at the end when incorporating the dijon mustard. You will not need to add any additional olive oil at the end.
Making the salad dressing.
Dijon mustard.
The acid for the salad dressing is derived from the tomatoes. Place the dijon mustard into a bowl. The dijon mustard or other good tasting mustards act as an emulsifier or thickening agent. Add the roasted onions and tomatoes and mash the tomatoes with a fork or masher. Blend the mixture together until it becomes a thick, delicious sauce.
Salad greens.
It is best to use hardier greens like romaine lettuce with this salad. The tender salad green mixes don't tend to hold up as well since the dressing is somewhat heavy which results in a limp salad.
Place the tomato dressing on the bed on lettuce, sprinkle with fresh oregano and toss just before serving. Enjoy!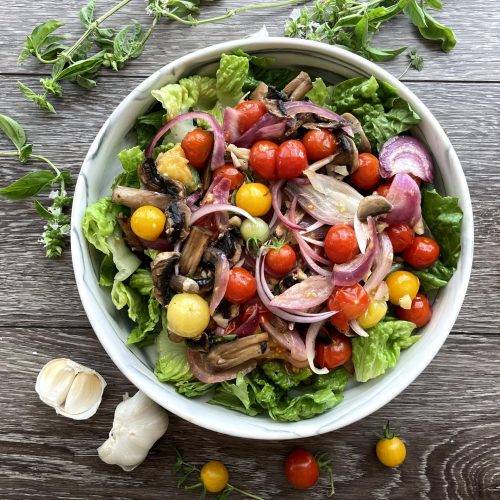 EASY ROASTED CHERRY TOMATO SALAD
This easy roasted cherry tomato salad is super easy and allows you to consume a lot of cherry tomatoes, so its packed with vitamin C and everything else that's good for you!
Ingredients
285

g

cherry tomatoes.

small container

100

g

sliced red onion

1

Tbsp

chopped garlic

½

tsp

salt

¼

tsp

fresh ground pepper

4

Tbsp

olive oil

1

Tbsp

dijon mustard

1

head

romaine lettuce

1

tsp

fresh oregano.

optional
Instructions
Preheat oven or toaster oven to 400° F (204° C).

Place cherry tomatoes, sliced red onion, chopped garlic on a baking tray lined with aluminum foil.

285 g cherry tomatoes.,

100 g sliced red onion,

1 Tbsp chopped garlic

Sprinkle with olive oil, salt and fresh ground pepper.

½ tsp salt,

¼ tsp fresh ground pepper,

4 Tbsp olive oil

Roast for 15 minutes until cherry tomatoes pop and split. Remove from oven.

In a bowl add the dijon mustard.

Pour roasted tomato mixture into bowl.

Used a masher or fork, mash the tomatoes and mix with the dijon mustard until a thick dressing is formed.

Add additional salt and pepper if needed,

Plate your salad bowl with chopped romaine lettuce.

Pour the roasted tomato salad dressing onto the lettuce.

Toss right before serving.
Video
Nutrition
Serving:
4
g
Calories:
180
kcal
Carbohydrates:
12
g
Protein:
3
g
Fat:
15
g
Saturated Fat:
2
g
Polyunsaturated Fat:
2
g
Monounsaturated Fat:
10
g
Sodium:
355
mg
Potassium:
600
mg
Fiber:
5
g
Sugar:
5
g
Vitamin A:
13992
IU
Vitamin C:
25
mg
Calcium:
80
mg
Iron:
2
mg