I grew up never observing Halloween. My first trick-or-treating was as a college student with my now husband! When my daughters grew up, my husband, Alex, with nostalgic memories of his trick-or-treating days, wanted to create a fun evening. Every year, we would buy pumpkins, clean out the seeds and make jack-o-lanterns. To me, the best part of this "tradition" was when the pumpkin seeds came out of the toaster oven, so crisp and savory that they could be eaten with the skin! For the longest time, the pumpkin seeds were flavored with salt until recently. After discoving this natural, umami flavoring for these savory umami pumpkin seeds, I am sold. It is addictive and the pumpkin seeds are SO delicious!
Tips for making savory umami pumpkin seeds
Pumpkin.
All pumpkins are edible. There are some pumpkins with larger seeds than others. However, they all make great tasting pumpkin seeds. I usually choose the pumpkin for decoration and afterwards, repurpose it for the stomach!
There is no easy way to clean pumpkin other than cutting it in half and pulling out the seeds from the pulp. Wash the seeds in water and drain through a colander or sieve.
Seasoning.
The key to this tasty pumpkin snack is the flavoring. No, it's not salt but my favorite mushroom flavoring. This seasoning makes ALL the difference. Mushroom bouillon can be found in most supermarkets, especially Asian markets. This can be a salt replacer and this all natural seasoning provides umami which enhances the overall taste of the seeds.
Bake the marinated seeds in the oven for an hour. For easy cleanup, it helps when the seeds are placed on a baking tray lined with foil. The pumpkin seeds will not look white but slightly discolored due to the mushroom seasoning. When the seeds are ready, they will be stuck together. Use your hands to separate the crisp seeds. The seeds should feel dry and crisp. Enjoy!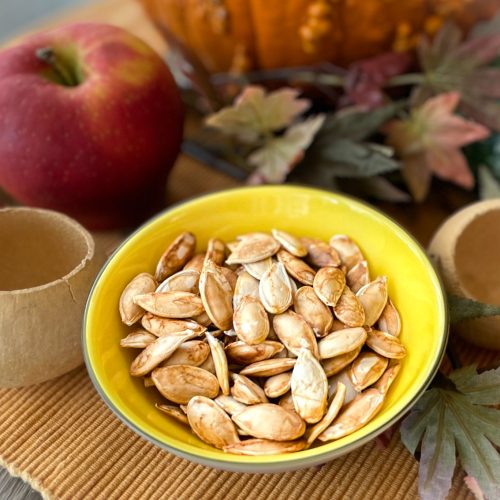 SAVORY PUMPKIN SEEDS
Delicious savory pumpkin seeds packed with umami (flavor!)
Instructions
Allow to "marinate" for at least ½ hour.

Place seeds on a foil-lined baking tray.

Separate individual pumpkin seeds and eat while crisp.
Nutrition
Serving:
10
g
Calories:
6
kcal
Carbohydrates:
0.1
g
Protein:
0.3
g
Fat:
1
g
Saturated Fat:
0.1
g
Polyunsaturated Fat:
0.2
g
Monounsaturated Fat:
0.2
g
Trans Fat:
0.001
g
Sodium:
8
mg
Potassium:
8
mg
Fiber:
0.1
g
Sugar:
0.02
g
Vitamin A:
0.2
IU
Vitamin C:
0.02
mg
Calcium:
0.5
mg
Iron:
0.1
mg
Net Carbohydrates:
0.1
g
Tried this recipe?
Let me know how it was or if you have any questions or suggestions!