What is tataki? Although I am not a Japanese cuisine aficionado, I do enjoy a good tuna tataki. Tataki is seared, sliced tuna with a citrus dressing. This tuna tataki salad with jalapeno soy dressing is inspired by a meal I had at "book club". This "book club" is more of an eating club where people bring a dish that's inspired by the book. Needless to say, it's probably the only book club I know that brings a dish of food instead of the book and more time is spent talking about the various dishes than the actual book... my type of book club!
This tuna tataki salad with jalapeno soy dressing is a combination of lettuce greens, thinly sliced cucumbers and onions for crunch, sliced jalapeno peppers for spiciness and avocado for creaminess. The soy-lime dressing makes this a refreshing salad and the slices of tuna add body and substance. The spices for the tuna crust is a little different. Being South African, and a biltong connoiseur, I love coriander and the addition of coriander to the spice blend turns it up several notches, trust me! So, when the weather starts to warm up and tuna goes on sale at your reputable fish market, this salad is a must!
Tips for making tuna tataki salad with jalapeno soy dressing.
Tuna
Make sure you buy your tuna from a reputable vendor. Some purveyors sell defrosted tuna steaks which are perfectly fine. Look for tuna steaks that are either light pink or deep red, but not oxidizing and turning brown. There may be a strip of darker muscular meat within the steak. The muscle of the steak should also not be separating as this is an indication that the fish has been on display too long. The fish should also not smell overpoweringly fishy. Buy cuts of tuna about one and a half inch (~4 cm) thick to ensure a good sear without cooking the tuna steak through.
Calculate about 1/3 of a pound of tuna per person as the meat is dense so it goes a long way when sliced and accompanied with salad.
Greens
This tataki salad with jalapeno soy dressing has a substantial amount of greens to make it a legitimate salad. Lettuce, thinly sliced cucumbers and onions and avocado make up the salad. I use a mandolin to get the cucumbers and onions thinly sliced. This ensures that these vegetables are uniform and shaved paper thin. Brown or red onions can be used. I prefer to use pickling or Persian cucumbers that tend to have more crunch.
Mix the cucumbers and onions in the soy-ginger dressing while preparing the rest of the dish to ensure a tasty crunch!
Tuna tataki dry rub
Being South African, one of my favorite snacks is biltong. Unlike beef jerky, the flavor is different and delicious with the addition of coriander seeds. This tuna tataki dry rub combines black pepper, coriander seeds and salt, all coarse ground. Grind the pepper corns and coriander seeds in an electric chopper or use a pestle and mortar.
Searing
Heat a cast iron skillet until hot. Spray cooking oil to prevent sticking and sear the tuna steak about a minute on all sides. Add a third of the dressing to the tuna.
Plating tuna tataki salad with jalapeno soy dressing
Allow the tuna to cool while making the salad. Slice the tuna a little less than half an inch (1 cm). Layer the salad with lettuce, pickles, tuna, avocado. Drizzle with salad dressing from marinated pickles and chili pepper flakes. Enjoy!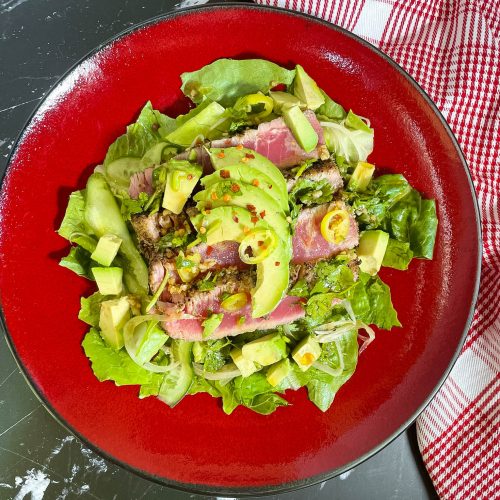 TUNA TATAKI SALAD WITH JALAPENO SOY DRESSING
Seared tuna with a delicious dry rub of coriander, black pepper and salt with a salad of soy, ginger and a hint of jalapeno
Ingredients
454

g

sushi-grade tuna steak

1

Tbsp

cooking oil.
Jalapeno Soy Dessing
4

Tbsp

superior light soy sauce

80-100

g

fresh cilantro

1 bunch per 1x recipe

½

cup

fresh lime juice

½

cup

olive oil

½

tsp

sugar

2

cloves

fresh minced garlic

1

sliced jalapeno

1

tsp

fresh grated ginger

depending on taste

⅛

tsp

fresh ground pepper
Greens
4

persian cucumbers

or equivalent

½

medium brown or red onion

2

romaine lettuce heads

2

ripe avocado, halved, peeled, pitted and sliced
Instructions
Dry rub
Prepare Dressing
Finely chop fresh cilantro.

Combine dressing ingredients into a bowl.

1 Tbsp black pepper,

4 Tbsp superior light soy sauce,

80-100 g fresh cilantro,

½ cup fresh lime juice,

½ cup olive oil,

½ tsp sugar,

2 cloves fresh minced garlic,

1 sliced jalapeno,

1 tsp fresh grated ginger,

⅛ tsp fresh ground pepper
Prepare pickled vegetables
Sear tuna
Assemble plate
Cut or tear romaine lettuce.

Half, peel, pit and slice avocado.

2 ripe avocado, halved, peeled, pitted and sliced

Slice the seared tuna into ¼-½" strips.

Place the lettuce on the bottom of each plate, followed by the pickled vegetables.

Add the sliced tuna and sliced avocados on the top.

Sprinkle with crushed red pepper flakes.
Nutrition
Serving:
4
servings
Calories:
514
kcal
Carbohydrates:
20
g
Protein:
6
g
Fat:
49
g
Saturated Fat:
6
g
Polyunsaturated Fat:
7
g
Monounsaturated Fat:
34
g
Trans Fat:
1
g
Sodium:
1608
mg
Potassium:
856
mg
Fiber:
9
g
Sugar:
4
g
Vitamin A:
2836
IU
Vitamin C:
33
mg
Calcium:
70
mg
Iron:
2
mg
Net Carbohydrates:
10
g
Tried this recipe?
Let me know how it was or if you have any questions or suggestions!