I have to admit, I'm a very picky brownie eater. If it doesn't taste good and not worth the calories, I'll take a bite and throw the rest away. For me, brownies should be moist, chewy, not too sweet and taste like good chocolate. These halvah mocha brownies fit that bill. This is a delicious brownie recipe. These brownies are unusual as they are made with almond flour and sourdough starter. There is no added all-purpose flour so it's actually a high protein brownie with the sesame seed paste (tahini) from the halvah and the almond flour with lower carbs!
Tips for making halvah mocha almond flour brownies
Halvah.
Halvah is a soft, fudgelike Middle-eastern / Mediterranean sweet treat made from sesame paste (tahini). If you don't want to make low-sugar homemade halvah (which is very easy), it can be bought at Middle-eastern stores. Choose a flavor and texture that will go well with a mocha flavored brownie. The halvah is just added to the top of the brownies but can be incorporated into the batter. Crumble or cube the halvah and sprinkle it onto the brownie batter just before baking.
Sourdough Starter.
Sourdough starter is used instead of baking soda or baking powder as another form of leavening. The sourdough starter should be active: light and airy. If the sourdough starter is not light and airy, but dense and hard to incorporate into the batter, the brownie will have chunks of sourdough starter dispersed throughout the brownie!
Mocha.
The flavor of mocha comes from the combination of chocolate and coffee. It is moist, gooey and the combination of chocolate chips with cocoa powder give these brownies a delicious cholatey taste.
Butter and chocolate chips are melted and then stirred to a smooth viscous texture.
The added coffee enhances the taste of the chocolate flavor and adds a different dimension to the chocolate taste. The mocha flavor comes from instant coffee granules. If a lower caffeine brownie is needed, the instant coffee granules can be eliminated or replaced with non-coffeinated coffee granules.
Almond Flour.
Almond flour is used instead of regular wheat flour. This makes the brownies gluten-free except for the sourdough starter. The almond flour substitution also lowers the carbs and increases the protein. Blanched almond flour tends to be lighter in color than natural almond flour as the brown skins of the almonds are removed.
Sieve the almond flour to prevent lumps in the batter.
Egg mixture.
In order to get a good rise from the brownie batter, the eggs combined with the sugars need to be mixed well and create "volume". When the beaten eggs are light and voluminous, (this may take up to 10 minutes), the melted chocolate, sourdough starter and almond flour is ready to be folded into the egg mixture.
Without using any baking soda or baking powder but just the sourdough starter and voluminous egg mixture as the leavening, these brownies are light and absolutely delicious.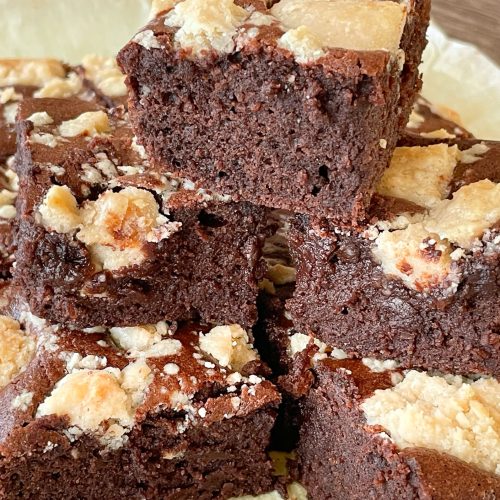 HALVAH MOCHA ALMOND FLOUR BROWNIES
These delicious halvah mocha almond flour brownies are low-carb and high protein. Sourdough starter is also used as a leavening agent instead of baking powder / soda. Delicious!
Equipment
8 x 8 cake pan

lined with parchment paper
Ingredients
126

grams

semi-sweet chocolate chips

100

grams

almond flour

fine mesh

15

grams

unsweetened cocoa powder

120

grams

unsalted butter

120

grams

active sourdough starter

75

grams

brown sugar

25

grams

granulated white sugar

2

large

eggs

½

Tbsp

pure vanilla extract

¼

tsp

salt

100

grams

halvah

1

tsp

instant coffee
Instructions
Preheat oven to 395° Fahrenheit , 200° Celcius.

Line cake pan with parchment paper

Combine chocolate chips and butter into a microwave safe bowl.

126 grams semi-sweet chocolate chips,

120 grams unsalted butter

Melt chocolate chips and butter until all the butter is completely melted. Approximately 1 minute depending on the strength of your microwave

Add cocoa powder, vanilla extract, instant coffee and salt to melted chocolate mixture and stir.

15 grams unsweetened cocoa powder,

½ Tbsp pure vanilla extract,

1 tsp instant coffee,

¼ tsp salt

Beat eggs and sugar together in another bowl until frothy and light in color.

75 grams brown sugar,

2 large eggs,

25 grams granulated white sugar

Add active starter, almond flour and chocolate mixture to whisked egg and fold until incorporated.

120 grams active sourdough starter,

100 grams almond flour

Place mixture into a greased 8 x 8 baking pan.

Add crumbled halvah to the top of the batter.

Bake for 20 minutes until the top appears cooked. The toothpick test may result in overbaking the brownies.
Notes
Extra time may be needed to activate soudough starter.  The sourdough starter should be light and airy.
Nutrition
Serving:
16
pieces
Calories:
242
kcal
Carbohydrates:
19
g
Protein:
5
g
Fat:
17
g
Saturated Fat:
7
g
Polyunsaturated Fat:
2
g
Monounsaturated Fat:
4
g
Trans Fat:
0.3
g
Cholesterol:
40
mg
Sodium:
51
mg
Potassium:
107
mg
Fiber:
3
g
Sugar:
10
g
Vitamin A:
229
IU
Vitamin C:
0.3
mg
Calcium:
51
mg
Iron:
2
mg
Net Carbohydrates:
14
g
Tried this recipe?
Let me know how it was or if you have any questions or suggestions!