As I write this post, the weather in California has been hitting triple digits. It is HOT! I can barely get myself to turn on the stove and I have definitely not been baking bread for the past few weeks. My family loves this grilled wedge salad. If you are looking to add more greens and fiber into your diet, for some reason, the unseparated leaves of the romaine lettuce in a wedge salad allows you to consume more leafy greens.
This wedge salad is different from regular wedge salads. The romaine lettuce is slightly charred which gives it a unique and interesting taste. Lentils, blue cheese and bacon are added for the protein. The lentils are seasoned during soaking and sauteed. The thick sliced bacon is seasoned with brown sugar and fried until crisp. For a healthier dressing, I make a homemade (cheater) ranch dressing using kefir!
Tips for making grilled wedge salad
Lettuce.
Tight leaved lettuce like romaine and iceberg holds up better than loose leaved lettuce. Romaine lettuce has more nutrition than iceberg lettuce. To grill the lettuce, DO NOT cut off the stem of the lettuce that holds all the leaves together which one normally does when preparing salad. Cut the lettuce in half lengthwise, cutting directly through the stem. This will keep most of the lettuce leaves intact, making it easier to grill. Wash the lettuce well and allow the water to drain, using paper towels to completely dry the lettuce.
Bacon.
The large chunks of thick sliced bacon, slightly sweetened with brown sugar is a definite must in this salad. Find thick cut bacon in the grocery store. Pan fry the bacon until crisp. When almost completely done, sprinkle brown sugar and allow to caramelize on both sides. Caramelizing the sugar not only helps enhance the taste of the bacon, but also help make it crispy.
Lentils.
Lentils are an amazing source of protein and fiber. They are also an excellent source of B vitamins, iron, magnesium, potassium and zinc. Adding lentils to this wedge salad, gives some additional plant-based protein. There are different types of lentils and any lentil will work. Some people don't like lentils because of their mushiness. The lentils for this grilled wedge salad are soaked in chicken stock until hydrated and then sauteed in a small amount of bacon rendering (melted bacon fat), making them tasty and not mushy!
Dressing.
For the dressing, I choose a less caloric, healthier homemade option which is "creamy" with health benefits. Instead of making the ranch dressing completely from scratch, I cheat and buy the ranch dressing mix. Combine the dressing mix with kefir for a creamy dressing. If you prefer a thicker dressing, a combination of plain Greek yoghurt and kefir can be used. This home-made dressing is completely optional and is just a healthier and less caloric alternative to the store bought dressings.
Other ingredients.
The other ingredients used as toppings can be tomatoes, cucumbers, colorful peppers, carrots etc. Cut the vegetables into small, diced pieces and sprinkle this on the lettuce. Place the lettuce on the plate cut-side up. This allows the vegetables to balance on the lettuce as well as allow the dressing to spread to the other leaf layers. Drizzle the wedge with dressing and then garnish with blue cheese crumbles (or any other cheese of your choice) and large pieces of bacon. Before serving, cut the brown part of the stem of the lettuce with kitchen shears. Enjoy, stay cool and eat healthy!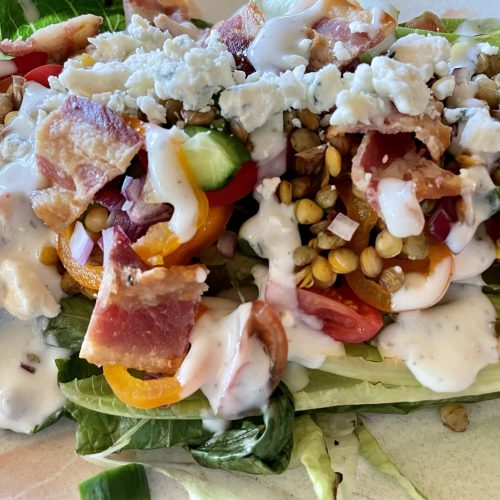 GRILLED WEDGE SALAD
A wedge of lettuce, grilled and topped with salad ingredients including sauteed lentils, thick sliced bacon chunks and blue cheese crumbles. The dressing is a home-made ranch with kefir.
Ingredients
4

Tbsp

lentils

½

cup

chicken stock

1

head

romaine lettuce

12

cherry tomatoes

2

persian cucumbers

2

Tbsp

red onion

small diced

3

mini peppers
Garnish
3

strips

thick cut bacon

2

tsp

brown sugar

2

Tbsp

blue cheese crumbles
Instructions
Hydrate Lentils
Wash and soak lentils in chicken stock overnight.

4 Tbsp lentils,

½ cup chicken stock

Drain lentils through a sieve to remove water.
Prepare dressing
Combine kefir with ranch dressing powder.

½ cup kefir,

1 Tbsp ranch dressing powder

Mix well and refrigerate to thicken.
Caramelized Bacon
Fry bacon while prepping the rest of the ingredients.

Pour out fat fequently to allow bacon to fry in a dry pan.

Fry until crisp. Remove bacon and place on a paper towel.

Cut into 1" (2 cm) thick pieces.
Sautee lentils
Fry lentils in the bacon pan with a little bacon grease for about 5 minutes until cooked.
Grill lettuce
Prepare salad ingredients
Nutrition
Serving:
2
g
Calories:
525
kcal
Carbohydrates:
48
g
Protein:
24
g
Fat:
28
g
Saturated Fat:
10
g
Polyunsaturated Fat:
4
g
Monounsaturated Fat:
10
g
Trans Fat:
0.1
g
Cholesterol:
50
mg
Sodium:
1160
mg
Potassium:
1603
mg
Fiber:
16
g
Sugar:
18
g
Vitamin A:
29343
IU
Vitamin C:
93
mg
Calcium:
262
mg
Iron:
6
mg
Net Carbohydrates:
32
g
Tried this recipe?
Let me know how it was or if you have any questions or suggestions!