If you like mushrooms or have discovered the amazing benefits of funghi, this dish is for you! One of my daughter's LOVES mushrooms and she could probably eat this dish every week! Every time she visits, this is one of the meals she requests. This homestyle Cantonese steamed chicken with mushrooms can be prepared in advance, stored in the refrigerator and then just steamed before serving.
I add either vegetables or mung bean noodles as the base to this steamed dish. The vegetables and noodles absorb all the flavorful juices of the chicken and mushrooms which makes these accompaniments extra tasty.
Mushrooms and funghi have lately been shown by Western research to be very healthy. A few years ago, mushrooms were considered nutritionally poor. However, as more research is being done, there are many benefits to mushroom and funghi consumption. The Chinese have for centuries used various funghi for medicinal purposes to treat everything from asthma, cancer, dementia to gout. I am a strong believer in adding mushrooms to the diet and any recipe. Not only are there medicinal benefits, but there are also "umami" benefits which is one of the five basic tastes.
Tips for making homestyle Cantonese steamed chicken with mushrooms.
Chicken
Boneless chicken thigh pieces are ideal for this dish as it is steamed for 20 minutes. White chicken meat, like chicken breast will be tough and dry after being steamed for that long. Marinate the thigh pieces for at least one hour or overnight for best flavor. If you've made my bulk basic Chinese meat marinade, add a few tablespoons of the marinade with a little cornstarch.
Mushrooms
This is where you can go to town! Walk along the dried Chinese mushroom aisle of any Asian grocery store and you will see a wide variety of mushrooms. Sometimes, I prefer choosing mushrooms that are similar in size and use them whole. If I cannot find small mushrooms, slice the mushrooms into bite-size pieces.
For the black fungus or wood ear mushrooms, there are brands that have large pieces and others that are smaller and thinner. The wood ear mushrooms rehydrate and get very large. For this dish, find the smaller, thinner wood ear mushrooms which tend to be easier to manage! Soak the dried mushrooms into a soy water solution for additional flavor.
Fresh mushrooms can also be added such as enoki, seafood, maitake and beech mushrooms.
Homestyle Cantonese Steamed Chicken with Mushroom Accompaniments
Vegetables
I like to steam a vegetable (if I'm making rice) or noodles (if I'm not making rice) together with this homestyle Cantonese steamed chicken with mushrooms dish. I like to use napa cabbage because it is fairly flat, compact and absorbs the flavor of the chicken, mushroom mixture, making it very tasty. Cut the napa cabbage into one inch (2.5 cm) strips and layer it on the bottom of the container.
Noodles
When steaming this homestyle Cantonese steamed chicken with mushroom dish with noodles, use a noodle type that WILL NOT disintegrate with the liquid. Rice noodles and wheat-based noodles are not good choices. Mung bean noodles or potato starch noodles are much hardier and will keep their integrity during the steaming process. Rehydrate these noodles in a chicken stock to enhance their flavor. The noodles will continue to absorb the water and chicken, mushroom marinade during the steaming process
Steaming
Before steaming, combine the chicken and mushrooms together and add oyster sauce to the mix before steaming. Layer a heat-proof dish with either vegetables or noodles (optional) and the chicken mixture. DO NOT compact the chicken and mushroom mixture as this will prevent some of the chicken pieces from being cooked. Steam for 20 minutes.
After steaming, if the chicken appears too pale, add a teaspoon of dark soy sauce to darken the chicken. Garnish with cilantro or chopped scallion for color. This is purely for aesthetics! Enjoy!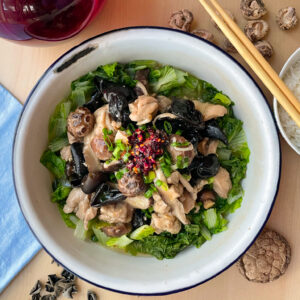 STEAMED CHICKEN WITH ASSORTED MUSHROOMS
A prepare-ahead dish that just requires steaming before eating. If you love mushrooms, this Cantonese style home-cooked meal is for you! Mung bean noodles or napa cabbage can be added to make this a one-dish meal.
Ingredients
Chicken
454

grams

chicken thighs

boneless, skinless

½

tsp

sea salt

¼

tsp

white pepper

¼

tsp

sugar

1

Tbsp

light soy sauce

1

Tbsp

whiskey

1

tsp

sesame oil

1

Tbsp

corn starch
Mung bean (optional)
1½

cup

boiling water

2

tsp

chicken bouillon powder

150

grams

mung bean or potato starch noodles

Avoid rice noodles as they disintegrate
Instructions
Notes
If you have the bulk Cantonese meat marinade,  marinate 454 grams (1 lb) meat with 2 Tablespoons of marinade and 1 Tablespoon of cornstarch.
Nutrition
Serving:
4
people
Calories:
497
kcal
Carbohydrates:
54
g
Protein:
24
g
Fat:
21
g
Saturated Fat:
5
g
Polyunsaturated Fat:
5
g
Monounsaturated Fat:
8
g
Trans Fat:
0.1
g
Cholesterol:
111
mg
Sodium:
1639
mg
Potassium:
881
mg
Fiber:
5
g
Sugar:
2
g
Vitamin A:
226
IU
Vitamin C:
11
mg
Calcium:
62
mg
Iron:
2
mg
Net Carbohydrates:
49
g
Tried this recipe?
Let me know how it was or if you have any questions or suggestions!