Shrove Tuesday or Mardi Gras is coming up. When Americans think of Mardi Gras, they immediately think of the festive New Orleans carnival and parade. However, the French literal translation for Mardi Gras is "Fat Tuesday" and for religious people, it's the Tuesday before Ash Wednesday, 46 days before Easter and the start of lent. During Lent, which lasts for 40 days, certain religious sects give up certain things, symbolic of the time Jesus spent in the desert fasting and praying after his baptism. Traditionally, people would get rid of all the food like fat, eggs, milk etc. that they would be giving up for lent so this resulted in making pancakes on Shrove Tuesday. Growing up in an Anglican boarding school in South Africa, we called this pancake Tuesday! Eventhough I don't give up anything for lent anymore, I thought I'd offer this recipe for sourdough blueberries and cream pancakes since it's blueberry season. The blueberries are deliciously sweet, inexpensive, healthy and plentiful!
I don't eat my pancakes with syrup. I usually eat them with preserves and whipped cream. The "cream" part of this sourdough blueberries and cream pancakes recipe is a delicious topping of warmed, sweetened condensed milk which goes so well with the blueberries, especially if the blueberries are a little tart.
Tips for making sourdough blueberries and cream pancakes
This pancake batter uses both sourdough and kefir. Due to the health benefits of both the sourdough and the kefir, these pancakes are good for your digestive tract and have a positive effect on body function! Make the pancake batter without the blueberries the night before to allow the sourdough and kefir to work its magic throughout the batter. The sourdough breaks down the sugars and carbohydrates in the flour, allowing the body to readily absorb the flour's released nutrients, making these sourdough blueberries and cream pancakes nutrient rich, healthier and more filling!
Equipment.
The pancake batter can be made entirely by hand. Pancakes cook better in a non-stick skillet over medium heat.
Blueberries.
When I used to source ingredients for food manufacturers in my previous life, bakeries used to ask me to find IQF (individually quick frozen) wild blueberries for their breads and muffins. If you aren't able to find fresh blueberries, look for frozen wild blueberries. Wild blueberries are smaller in size and this has 2 effects on baked goods. Since the blueberries are smaller and have less juice, they don't bleed as much. Bleeding releases the juice which makes the batter blue in color. With less bleeding, the pancakes will have more identifiable spheres of blueberries. The smaller sized blueberries also mean that there are more individual blueberries per cup or by weight so there appears to be more blueberries in the baked product. So, whether using fresh or frozen, choose small sized blueberries (wild) for your baked goods.
Pancake batter.
Make the pancake batter without the blueberries the night before to allow for the sourdough and kefir to work its magic throughout the batter. Use sourdough discard, but it should still be active so that it can metabolize the carbohydrates and sugars in the batter. The batter should be light and airy after resting overnight.
Eggs
The eggs should be at room temperature when incorporating them into the butter. Otherwise, the melted butter will solidify making it difficult to fold into the flour mixture.
Lightly fold in the egg mixture and blueberries after the batter has rested to keep the batter light and fluffy.
Cooking the sourdough blueberries and cream pancakes.
This sourdough blueberries and cream pancake recipe does have a little butter in the recipe. However, it is best to initially spray or coat the skillet with a thin layer of oil or butter. Wipe the excess fat off with a paper towel. See Cooking Golden Pancakes in my Tips and Tricks section.
Unlike regular pancake batter, sourdough pancake batter will have many bubbles when cooking. These sourdough blueberry pancakes are ready to flip when half the height of the pancake is cooked and some of the bubbles on the surface remain open. Use a non-metal spatula and gently slide it under the pancake until the entire pancake is released from the pan and then flip it.
Grease the skillet every so often as needed with the paper towel that is used to initially wipe off the excess oil / butter from the first pancake.
The size of the pancakes is really personal preference. They can be small crumpets (about 3 inches or 7.5 cm) which are great for high teas or large pan pancakes for hearty breakfasts.
Condensed milk "syrup"
I love condensed milk! It's creamy, delicious and sweet (so not good if you're pre-diabetic!) Warm this in a microwaveable container to get the right consistency for a syrup. If you prefer your syrup thick, keep the condensed milk refrigerated.
Enjoy and let me know what you think of these sourdough blueberries and cream pancakes combination in the comment section.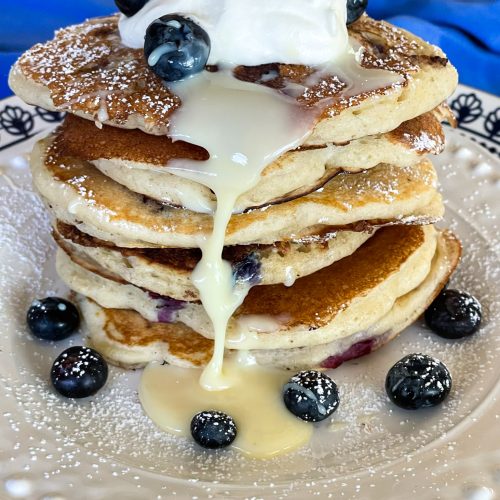 SOURDOUGH BLUEBERRIES AND CREAM PANCAKES
These delicious pancakes have a chewier body and texture with an interesting mouthfeel and complex taste. They go SO well with the unique condensed milk "syrup" topping. They are not only delicious, but also so much healthier for you!
Equipment
Mixing bowl

Whisk

Non-stick Griddle / skillet
Ingredients
60

grams

active starter

150

grams

all purpose flour

200

ml

kefir

100

ml

milk

Need milk to thin the batter

25

grams

sugar

1

egg

room temperature to prevent the butter from solidifying

1

tsp

pure vanilla extract

1/4

tsp

salt

30

ml

melted butter

½

tsp

baking powder

½

tsp

baking soda

½-¾

cup

small (wild) blueberries

fresh or frozen
Condensed milk syrup
1

cup

sweetened condensed milk

2

Tbsp

milk
Instructions
In a large mixing bowl, stir together the starter, milk and kefir until the starter is dispersed.

Add the flour and sugar until mixed.

In a small bowl, beat together the egg, vanilla extract, salt, melted butter, baking soda, baking powder.

Add blueberries to levain.

Pour the batter onto a preheated non-stick skillet or oiled steel.  

Flip the pancakes when bubbles appear. Sourdough pancakes have a lot more bubbles than regular pancakes.

Serve warm with condensed milk syrup.
Condensed milk syrup
Place condensed milk in a microwave-safe pourable container.

Heat for 20 seconds to allow condensed milk to be more pourable.

Add milk if necessary to thin out the "syrup".
Nutrition
Serving:
5
pancakes
Calories:
184
kcal
Carbohydrates:
29
g
Protein:
5
g
Fat:
6
g
Saturated Fat:
3
g
Polyunsaturated Fat:
0.3
g
Monounsaturated Fat:
1
g
Trans Fat:
0.1
g
Cholesterol:
31
mg
Sodium:
178
mg
Potassium:
136
mg
Fiber:
1
g
Sugar:
18
g
Vitamin A:
204
IU
Vitamin C:
1
mg
Calcium:
122
mg
Iron:
1
mg
Net Carbohydrates:
28
g
Tried this recipe?
Let me know how it was or if you have any questions or suggestions!