It was an "epiphany" when I discovered crepes made from sourdough starter. These crepes, like the sourdough pancakes, have a very slight hint of sourness which adds to the complexity of the taste. The chewiness and mouthfeel of these crepes are far superior than those made without the starter. Try it for yourself!
I remember the first time I had a dessert crepe. I spent 3 weeks as an exchange student in France during my senior year in high school. My French family barely spoke English, and by the end of 3 weeks, I was fluent! I would venture into Paris by train and visit the tourist sites on some days when my French "sister" was at school. I remember being so fascinated by these crepe vendors who stood at the street corners with this circular black griddle. They would pour this thin batter into the center of the griddle and move this "wooden rake" contraption in a circular motion until all the batter covered the griddle in a thin, translucent layer.
I loved the "Crepe au chocolat". This crepe would be warm, soft, chewy and the melted chocolate was oh so delicious! It was folded into quarters and stuffed into a paper sleeve, beckoning to be eaten immediately. All this for the amazing price of 75c!
For the longest time I thought that crepes would be impossible to make, let alone be able to master that circular raking motion to get the batter thin. It wasn't until years later that I finally figured out the key to a crepe batter. Crepes made from sourdough starter lends itself well to a "superior" crepe batter, because using the sourdough starter kickstarts the breakdown of the gluten which results in a softer rather than a rubbery texture and also allows you to reduce the "resting" or "autolyzing" time to half an hour rather than an hour. Try it and let me know what you think?
Tips:
Because you are starting with sourdough starter, the batter will become more and more sour if it sits in the refrigerator for days. It is not spoiled, just frermenting more. You can adjust the taste by adding sugar.
I make my batter in a vitamix blender. This "Low profile" vitamix was a birthday gift for my husband. I have to admit that I use it a lot more than him! See helpful tools. It takes less than a minute. A good tip when using a blender is to make sure you add your liquid ingredients first before your solids or else the solids will get stuck beneath the blade, leaving you with dry, unmixed ingredients at the bottom.
Blended crepe batter should be fairly thin. It will thicken after resting and "autolyzing". (Allowing the liquid to fully absorb into the flour). It should be lump free. If you find that there are lumps in your batter, you can either blend it more or strain it.
I do not have a special crepe pan. I pre-heat and grease with butter a NON-STICK skillet.
The skillet should be heated prior to pouring in the batter so that it adheres to the pan. When it adheres to the pan, swirl the pan to completely cover the base with a thin layer of batter.
I cover the pan which allows the batter to cook. If you have a lid that allows the steam to escape, all the better! The crepe is ready when the sides are crisp and seems to be separating from the pan.
When making crepes with ingredients that need to melt, add those ingredients when the batter is cooking.
Some savory ingredients need to be cooked first prior to adding them to the crepe.
Fillings:
The sky's the limit. For dessert crepes, it can be as simple as cinnamon and sugar with a little lemon juice. For savory crepes, you can pretty much use whatever you find in the fridge! Let me know what amazing creations you've come up with in the comment section!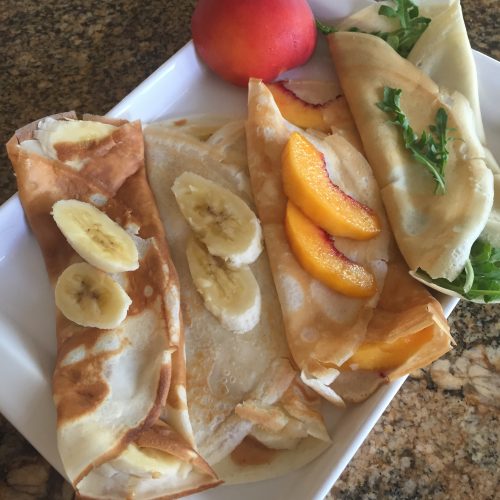 SOURDOUGH CREPES
Step-by-step on how to make soft, thin and delicious crepes with your sourdough discards.
Ingredients
237

ml

milk

296

ml

water

4

large

eggs

60

grams

sourdough starter

213

grams

all purpose flour

½

tsp

sea salt

1

Tbsp

sugar

4

Tbsp

butter

melted to a liquid.

butter

for greasing the pan.
Instructions
Add ingredients to a blender, making sure you add the liquid ingredients first.

Blend for about 10 seconds until mixed. Scrape sides of blender

Blend for an additional 10 seconds until batter is lump free.

Let rest for 30 minutes before cooking.

Set timer for 30 minutes
Video
Nutrition
Serving:
2
g
Calories:
212
kcal
Tried this recipe?
Let me know how it was or if you have any questions or suggestions!