Savory glutinous rice ball soup (tang yuan) is usually served during lunar new year. I learned this recipe from my now husband's aunt while I was still in college. It was SO delicious that I wanted her to teach me how to make it. My family makes this several times a year as its a healthy meal in a bowl. The rolling of the balls are somewhat time consuming, but it's a great way to get friends and family involved, making this a meal that's great for casual entertaining.
When my daughters were growing up, and I needed help making the dough balls, I got my daughters to help me. It was like playing play-dough! I allowed my daughters to have fun and make interesting-colored balls with food coloring. They absolutely loved making and eating this meal and even as adults, whenever they help me make tang yuan, there is no shortage of festive colored glutinous rice balls!
"Tang yuan" literally translates to "soup ball". However, the homophone pronunciation of "tang yuan" also means togetherness and the gathering of families so that is why it has become a symbolic dish during the lunar new year. For my family, it's a year-round one meal in a dish comfort food with stock made from pork meat and bones, lap cheong (Chinese sausage), napa cabbage, daikon (Chinese turnip), dried shitake mushroom, optional dried shrimp, and a generous helping of glutinous rice balls.
Tips for making glutinous rice ball soup (tang yuan)
Rolling the rice balls is probably the most time-consuming part of this recipe, but rest assured, there are ways to speed up the process. Experts who make tang yuan can roll multiple balls between their palms. For me, my girls LOVE making this! How did I get my girls to LOVE making this? I made this into a craft. With vials of food coloring, I told them to make their best, most colorful creation! Sometimes they are solid in color. Other times, they have a marbled effect. No matter the color, the glutinous rice balls are always hearty and delicious.
Glutinous Rice Flour.
When making these glutinous rice balls, make sure you use the correct rice flour. GLUTINOUS rice flour will lend itself to the soft, chewy balls. DO NOT USE THE REGULAR RICE FLOUR.
Rice to water ratio.
Although I have a specific recipe below, I believe it's important to learn the "science" behind cooking which frees one from constantly needing a recipe. For the glutinous rice balls, the amount of liquid needed is 100% of the weight of the glutinous rice flour. This may differ when using vegetable juices. To avoid having an oversaturated dough, add the room temperature water a little at a time and have extra glutinous rice flour on hand in case you need to add just a little more flour for a better, workable consistency.
Water temperature.
As I've been working with dumpling doughs, I've realized that many recipes require adding boiling water. The addition of boiling water increases the speed at which the flour absorbs the liquid which results in a smoother, more pliable dough that is silkier and easier to work with. This process is called gelatinization. Half of the water added is boiling water, followed by room temperature water. The dough needs to be fairly stiff. See youtube video to ensure correct consistency. Roll the dough into a long snake and cut into uniform pieces to ensure similar sized balls. However, this is completely optional. If the balls are unique in size, the larger balls will require a little more cooking than the smaller balls. Roll the balls between your palms. With practice, multiple balls can be rolled at once.
Glutinous rice balls can be colored completely naturally or with food coloring. Vegetable juices such as carrot, spinach and beet can be used as natural food coloring. Otherwise, vials of food coloring are a quick and more flexible way of making colored balls.
Storing glutinous rice balls.
Excess glutinous rice balls can be stored by freezing the balls individually on a baking tray lined with a silicone mat. Once the balls are frozen, place them in a freezer bag. Boiling the frozen glutinous rice balls will require more boiling time than the fresh glutinous rice balls. Don't defrost the frozen balls prior to boiling.
Tang yuan soup.
Cut the ingredients of the tang yuan soup into consistent sizes of about 2-2.5" (5-6 cm) in length. The meat should be 1/4" (.5 cm) thick and the vegetables should be 1/2" (1.25 cm) thick.
Pork broth.
This savory glutinous rice ball soup (tang yuan) has a pork base soup that is made from pork meat and bones. To avoid having to remove the fat layer from the soup, use lean pork. Otherwise, make your pork stock a day ahead of time, strain the pork broth from the bones and refrigerate to allow the fat to congeal. Once the fat has congealed, remove the fat. Note that the fat does contain flavor so you may want to save a little in the soup!
Some people throw the meat from the broth away. However, my family likes the meat. Shred the meat and put it on the side for people to add to their soup bowls or just serve the pork with its bones in the soup bowl.
Most ethnic markets sell pork (neck) bones specially for broth. Select the bones that don't have the skin and appear meaty. Rinse your bones / meat well as they may contain bone splinters. Sometimes I forgo adding the pork loin strips and just eat the tender meat from the pork bones!
Chinese sausage.
Slice the Chinese sausage diagonally into 2-2.5" strips and 1/4" thick. This definitely adds flavor to the soup.
Dried shrimp.
Small dried shrimp provides umami flavor to the soup. Rinse the shrimp prior to adding it to the stock.
Pork loin strips.
Cut the pork loin into strips and marinate it with the basic meat marinade. Add it to the soup at the end just to cook it. Cooking it too long tends to toughen the meat.
Vegetables.
I love making this a hearty soup that can function as a meal. Both the daikon and napa cabbages give the soup "sweetness". The rehydrated and marinated shitake mushrooms provide the umami flavor for the soup.
Enjoy this delicious glutinous rice ball soup (tang yuan) year round!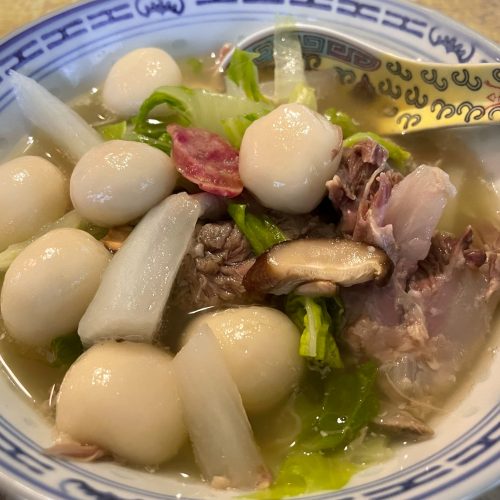 SAVORY GLUTINOUS RICE BALLS (TANG YUAN)
Soft and chewy glutinous rice balls that are immersed in tasty and hearty soup. It's a meal in a bowl. Takes less than an hour to make in an instant pot. See how to make these rice balls more interesting by adding color and patterns!
Ingredients
Soup Ingredients
2

L

water

1.4

kg

pork bones

454

g

sliced marinated pork sirloin strips

See basic marinade

3

slices

fresh ginger

2

Tbsp

dried shrimp.

454

g

napa cabbage leaves

3

strips

Chinese sausage

454

g

Chinese radish

daikon

1

tsp

salt

plus salt to taste

2

tsp

mushroom seasoning

½

tsp

white pepper

plus pepper to taste
Mushroom marinade
½

cup`

boiling water

½

Tbsp

soy sauce
Cooking glutinous rice balls
Instructions
Prepare shitake mushrooms
Rinse and soak shitake mushrooms in boiling water with soy sauce.

½ cup` boiling water,

½ Tbsp soy sauce
Make soup broth
Add broth ingredients into the instant pot and pressure cook for 15 minutes.

2 L water,

1.4 kg pork bones,

3 slices fresh ginger,

2 Tbsp dried shrimp.,

1 tsp salt,

½ tsp white pepper,

2 tsp mushroom seasoning

Allow the pressure to release naturally as you prepare the rest of the ingredients.

454 g sliced marinated pork sirloin strips

Slice the Chinese sausage in diagonal strips about 2-2.5" (5 - 6 cm) in length

Slice daikon, napa in diagonal strips about 2-2.5" (5 - 6 cm) in length

3 strips Chinese sausage,

454 g Chinese radish,

454 g napa cabbage leaves

Slice shitake mushrooms into ½" (~1 cm) thickness.

5 dried shitake mushrooms
Dough
Add the glutinous rice into a bowl and make a well in the center.

300 g glutinous rice flour

Pour the boiling water into the glutinous rice flour and mix with chopsticks or spoon.

Pour the minimal amount of room temperature water and mix.

Stir mixture until all the the liquid is absorbed. This should appear crumbly and dry. Don't be tempted to add more water until after kneading by hands.

Squeeze the dough with your hands. If it comes together and forms a ball, DO NOT ADD ANYMORE WATER.

If it appears that it needs additional water, add the water by the teaspoonful as it can be easily oversaturated. After each addition of water, squeeze the dough with your hand to see if it comes together.

Using your hands, knead the dough for 2-3 minutes until well combined. Allow it to rest, covered, for about 10 minutes.
Shaping the balls
Cooking the balls
Boil water in a saucepan.

Add balls to the pot while stirring the water to prevent the balls from sticking to the bottom.

When the balls float to the top, cook for an additional minute.

Using a slotted spoon, remove balls from water and add it to your soup.
Assemble the soup
Strain the pork stock through a sieve or colander.

Add the clear pork stock back into the instant pot.

Turn the instant pot to "saute" and add the rest of the ingredients.

5 dried shitake mushrooms,

454 g napa cabbage leaves,

454 g Chinese radish,

3 strips Chinese sausage

Season with salt and pepper to taste.

Pour your soup into individual bowls and top with the glutinous rice balls. Enjoy!
Nutrition
Serving:
4
g
Calories:
632
kcal
Carbohydrates:
105
g
Protein:
41
g
Fat:
4
g
Saturated Fat:
1
g
Polyunsaturated Fat:
1
g
Monounsaturated Fat:
1
g
Trans Fat:
1
g
Cholesterol:
155
mg
Sodium:
2290
mg
Potassium:
1229
mg
Fiber:
7
g
Sugar:
6
g
Vitamin A:
8971
IU
Vitamin C:
60
mg
Calcium:
195
mg
Iron:
3
mg
Net Carbohydrates:
98
g
Tried this recipe?
Let me know how it was or if you have any questions or suggestions!