I was introduced to this refreshing beet limeade a year ago when visiting Nantucket. I went to this restaurant that was called none other than "The Beet". Everyone was ordering this beautiful red drink that looked so delicious and appetizing, especially when the weather was hot. One person at our table ordered the drink. We all tasted it and then the entire table needed one of their own! I was inspired to make my own when I got home!
This refreshing beet limeade is delicious because it combines the sweet and earthy beets with the tart from the limes. It is so refreshing and thirst quenching on a hot day! I like this drink for beet's health benefits too. Be advised that the red coloring in the beets will result in a more reddish urine color!
Tips for making refreshing beet limeade
When working with beets, the juice is very red and does stain. Wear an apron and use extra caution when juicing fresh beets.
Beets.
One of the appealing things about this limeade is the bright red color. There are various colored beets. Use red beets to get that fuchsia colored beet limeade. Young, fresh beets tend to be sweeter and juicier.
How to pick fresh beets?
In many grocery stores, some beets come with leaves while other beets are sold without the leaves. You can tell the freshness of the beets by their leaves. When the leaves wilt and dry out, processors cut off the leaves and sell the beets as "bulk beets". It's hard to determine how old the beets are without their leaves. Like potatoes, beets can last for a very long time so buy fresh beets with leaves. The leaves can be sauteed and used as a side dish.
If you don't have a juicer and cannot get fresh beet juice, bottled beet juice will work but most of the bottled beet juices already have lemon juice which acts as a color preservative. This will render a more tart limeade. You can adjust the sweetness accordingly by adding more simple syrup.
The fresh juice tends to be thicker than the bottled juice.
Juicing fresh beets renders a bright red juice and plenty of pulp. Don't throw the pulp away. Make something out of it! I'm working on a dumpling filling made with beets inspired by an unforgettable experience at Arpege restaurant in Paris.
Sweetness.
Beets are naturally sweet with a hint of earthiness. A small amount of simple syrup is added to neutralize the fresh limes tartness. A simple syrup is made with equal proportions of boiling water and sugar. This allows the sugar to dissolve, eliminating any sugar granules in the limeade. This simple beet limeade recipe tends to be more on the tart side as I only use a minimal amount of sugar. For additional sweetness, more simple syrup can be added.
This refreshing beet limeade recipe below is a guideline for your limeade. I tend to like my limeades less sweet than normal. Tweak it accordingly. It tastes much better when ice is added. Enjoy!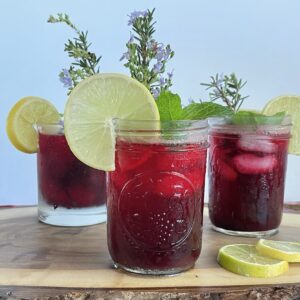 REFRESHING BEET LIMEADE
There's nothing better than a refresher, healthy drink. Ever had a beet limeade? It's delicious!
Equipment
Juicer

or buy ready-made juice
Ingredients
1

liter

water

or seltzer water

2

cups

beet juice

fresh or bottled.

¼

cup

fresh lime juice

3

Tbsp

sugar

3

Tbsp

boiling water

Fresh mint and lavender

for garnish
Instructions
In a carafe, combine sugar and boiling water to form a simple syrup.

3 Tbsp sugar,

3 Tbsp boiling water

Stir until the sugar dissolves.

Add all the other ingredients.

1 liter water,

2 cups beet juice,

¼ cup fresh lime juice

Serve with ice. Garnish with mint and lavender
Nutrition
Serving:
3
g
Calories:
127
kcal
Carbohydrates:
32
g
Protein:
0.3
g
Fat:
0.3
g
Saturated Fat:
0.04
g
Polyunsaturated Fat:
0.1
g
Monounsaturated Fat:
0.01
g
Sodium:
25
mg
Potassium:
191
mg
Fiber:
0.4
g
Sugar:
28
g
Vitamin A:
12
IU
Vitamin C:
8
mg
Calcium:
27
mg
Iron:
0.2
mg
Net Carbohydrates:
32
g
Tried this recipe?
Let me know how it was or if you have any questions or suggestions!