Beef with Chinese broccoli is a Cantonese favorite. I really like Chinese broccoli, because when cooked right, the stems are "crunchy". The sauce in this particular dish is heavy on the oyster sauce. If you've every been for Cantonese dim sum, they will serve Chinese broccoli with oyster sauce as one of the dishes. You can substitute this with regular broccoli, but if you are able to use Chinese broccoli, it's got more crunch.
Tips.
Beef.
The key to making this dish well is to use a good cut of beef. The beef needs to be tender. Otherwise, you will spend quite a bit of time, trying to chew the beef in order to swallow it. I would recommend using either tri-tip or a sirloin. Do not use stewing meat cuts as they are fairly tough.
Chinese broccoli.
Unlike regular broccoli, Chinese broccoli is a leafy vegetable with thick stalks, rich in nutrients and good source of Vitamin C, Vitamin K and Vitamin A. In my Chinese stir frying basics, one of my tips is to make sure that all your veggies in the stir fry are fairly uniformly cut. This allows for even cooking. For the Chinese broccoli, separate the stalks from the leaves. Unlike regular broccoli, Chinese broccoli have very thick stalks. Usually these stalks, although thick, are not tough when properly cooked. Sometimes, especially during the summer when the weather is hot, these stalks will tend to have a thick outer layer that is tough and stringy. If you happen to purchase a bunch with thick stringy stalks, use a peeler and peel the outer layer. You can then cut the stalks at a diagonal so that all the stalks are fairly uniform in size.
Sauce.
Make the sauce mixture prior to stir-frying as you do not want to overcook your stir-fry. You will need to stir your sauce before adding it to the wok as the cornstarch will have settled to the bottom of the container.
Watch the quick video for the stir frying technique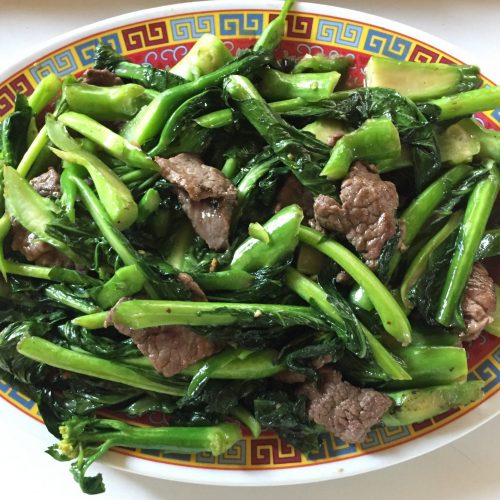 BEEF WITH CHINESE BROCCOLI
The classic Cantonese style beef with Chinese broccoli stir fry. Simple and delicious.
Ingredients
227

grams

beef

sirloin, tri-tip work well. Preferably no stewing meat.

4

Tbsp

cooking oil.

340

grams

Chinese broccoli

1

Tbsp

fresh chopped garlic
Instructions
Mix beef with all the beef marinade ingredients. Let sit for at least 30 minutes.

Separate Chinese broccoli stalks from leaves. Slice stalks into uniform sizes.

Mix all ingredients for sauce in a measuring cup and fill until ½ cup level is reached with water.

Add chopped garlic and stir.

Remove when 75% cooked. Place on platter.

Add 2 Tbsp cooking oil to wok.

Stir fry Chinese broccoli stalks until 75% cooked.

Cover briefly to allow steam to cook the stalks.

Add Chinese broccoli leaves and stir so that all leaves are coated with oil

Cover briefly to allow steam to cook the Chinese broccoli

Add the partially cooked beef back into wok with Chinese broccoli

Stir sauce mixture in container before adding to wok. Drizzle along the edges so that the metal sides can cook the sauce.

Mix the Chinese broccoli and beef with sauce until everything is coated with flavor!

Place on platter and serve with rice!
Video
Nutrition
Serving:
4
people
Calories:
337
kcal
Carbohydrates:
12
g
Protein:
13
g
Fat:
26
g
Saturated Fat:
5
g
Cholesterol:
40
mg
Sodium:
658
mg
Potassium:
163
mg
Fiber:
1
g
Sugar:
3
g
Vitamin A:
1500
IU
Vitamin C:
78
mg
Calcium:
70
mg
Iron:
2
mg
Tried this recipe?
Let me know how it was or if you have any questions or suggestions!