Everytime Halloween comes, I feel that it's the official start to the Holidays. I like it when the cuisines, including the Starbucks coffee flavors, reflect the changes in the seasons, especially in California where the seasons seem to be the same year round. These changes in food and flavors may be the barometer which we Californians use to know which season we are in. Right now it's pumpkin and butternut squash everything! So what better way to start out the fall with a delicious and healthy butternut squash soup garnished with nutritious caramelized sage leaves and drizzled with truffle oil.
I love butternut squash. I love it just steamed as a vegetable, as a soup and even as a ravioli. For some reason, I always associate butternut squash with the sage herb. For this recipe, instead of adding sugar, I maximize the sweetness by adding onion and carrots to the butternut squash. By caramelizing these vegetables first, I extract the sugars naturally. I've also eliminated adding cream. The sweetness from the squash plus the butter already makes this butternut squash soup a rich tasting potage. Adding cream seems to not add much except extra calories! I like to showcase the sage by caramelizing it until they are crispy and adding them as a garnish.
Tips.
Equipment.
Cast iron Dutch oven. The cast iron allows the Dutch oven to retain the heat so that the latent heat cooks the vegetables. Also, the lid of the Dutch oven is designed in such a way that the moisture is retained in the Dutch oven, thus requiring less liquid. If you don't have a Dutch oven, you can make this in a heavy-bottom pot. You may have to cook your vegetables longer to ensure that they are soft enough to puree.
Stand blender. I use a vitamix blender to blend the vegetables really smooth. You can use an immersion hand blender, but the consistency of the butternut squash is not as smooth and silky.
Technique.
Preparing the butternut squash.
Since butternut has a smooth skin, many people, including me, have had knife accidents trying to cut a butternut squash. Here's a safer way to cut and peel butternut squash.
Once your squash is in quarters, you can de-seed and cut it into cubes.
In order to get a rich taste for this butternut squash soup, I caramelize the vegetables with a mixture of butter and olive oil. Heat the olive oil in the pan first before adding the butter. Since the butter has a lower smoke point than olive oil, the temperature at which an oil starts to burn and smoke, it is good to combine the two fats in order to caramelize the vegetables without burning the butter. NO liquid is added when the vegetables are cooking to maximize the butternut taste and sweetness of the vegetables.
Once the vegetables are cooked, there will be sufficient liquid in the Dutch oven that will allow the blender to puree the squash.
After removing the pureed butternut and putting it back into the Dutch oven, add the chicken stock into the blender, turn on the motor and "clean" the blender to avoid having to struggle to get the rest of the puree out with a spatula. Pour that mixture into the Dutch oven.
Caramelizing sage leaves.
Make sure that the sage leaves are clean and dried with a paper towel. Saute the leaves in a butter-olive oil combination until crisp. Add salt, let cool on a paper towel until serving.
Truffle oil.
Truffle oil is delicious, but expensive. If you prefer not to use truffle oil, you can always drizzle the sage oil that you just made onto your butternut squash soup.
You can have freshly grated parmesan cheese on the side for those people who want it a little saltier. The grated cheese takes away from the silkiness of the soup so I always offer this on the side. I prefer to serve this soup with cheese toasts by melting some sharp cheddar cheese onto thinly sliced, homemade, sourdough bread and toasting them until they are crisp. This is such a hearty yet low-calorie soup. So delicious!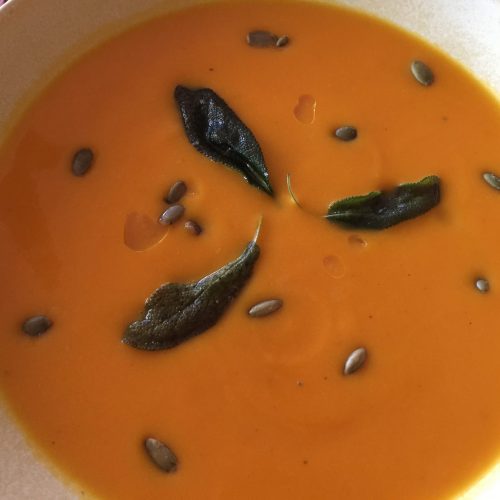 BUTTERNUT SQUASH SOUP
This butternut squash soup has no added sugar or cream. The sweetness and smooth texture comes from the technique rather than additives.
Ingredients
850

grams

peeled and cubed butternut squash

900 gram butternut squash (~2 lbs)

180

grams

peeled and chopped carrots

2 carrots

120

grams

diced onion

1 medium onion

1

Tbsp

unsalted butter

1

Tbsp

olive oil

475

grams

chicken stock

2 cups

½

tsp

ground mace

¼

tsp

ground ginger

½

tsp

sea salt

¼

tsp

fresh ground pepper

truffle oil

for garnish

roasted pumpkin seeds

optional
Caramelized Sage Garnish.
1

Tbsp

olive oil

1

Tbsp

butter

Fresh sage leaves
Instructions
Preheat cast iron dutch oven over medium heat. Add oil and then butter.

Saute onion until translucent and browning.

Add carrots. Saute for 5 minutes

Add butternut squash. Saute for 5 minutes

Place lid on dutch oven, cook over medium-low heat for 25 minutes.

Switch off stove after 25 minutes. Do not open the lid and allow to continue to cook for additional 20 minutes

Place roasted vegetables with juices into blender and blend until smooth.

Place pureed vegetables back into cast iron dutch oven. Do not wash blender. Add chicken stock to blender and blend to "clean" the blender.

Pour chicken stock into butternut squash vegetable puree and heat.

Add mace, ginger. Season with pepper and salt to taste.
Make Sage Garnish
Separate sage into leaves, wash and dry with paper towel.

Heat olive oil and butter in a small saucepan. Saute leaves. Flip over and saute the other side.

Place on a plate, sprinkle with salt and cool.
Plating your soup
Place soup into your soup bowls.

Place sage leaves on top of soup.

Drizzle with truffle oil or sage oil sparingly, depending on your taste.
Nutrition
Serving:
6
person
Calories:
173
kcal
Carbohydrates:
24
g
Protein:
4
g
Fat:
8
g
Saturated Fat:
2
g
Cholesterol:
8
mg
Sodium:
337
mg
Potassium:
707
mg
Fiber:
4
g
Sugar:
7
g
Vitamin A:
20129
IU
Vitamin C:
33
mg
Calcium:
88
mg
Iron:
1
mg
Tried this recipe?
Let me know how it was or if you have any questions or suggestions!