When I first came over to the United States from South Africa, I attended boarding school in Pittsfield, Massachusetts. There I discovered two delicious American dishes that were hearty during the cold winters: New England clam chowder and tex-mex chili. By the way, these two dishes also hit the spot after a long day of skiing! This gluten-free New England clam chowder is adapted from the original recipe that was thickened with flour in order to make this gluten-free.
I remember that Alex, my now husband, also loved chowder. He had tasted a good chowder on one occasion and asked for the recipe. The recipe called for bacon which made ALL the difference. On one particular ski trip, he decided to make New England clam chowder with one packet (pound) of bacon. However, the chef giving Alex the recipe failed to mention that he needed to drain most of the bacon fat. Needless to say, the combination of large amounts of bacon fat and full cream didn't bode well for our stomachs and the ski trip for many (if not all) of us didn't end well!
Many New Englanders have their own version of clam chowder. This particular clam chowder is lighter and healthier but still very tasty. Many recipes use flour or corn starch to thicken the chowder. This chowder does not use any additional starch besides the russett baking potatoes which when softened, act as a thickener. It also uses milk and cream. The combination of milk and cream can be adjusted depending on your preference and tolerance for rich and creamy foods.
Tips for making New England clam chowder
Clams.
I like a hearty chowder with a generous amount of meaty clams, so I prefer to use the canned chopped clams rather than the minced clams. I also like to add canned baby whole clams. Some recipes call for fresh clams. If fresh clams are readily available and not cost prohibitive for a soup, definitely use fresh clams. Fresh clams do tend to have sand inside the shells. To remove the grit, wash the clams in water and allow the clams to soak in a bowl of water for about two hours. This allows the clams to process the clean water through their system, expelling the grit. Change out the water several times during the two hours. Clean and brush the clams individually to get rid of any lingering sand...or just use canned or cleaned fresh clams!
Bacon.
I believe the secret to a good chowder is the bacon! I love the pops of bacon flavor so the bacon is not cooked in the chowder which leaches out the taste, but is merely added at the end as a garnish and flavor enhancer before serving. Saute the diced bacon pieces until the fat is rendered and the bacon becomes crisp. Reserve some of the rendering to flavor the chowder when sauteeing the vegetables.
Potatoes.
Potatoes are used to thicken this chowder and make it heartier. There are certain potatoes, like russet potatoes or baking potatoes, that break down easier than others. Use these potatoes to reduce the boiling time and thicken up the chowder. Other potatoes contain less starch and don't break down as quickly.
Soup base.
This gluten-free New England clam chowder's soup base is made up of diced onions and celery sauteed in a little bacon fat. When sauteeing the onion, cook until translucent in color. At this stage in the cooking process, the flavor of the onion starts to sweeten and caramelize. Avoid caramelizing the onion, allowing it to turn dark brown as this affects the overall color of the chowder. The juice from the canned clams adds the umami flavor and should not be thrown away!
Cream.
This recipe combines heavy cream and milk. Half and half can also be used. The proportion and combination of cream and milk is really a personal choice. I prefer to add just enough cream to get the richness of the heavy cream and a white color without the calories of too much cream. Cream tends to separate when heated at a very high temperature. To avoid this from happening, add the cream at the very end when the soup base is complete. Milk can be added to the chowder before the cream to ensure that it heats up properly for a nice hot chowder.
Garnishes.
One of my favorite ways to serve this soup is with a variety of garnishes that complement the overall chowder. These garnishes provide color, crunch and pops of intense flavor. It's great to have guests add their own garnishes. Other than the traditional oyster crackers, some of my favorite garnishes are Whisps cheese crisps, corn niblets, chives, parsley and bacon bits. Whisps cheese crisps are crispy cheese crisps that are low carb and gluten free! These garnishes provides bursts of flavor and crunch. Flat leafed parsley and chives add color and flavor. Enjoy the cold weather with this hearty chowder!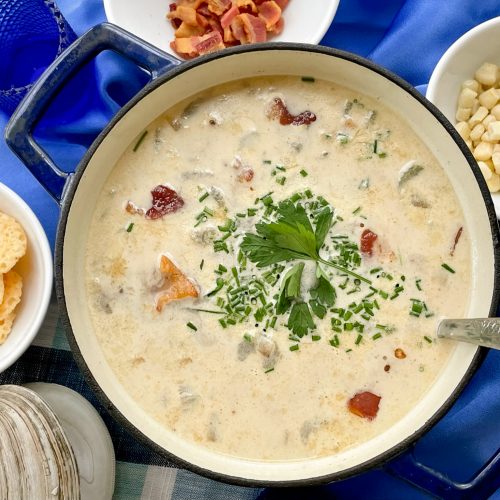 GLUTEN-FREE NEW ENGLAND CLAM CHOWDER
GLUTEN-FREE New England clam chowder.
Ingredients
4

strips

bacon

2

ribs

celery

½

medium

onion

130g for 1x

2

medium

baking potatoes

400g for 1x

1

cup

boiling water

2

tsp

chicken bouillon powder

1-2

bayleaves

⅛

tsp

fresh ground black pepper

½

cup

heavy cream

1

cup

whole milk

1

can

chopped clams

with juice

1

can

whole clams

with juice
Garnish
Chopped bacon

Oyster crackers

fresh parsley

chopped

fresh chives

chopped
Instructions
Slice celery ribs ½" width

Dice peeled potatoes to 1" cubes

Cut bacon into ½" strips.

Remove bacon and fat, leaving about 2 Tablespoons of bacon rendering.

Add and saute celery, potato and bay leaves.

Add canned clams with juice.

Use the boiling water to clean out the cans.

Add chicken bouillon and black pepper.

Simmer for 10-15 minutes until potatoes start to lose their form and chowder stock thickens.
Nutrition
Serving:
4
servings
Calories:
242
kcal
Carbohydrates:
25
g
Protein:
6
g
Fat:
14
g
Saturated Fat:
8
g
Polyunsaturated Fat:
1
g
Monounsaturated Fat:
4
g
Cholesterol:
42
mg
Sodium:
297
mg
Potassium:
640
mg
Fiber:
2
g
Sugar:
5
g
Vitamin A:
631
IU
Vitamin C:
8
mg
Calcium:
124
mg
Iron:
1
mg
Net Carbohydrates:
23
g
Tried this recipe?
Let me know how it was or if you have any questions or suggestions!