I enjoy experimenting with various seasonal veggies and presenting them in different forms like these gluten-free, high protein vegetable patties. These patties are so easy and quick to make with zucchini, carrots, corn, onion and jalapeno. The chopped onion and jalapeno add crunch and spiciness to these patties. Chickpea flour is used as a binder which enhances the nutritional value of these patties, because it is very nutritious, gluten-free and has a high protein content. These gluten-free high protein vegetable patties served with a chive yoghurt dip are a great alternative to the high carb. potato pancakes.
I originally made this recipe with corn meal and kefir. Although that recipe tasted fine, the resting time was long in order to maximize the corn's nutrition and rehydration. I woke up in the middle of the night one evening and I had the epiphany...chickpea flour! The next morning, I made the substitution, and the chickpea flour was the key missing ingredient!
Tips for making gluten-free, high protein vegetable patties.
These patties are filled with veggies and chickpea flour. Since these patties contain no gluten, the chickpea flour and egg are used as the binders.
Chickpea flour
Chickpea flour is ground, dehydrated chickpeas. It is a healthy option to incorporate more protein, vitamins and minerals into the patties. Compared to corn meal, chickpea flour is more nutritious. Chickpea flour can be found in most major supermarkets. I prefer to go to a supermarket like Sprouts that sell bulk ingredients and scoop out the quantity that I need.
Vegetables
For this recipe, shredded zucchini, carrots, diced onion, chopped onion, chopped jalapeno and frozen corn are used. For quick preparation, use a food processor and shred the zucchini, carrots and cheese together. For colorful and festive patties, use rainbow carrots.
The onion and jalapeno should be diced. The jalapeno gives the patties some spiciness. Depending on the spiciness of the jalapeno, the size of the diced pieces will matter. Cut the jalapeno into small diced pieces if it is very spicy (1/4 inch or smaller!). The onion gives crunch to the patty so should be cut into small diced pieces (1/4 inch)
Flavoring the patties
These vegetables patties are flavored with two umami packed ingredients: cheese and mushroom seasoning powder. I prefer using a sharp cheddar cheese to add flavor as well as the soft melted cheese texture to the patty. I also like adding chopped jalapeno to spice it up a bit! This is entirely optional depending on your spice tolerance!
Making ahead these gluten-free, high protein vegetable patties
The patty mixture can be made ahead of time and allowed to rest in the fridge for up to 48 hours. Liquid may accumulate at the bottom as the salt from the seasoning extracts the liquid from the vegetables. Stir the mixture until combined and then fry it in the skillet. Make sure that some of the liquid egg is included in the patty mixture when spooning it onto the skillet. The onion will lose its crunchiness if allowed to rest. To retain the crunchiness of the onion, add the onion to the mixture just before frying.
The yoghurt dip can be made ahead and refrigerated. Stir before serving.
Cooking the patties
The longer the mixture is allowed to rest, the more vegetable juice is extracted. This may cause the patties to splatter when placed in the skillet. Use a splatter guard or a vented lid to avoid messing the stove as well as cooking the vegetables completely! The mixture will not be a viscous, free flowing batter. Spoon the mixture onto the skillet and flatten the patty to form a disc. The patties are ready to flip when the edges start to turn golden brown.
Chive yoghurt dip
For the chive yoghurt dip, use thick Greek yoghurt. Add the salt and chives to the yoghurt. If the yoghurt is too thick, add milk to thin out the dip.
For a spicy option, serve with sriracha chili sauce.
Enjoy these nutritious, gluten-free, high protein vegetable patties accompanied with the dips or sauces and let me know what you think in the comment section.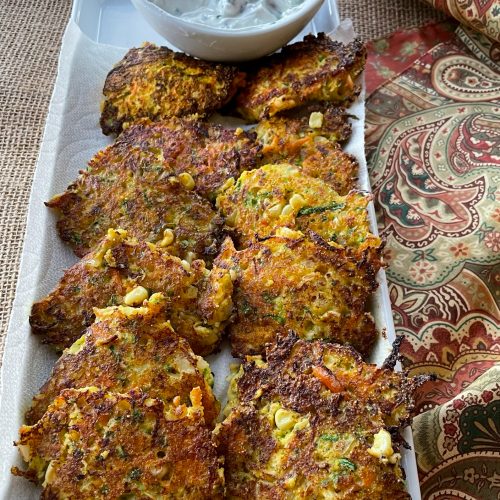 HIGH PROTEIN VEGETABLE PATTIES
These high protein, vegetable patties are simple and easy to make. The jalapeno and sharp cheddar add a different dimension to these vegetable patties made with zucchini, carrots, onion, corn and chickpea flour.
Ingredients
55

grams

chickpea flour

1

large

eggs

¼

cup

frozen corn

or niblets from one roasted corn.

150

grams

shredded zucchini

1 medium sized zuchinni for 1x

75

grams

shredded carrots

1 medium sized carrot for 1x

50

grams

finely diced onion

40

grams

shredded cheese

preferably sharp cheddar

1

Tbsp

finally chopped jalapeno

more can be added according to taste

1

tsp

mushroom bouillon

⅛

tsp

black pepper

finely chopped chives

for garnish

cooking oil.

for frying
Chive, Yoghurt Dip
½

cup

2% Greek yoghurt

⅛-¼

tsp

sea salt

1

Tbsp

chopped fresh chives
Instructions
Finely chop onion, jalapenos and chives.

50 grams finely diced onion,

1 Tbsp finally chopped jalapeno,

1 Tbsp chopped fresh chives

In a food processor with a shredding attachment, shred the zucchini, carrots and cheese.

150 grams shredded zucchini,

75 grams shredded carrots,

40 grams shredded cheese

In a large bowl, combine all the ingredients.

55 grams chickpea flour,

1 large eggs,

¼ cup frozen corn,

150 grams shredded zucchini,

75 grams shredded carrots,

50 grams finely diced onion,

40 grams shredded cheese,

1 Tbsp finally chopped jalapeno,

1 tsp mushroom bouillon,

⅛ tsp black pepper

Over medium heat, add oil to a non-stick skillet

Drop a large spoonful of vegetable mix onto the skillet. Flatten to form a disc.

Remove the patties when done and serve with chive, yoghurt dip.
Nutrition
Serving:
10
patties
Calories:
63
kcal
Carbohydrates:
7
g
Protein:
4
g
Fat:
2
g
Saturated Fat:
1
g
Polyunsaturated Fat:
0.3
g
Monounsaturated Fat:
1
g
Trans Fat:
0.002
g
Cholesterol:
22
mg
Sodium:
160
mg
Potassium:
144
mg
Fiber:
1
g
Sugar:
2
g
Vitamin A:
1375
IU
Vitamin C:
6
mg
Calcium:
45
mg
Iron:
0.5
mg
Net Carbohydrates:
5
g
Tried this recipe?
Let me know how it was or if you have any questions or suggestions!