Panzanella salad with sourdough bread makes sense when you have stale bread and delicious home-grown tomatoes on hand. You can actually use any type of stale bread that you can convert into a crouton!
I usually only grow sweet one million cherry tomatoes as there is nothing better than the taste of home-grown tomatoes. This past summer, my neighbor gave me this interesting "black beauty" tomato plant. He had never grown it either. When the black beauties were big, no one knew how to tell if they were ripe or not. It wasn't until MY tomatoes started being eaten by the rats that taught me how to identify ripe black tomatoes! You look at the underside. When they have a reddish tinge, they're ready. Get them before the rats do!
This recipe is a combination of an Italian cooking lesson that I took in Tuscany where my family stayed on a vineyard and olive grove with this wonderful Italian couple. We learned to make a full dinner. However, the thing that I remembered most from that class was the delicious crostini and salad! I'm not sure if it was because I was more sympathetic to Massimo, the hen-pecked husband that I have good memories of the side dishes. But knowing my stomach, it was probably because it tasted REALLY good.
At the height of tomato season, there is nothing better than to use up your old sourdough bread and have it soften by soaking up the juice from fresh tomatoes with just a dash of light dressing so you can really taste the delicious tomatoes.
Tips:
There are no ingredient measurements for this Panzanella salad with sourdough bread recipe. It is completely dependent on how you want it. My hope is that you can start to look and taste the dish to develop your own creation with a bit of guidelines!
Bread. Massimo taught us to use fresh garlic, olive oil and salt for the crostini. For the panzanella croutons, mix fresh minced garlic and olive oil in a bowl and brush it onto the bread slices. Then lightly sprinkle the bread slices with coarse sea salt flakes and toast it in a toaster oven or oven. After the slices have been toasted, you can now cut it into cubes for your panzanella.
If you don't use coarse sea salt flakes as a topper, I suggest you go out and purchase some. The addition of a sprinkling of coarse sea salt flakes makes a BIG difference to the taste of dishes that you want to have a burst of flavor. I don't suggest using the coarse sea salt flakes for cooking as it's a little pricey, but it's worth using it as a selective topping! Try it.
Tomatoes. If you are using cherry tomatoes, cut them in half to expose their meat or dice larger tomatoes. Sprinkle salt onto the diced / halved tomatoes. This not only brings out the flavor of the tomatoes, but it also extracts the juice that the bread can absorb.
Other ingredients. You can use other ingredients like sliced cucumbers, kalamata olives, chopped onion, fresh herbs like basil or oregano and a salty cheese for a burst of flavor.
Dressing. The dressing is not supposed to overpower the taste, it is merely supposed to provide additional juice for the croutons to soak in.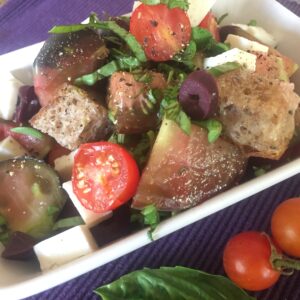 PANZANELLA salad with sourdough bread
Panzanella is a great way to use up stale sourdough bread and juicy tomatoes. It's simple and delicious.
Ingredients
227

g

Stale bread cut into thick 1" slices

2.5cm cubes

2

tsp

Fresh minced garlic

¼

cup

Olive oil

20

Tomatoes

20

large

Basil leaves

½

tsp

Coarse sea salt
Vinaigrette Dressing
½

cup

Olive oil

extra virgin

1

tsp

fresh chopped garlic

¼

cup

Wine vinegar

½

tsp

Salt

⅛

tsp

Pepper

Fresh oregano
Instructions
Croutons
Combine fresh minced garlic and olive oil in a bowl.

Brush the garlic, oil mixture onto the bread slices.

Sprinkle coarse salt onto the bread.

Toast bread and cut into 1" / 2.5cm cubes
Salad
Cut tomatoes and other ingredients that will be part of your salad

Salt and pepper to taste. The salt will also extract the vegetable juices. Let sit for 15 minutes.

If your salad still needs more liquid, add a combination of extra virgin olive oil and a wine vinegar in a 2:1 olive oil to vinegar ratio. (Balsamic vinegar tends to be a little heavy for this salad so I don't use it.) DO NOT OVERPOWER YOUR DELICIOUS TOMATO JUICE BY ADDING TOO MUCH DRESSING!

Mix your tomatoes and croutons together. Enjoy!
Nutrition
Serving:
4
g
Calories:
476
kcal
Carbohydrates:
25
g
Protein:
6
g
Fat:
42
g
Saturated Fat:
6
g
Polyunsaturated Fat:
5
g
Monounsaturated Fat:
30
g
Sodium:
615
mg
Potassium:
1480
mg
Fiber:
7
g
Sugar:
16
g
Vitamin A:
5229
IU
Vitamin C:
85
mg
Calcium:
71
mg
Iron:
2
mg
Net Carbohydrates:
17
g
Tried this recipe?
Let me know how it was or if you have any questions or suggestions!