What is tataki? Although I am not a Japanese cuisine aficionado, I do enjoy a good tuna tataki. Tataki is seared, sliced tuna with a citrus dressing. This sesame seed tuna tataki with pickled onions is inspired by my recent East coast trip with a final destination to Nantucket where I spent a week eating all the fresh seafood my body could handle! From Maryland blue crabs with Old Bay seasoning, lump crab cakes, scallops, cod, soft shell crabs, lobster, self caught porgies that were eaten within two hours of being caught to delicious fresh tuna!
This sesame seed tuna tataki with pickled onions is a simple outer crust made up of a combination of black and white sesame seeds, coarse sea salt and coarse ground pepper. Pickled onions are added for crunch as well as to provide the acid that the tataki needs. Serve this will ponzu sauce which is a combination of soy and citrus that can be bought in most grocery stores and it's a winner.
Tips for making tuna tataki with pickled onions.
Tuna
Make sure you buy your tuna from a reputable vendor. Some purveyors sell defrosted tuna steaks which are perfectly fine. Look for tuna steaks that are either light pink or deep red, but not oxidizing and turning brown. There may be a strip of darker muscular meat within the steak which is perfectly fine. The muscle of the steak should also not be separating as this is an indication that the fish has been on display too long. The fish should also not smell overpoweringly fishy. Buy cuts of tuna about one to one and a half inch (~3-4 cm) thick. The thinner the steak, the quicker the sear to avoid overcooking the tuna.
Calculate about 1/3 of a pound of tuna per person as the meat is dense so it goes a long way when sliced and served as an appetizer. If you are at a dedicated fish store like Gliddens Island Seafood in Nantucket, you may be able to request a "block cut" piece of fish which is perfect for this tataki.
Pickled onions
Thinly slice onions and sprinkle with salt. Using plastic gloves or a plastic bag to avoid the smell of onions on your hands, squeeze the onions to break down the cell membranes that hold the juice.
Placed the squeezed onion in a bowl without its juice and add sugar and vinegar. The onions will absorb the vinegar.
Tuna tataki dry rub
This tuna tataki dry rub combines white and black sesame seeds, coarse black pepper and coarse ground salt. Place these in a bowl.
Coat the tuna steak on all sides with the sesame seed mixture.
Searing
Heat a cast iron skillet until really hot. Add cooking oil to prevent sticking and sear the tuna steak briefly on all sides. Do not burn the sesame seeds.
Plating sesame seed tuna tataki salad with pickled onions.
Allow the tuna to cool. Layer the salad with arugula and pickled onions.
Slice the tuna a little less than half an inch (1 cm).n Drizzle the ponzu sauce onto the tuna tataki or serve on the side. Enjoy!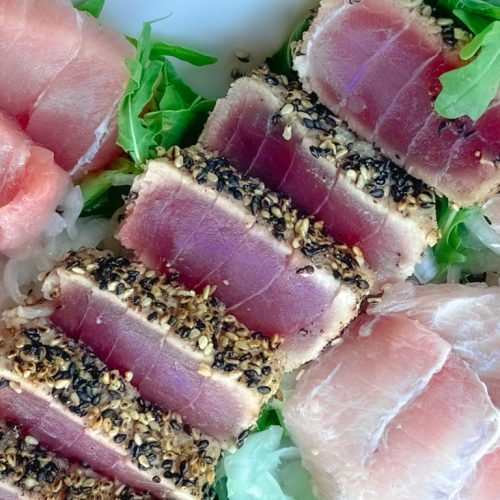 SESAME SEED TUNA TATAKI SALAD WITH PICKLED ONIONS
Seared tuna with a delicious dry rub of black and white sesame seeds, black pepper and salt. Served with pickled onions and arugula.
Ingredients
340

g

sushi-grade tuna steak

1

Tbsp

cooking oil.
Pickled Onions
1

large

onion

1

tsp

sea salt

½

tsp

sugar
Greens
113

g

arugula leaves

or equivalent
Instructions
Nutrition
Serving:
2
servings
Calories:
408
kcal
Carbohydrates:
14
g
Protein:
44
g
Fat:
20
g
Saturated Fat:
3
g
Polyunsaturated Fat:
6
g
Monounsaturated Fat:
9
g
Trans Fat:
1
g
Cholesterol:
65
mg
Sodium:
2412
mg
Potassium:
824
mg
Fiber:
4
g
Sugar:
5
g
Vitamin A:
5070
IU
Vitamin C:
14
mg
Calcium:
214
mg
Iron:
4
mg
Net Carbohydrates:
10
g