I LOVE soft shell crab. The sweet taste of crab, a little bit of crunch with no effort required to pick out the meat! Does it get any better than that? Soft shell crab is very seasonal. A few weeks during the summer months, the blue crab molts, shedding its outer shell or exoskeleton, leaving a very soft carapase (outer shell). As a result, the entire soft shell crab can be eaten and this simple soft shell crab with savory butter and herbs is the perfect recipe to enjoy these juicy crustaceans.
During my east coast trip from Washington DC to Nantucket, my goal was to eat and enjoy all the seafood that the east coast offered! My daughter and I came during soft shell crab season. We ate them at restaurants and cooked them ourselves. The best tasting crabs were the ones we cooked ourselves.
Most restaurants tend to deep fry soft shell crabs. Although this creates a crispy exterior, it is pretty much just like a deep fried crab. I decided to buy some raw soft shell crabs at Glidden's Island Seafood. They have an amazing assortment of fresh fish, serve great seafood lunches and their service is exceptional. I highly recommend them if you are on Nantucket island. This soft shell crab with savory butter and herbs recipe is simple and creates a juicy, delicious appetizer that brings out the sweetness and flavor of these crustaceans without too much effort. It's all in the way you cook the crab!
Tips for making soft shell crab with savory butter and herbs.
Soft shell crabs
Purchase your soft shell crabs at a reputable fish market. If they are a full service market, they will clean them for you. This is a definite must!
Since soft shell crab is usually sold per piece and not by weight, make sure that the crabs have all their claws and legs
Ingredients
This simple recipe requires olive oil, flour for dredging, herbes de province, salt, chopped garlic, fresh lemon or lime and butter.
Dredging the crabs.
Place the all purpose flour, salt and herbes de provence in a shallow plate and dredge (coat) the crabs with the flour mixture. This allow the crabs to crisp and soak up the liquid in the pan.
Frying the soft shell crabs.
In a hot cast-iron skillet, add olive oil and place the crabs with the carapace (top shell) side down. Fry the soft shell crabs for about 3 minutes until the crab changes color.
Flip the crabs over and then add the butter and chopped garlic. Adding the butter and garlic towards the end allows the garlic and butter to absorb into the crab without burning.
Allow the crabs to cook for another 2-3 minutes until the crabs turn orange in color and the garlic butter is absorbed into the crabs.
Sprinkle the crabs with fresh lime or lemon. Serve immediately.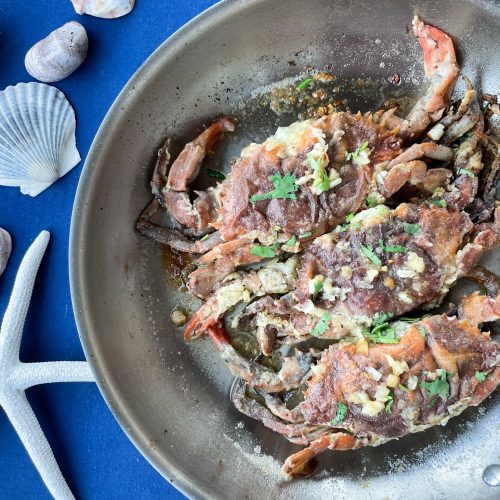 SOFT SHELL CRAB WITH SAVORY BUTTER & HERBS
Easy and an absolutely delicious way to make soft shell crabs that take less than 15 minutes to cook.
Ingredients
3

soft shell crabs

cleaned

3

Tbsp

all purpose flour

¼

tsp

sea salt

¼

tsp

herbes de provence

1½

Tbsp

butter

3

cloves

fresh minced garlic

3

Tbsp

olive oil

for frying

2

Tbsp

fresh juice from lime or lemon
Instructions
Dry the cleaned soft shell crabs with paper towels.

Combine flour, salt and herbes de provence into a plate.

3 Tbsp all purpose flour,

¼ tsp sea salt,

¼ tsp herbes de provence

Dredge the soft shell crabs into the flour mixture.

Preheat cast-iron skillet. Add olive oil.

Place crabs into cast-iron skillet with carapace (top shell) side down. Allow to cook for 3 minutes.

Flip the soft shell crabs.

Add the butter and fresh minced garlic.

1½ Tbsp butter,

3 cloves fresh minced garlic

Cook an additional 2-3 minutes until the crabs turn orange in color.

Sprinkle with the juice of lime or lemon

2 Tbsp fresh juice from lime or lemon
Nutrition
Serving:
3
g
Calories:
164
kcal
Carbohydrates:
8
g
Protein:
1
g
Fat:
14
g
Saturated Fat:
2
g
Polyunsaturated Fat:
2
g
Monounsaturated Fat:
10
g
Cholesterol:
1
mg
Sodium:
211
mg
Potassium:
45
mg
Fiber:
1
g
Sugar:
1
g
Vitamin A:
21
IU
Vitamin C:
4
mg
Calcium:
19
mg
Iron:
1
mg
Net Carbohydrates:
8
g