UPDATED with added video: 2/16/2022 We always ask for Dad's crispy pork belly whenever there's a special occasion. I thought this would be an appropriate recipe with Chinese New Year just around the corner. Cantonese families usually have a large number of dishes during Chinese New Year. Each dish prepared has a significance. Crispy pork belly 豬手 is served because of the meat's "red" skin and red in Chinese culture represents luck, joy and happiness. This crispy pork belly is easy and so much better than what you'll get at the restaurant. I'm posting it early so that you can get the tool that makes all the difference. It's not that expensive and well worth getting if you enjoy this dish or enjoy grilled meats that require tenderizing.
Dad, the chef!
My father is a retired doctor and now enjoys cooking and being with the family. My dad had a humble beginning growing up in South Africa. He grew up poor. His parents were immigrants from China. Being Chinese and living during the Apartheid era, his family was relegated to the Indian "location" or township / ghetto. He attended the Indian school, studied hard and graduated high school at 16 and medical school at 21.
He tells these incredible stories about his life in South Africa. Dad would tell my brother, sister and me stories of how he was thrown off a moving train by the conductor because he was in the "Whites Only" compartment. He also told me how he and the few other non-white med schools students could only do dissections on black cadavers and how he could only work in the Black hospitals. That is one of the reasons why my entire family grew up in the Indian neighborhood because those were his patients.
In South Africa, I remember how he used to make this crispy pork belly. He had a one prong awl which he would use to tenderize the pork skin. It would take him hours just to prepare the pork skin. I always felt bad that it took a fraction of that time to eat his delicious pork.
Dad still cooks crispy pork belly on special occasions, especially for Chinese New Year. However, the family bought him a special tool that helps puncture the pork skin a lot faster. Dad loves his meat tenderizer and we love his pork!
Tips to making crispy pork belly
According to my dad, the key to a light and crispy pork skin is to allow as much oil to exude through the skin during roasting and to make sure that the skin of the pork is very dry before roasting. In order to ensure that the skin is very dry, the skin is rubbed with vinegar before adding salt and left to marinate overnight in the refrigerator uncovered.
Pork.
When looking for a piece of pork belly, the pork belly does shrink a lot so plan accordingly. Also, choose a pork belly that has layers of both fat and meat. The skin / rind should not appear thick, tough and dark. It should look tender and supple.
Meat Tenderizer.
This handy tool makes preparing the pork skin a lot easier and faster.
Puncture the surface of the pork skin with the meat tenderizer until it is completely perforated. The more holes, the more the oil will exude from the pork belly resulting in a crispy, bubbly surface. These pictures below are not the most attractive, but are very illustrative of the goal!
Seasoning.
This crispy pork belly can be seasoned two ways. My dad uses a very simple dry rub. The skin side is sprinkled with salt, the meat side is sprinkled with a mixture of salt, sugar, white pepper and Chinese five spice powder. This is the taste you'll get at most Chinese restaurants except my dad's crispy pork skin is very light and crispy.
I prefer placing the meat in a liquid marinade overnight. This results in the meat being more flavorful. Either way, you can't go wrong. The key is to have your pork belly skin dry overnight. Don't skip this step!
Roasting.
Oven temperatures vary. So, when roasting, some edges of the pork belly may brown faster than the rest. Cover these browned edges with strips of foil to prevent it from burning.
Also, some parts of the pork skin may pool the pork grease, preventing it from crisping. Use a paper-towel and dab these parts dry to enable the skin to crisp.
Plating.
Crispy pork belly can be served with hot English mustard, a good soy sauce or a mixture of salt and pepper.
Enjoy! Wasn't that easy and super delicious!?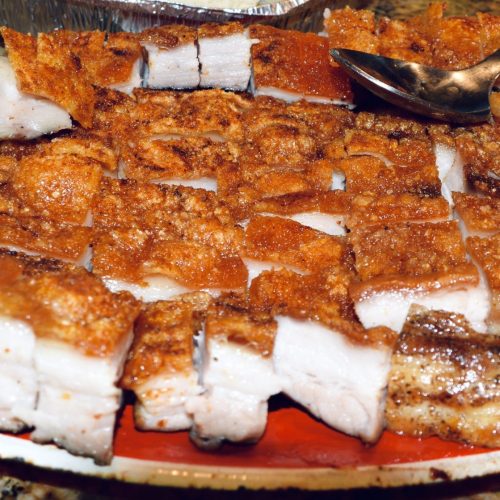 CHINESE CRISPY PORK BELLY
Chinese crispy pork belly (Siu Yuk, 脆皮烧肉) is easy to make with the right tools. The crackling is light and crispy and the meat is flavorful.
Equipment
instant read /leave in thermometer

Metal or wooden skewers
Ingredients
1

kg

Pork belly

1

tsp

sea salt

1

Tbsp

vinegar

NOT balsamic
OR Dry rub for meat
1

tsp

sea salt

½

tsp

sugar

¼

tsp

white pepper
Instructions
Wash and thoroughly dry pork belly

Using a paper towel, pour the vinegar onto a paper towel and wipe the surface of the pork skin.

Using the meat tenderizer, poke holes into the skin until the skin is completely perforated.

Sprinkle ½ - 1 tsp of salt onto the skin of the pork belly, depending on the level of saltiness you prefer.
Make marinade if using wet marinade
Combine all the ingredients for the marinade

100 g Hoisin Sauce,

100 g ketchup,

30 ml light soy sauce,

1 tsp salt,

½ tsp white pepper,

1 Tbsp whiskey,

½ tsp sugar,

½ tsp Chinese five spice powder

Place the marinade into a container just large enough for the pork belly.

Place pork belly flesh into marinade, making sure that the skin does not come into contact with the wet marinade.

Marinate overnight UNCOVERED in the refrigerator to allow pork skin to dry and meat to marinate
Make dry rub if using dry marinade
Combine all the ingredients for the dry rub

Sprinkle the dry rub all over the meat part of the pork belly, avoiding the skin.

1 tsp sea salt,

½ tsp Chinese five spice powder,

¼ tsp white pepper

Marinate overnight UNCOVERED in the refrigerator to allow pork skin to dry and meat to marinate
Roasting pork belly
Preheat oven to 375° fahrenheit. (190° celcius)

Place pork belly, skin side up, on a roasting rack over a roasting tray.

If you have a large pork belly, the meat may shrink, causing the belly to curl. To keep the meat flat, you can run several skewers through the meaty part of the pork belly. You can also insert a leave-in thermometer sideways through the meaty part of the belly as well.

Add water to the base of the tray to moisten the meat as it roasts, but do not let the water touch the meat.

Roast pork belly until internal temperature reads 140° fahrenheit (60° celcius).

Turn the oven to broil and broil the crackling until light and crispy. If the edges begin to burn, place foil over the edges. If grease pools on the skin, dab that area with a paper-towel to enable it to crisp.

Remove pork belly from oven. Remove from rack and allow to rest for 5 minutes before cutting.
Chopping the pork belly
Using a meat cleaver, chop the pork belly into chopstick size pieces.
Notes
Pork belly must have the skin in order to have the crispy crackling.  Nutritionals are based on pork belly as an appetizer.
Nutrition
Serving:
10
people
Calories:
867
kcal
Carbohydrates:
1
g
Protein:
16
g
Fat:
88
g
Saturated Fat:
32
g
Cholesterol:
120
mg
Sodium:
829
mg
Potassium:
308
mg
Fiber:
1
g
Sugar:
1
g
Vitamin A:
17
IU
Vitamin C:
1
mg
Calcium:
10
mg
Iron:
1
mg
Tried this recipe?
Let me know how it was or if you have any questions or suggestions!