Why barley, vegetable and chicken soup?
When it's cold outside and I just want a hearty and quick meal, I love making a soup that is full of vegetables, protein and a little carb. This barley, vegetable and chicken soup is one of them. With an assortment of different colored vegetables, it's definitely full of vitamins and if you have an instant pot, this one pot meal can be made in less than half an hour! I also prefer using barley than rice because of the nutritional value of barley. (See below)
Tips for making barley, vegetable and chicken soup.
This soup can be made in a traditional pot which would take about an hour to cook or half and hour in an instant pot.
Instant pot.
If you own an instant pot, you know that it takes time for the liquid to create pressure and then takes more time for the pressure to release naturally. Therefore, planning what needs to be cooked when is important.
Cook the barley, vegetable and chicken soup entirely in the instant pot. Initially, place the instant pot setting to "saute" to saute" the leeks. Once all of the vegetables that will be pressurized have been sauteed, add the chicken, soaked barley, chicken bouillon powder and boiling water. Pressure cook the soup for 15 minutes. After the pressure is released, switch it back to "saute" mode and briefly cook the broccoli and some parsley. The rest of the parsley and oregano can be used as garnish. Enjoy!
Vegetables.
For this soup, I like adding a variety of color for my vegetables. I do like adding diced potato as it tends to somewhat disintegrate and naturally thicken the soup. You can add whatever vegetables you have in the refrigerator. I like adding celery, carrot, broccoli, zucchini, yellow squash, leeks, potato, parsley and oregano.
To keep the color of the broccoli and Italian parsley bright, I don't cook the broccoli until the end and cook it only for a few minutes until barely soft. Lengthy cooking deteriorates the color. Parsley, although many use it just for garnish, adds a wonderful, fresh flavor to the soup so be generous!
Leeks.
Instead on onion, I saute leeks which provides a little sweetness to the soup. You can use the entire leek including the green leafy part. Don't discard this. If you've never used leeks before, dirt does seem to lodge between the leaves. It is good to rinse it before slicing into thin rings as well as rinsing the rings thoroughly after slicing to remove any stubborn dirt particles!
Barley.
I use barley instead of rice for this barley, vegetable and chicken soup due to its nutritional value. Here is a comparison of barley and rice from foodstruct.com. I like washing and soaking barley before prepping the vegetables to allow the barley to hydrate before cooking.
Chicken.
Any skinless chicken parts work. I believe that the bones gives extra flavor and calcium, but it is sometimes difficult to pick out once cooked. So, if I have time, I would create the chicken stock first with the bones and then strain the bones out. Otherwise, I would just use skinelss chicken thighs and remove the bones just before serving.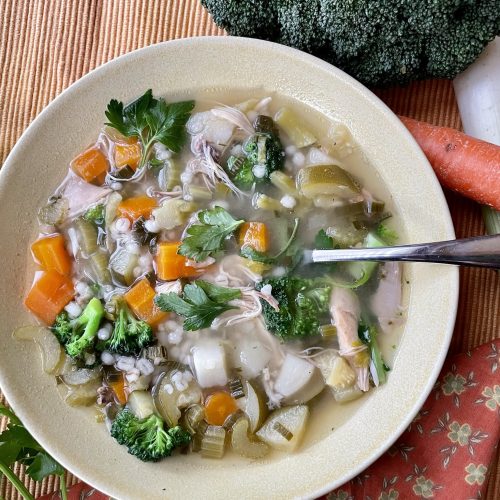 BARLEY, VEGETABLE AND CHICKEN SOUP
This delicious barley, vegetable and chicken soup is made with skinless chicken parts. Can be made in less than 30 minutes
Ingredients
473

g

skinless chicken

preferably thighs (4)

1

cup

pearl barley

1

leek

4

medium

potato

2

large

carrots

2

zucchini

2

celery sticks

1

broccoli crown

2

cups

boiling water

2

Tbsp

fresh parsley

1

Tbsp

fresh oregano

Optional

2

Tbsp

olive oil

1

Tbsp

chicken bouillon

1

bayleaf

Optional

salt and pepper to taste
Instructions
Wash and soak pearl barley in water so that it can rehydrate while you prep the vegetables

Preheat instant pot to saute or heat up saucepan.

Wash and slice leek into rings first so you can fry it while dicing the rest of the vegetables. Go to Instant pot or conventional saucepan method for instruction.

Wash, peel and dice the carrots and potatoes while leek slices are sauteeing.

Wash and dice the zucchini, broccoli and celery sticks.

Chop parsley and oregano.
Instant pot method
Place 2 Tbsp olive oil in saucepan and fry leeks until soft.

Saute the rest of the vegetables EXCEPT broccoli, parsley and oregano.

Add chicken pieces, chicken bouillon powder and bayleaf.

Set to pressure cook for 15 minutes

When pressure is released (deliberately or naturally) add chopped broccoli and allow to cook for 2 minutes.

Before serving, remove bayleaf and chicken bones, if any.

Season with salt and fresh ground pepper to taste.

Add fresh parsley and oregano. Stir
Conventional saucepan method
Place 2 Tbsp olive oil in saucepan and fry leeks until soft.

Saute the rest of the vegetables EXCEPT broccoli, parsley and oregano.

Add chicken pieces, chicken bouillon powder and bayleaf.

Bring to a boil and then simmer for 30 minutes

Add chopped broccoli for the last 2 minutes.

Before serving, remove bayleaf and chicken bones, if any.

Season with salt and fresh ground pepper to taste.

Add fresh parsley and oregano. Stir
Nutrition
Serving:
4
servings
Calories:
644
kcal
Carbohydrates:
97
g
Protein:
38
g
Fat:
14
g
Saturated Fat:
3
g
Polyunsaturated Fat:
2
g
Monounsaturated Fat:
7
g
Trans Fat:
1
g
Cholesterol:
112
mg
Sodium:
234
mg
Potassium:
2250
mg
Fiber:
19
g
Sugar:
10
g
Vitamin A:
7772
IU
Vitamin C:
203
mg
Calcium:
190
mg
Iron:
7
mg