I remember visiting Thailand many years ago. It was such a beautiful and exotic place. There are a few things that I vividly recall. I remember feeding small bananas to a baby elephant, the floating market and how transactions were conducted and I distinctly remember having amazing Thai green curry for the very first time and eating several bowls of it! It was addictive.
Whenever I go to a Thai restaurant, I order a green curry to see if one restaurant's green curry would transport me back to Bangkok. Some have come close, but I haven't quite found that perfect curry. A few months ago, one of my good Thai Chef friends knew that I was in search of the perfect curry as I was making the green curry paste from scratch. I asked him what he uses. He sheepishly said he uses a mix that was quite good. A few days later, he brought me some and I made a curry from that mix with a few adaptations. It was so DELICIOUS. It was spicy for the girls, eventhough I halved the spice level . The curry was so good that both girls endured the spiciness and just drank a lot of milk. They even had it the next day for brunch!
This amazing Thai green curry is so easy to make. It will take you longer to cook the rice than to make this curry.
Tips for making amazing Thai green curry.
The key to this amazing green Thai curry is the paste plus the enhancements. I've tried a number of pastes, including my own and this one is by far the best. I like spicy, but this paste is authentically Thai so their heat level is in the stratosphere! I made some changes to the recommended package directions and it made all the difference! However, it is still spicy so if your tolerance for spice is low, reduce the amount of paste or add more coconut milk!
Meat.
Over time and with much experimentation, I've realized that the key to making a delicious green curry is not to overcook the meat. Most package recipes call for cooking it at the beginning with the vegetables and allowing it to simmer. Because the Thai curries are made with bite size pieces of meat, the meat cooks very quickly. So, if you are making curry with vegetables that require a longer cooking time, like squashes, the meat is overcooked by the time the vegetables are cooked. I also discovered that marinating your meat is key! This does not have to be an overnight marinate, but at least 30 minutes. This gives the meat flavor!
Vegetables.
The most common vegetables for Thai curry are egg plant and something for color like red pepper. However, you can add vegetables that don't require a long boil. If you would like to add potatoes, cook them separately first until almost done and then add them to the curry while simmering. Great options for vegetables are bamboo shoots, zucchini, squashes, sweet peppers, snap peas etc.
Do not add too many vegetables (cannot believe I'm saying this, but yes...) as the juice affects the taste of the curry and too many vegetables hampers the cooking of the meat.
Fresh Aromatics to make this amazing Thai green curry.
Eventhough there is kaffir lime and lemongrass in the paste, having fresh kaffir lime leaves, lemongrass and cilantro make a huge difference. These aromatics can be purchased at an Asian grocery store. If you buy lemongrass that has the base of the stalk attached, cut about 3" from the base and set the base in a container of water. Change the water every few days. If the base sprouts roots in a week or two, you can plant this in soil. This is what I have from one little lemongrass stalk and I love adding it to different dishes!
Coconut milk.
Various brands differ in the consistency and taste of the coconut milk. I tend to stick to the Aroy-D brand as I find it's creamier and thicker than other brands. It has also 100% coconut milk. Look at the nutrition label of the coconut milk and opt for the one that is 100% pure rather than one with fillers. There is a difference in the taste and texture! For this recipe, for every package of paste, I use 1 can of coconut milk which is twice what is recommended, but I find that this is a better ratio and heat level for my family...and I like spicy! (Can't imagine the spiciness with half the amount of coconut milk!)
Fish sauce and Fresh lime.
This is the game changer! After cooking, add extra fish sauce and fresh lime before serving or as sides for your guests to add. If you've never used fish sauce, I will be the first to admit that the smell is "interesting"! However, it's amazing in certain dishes and gives umami. This is one of them. This takes the taste to the next level....trust me!
I hope you get to try this very easy and amazing recipe and let me know your thoughts in the Comment section.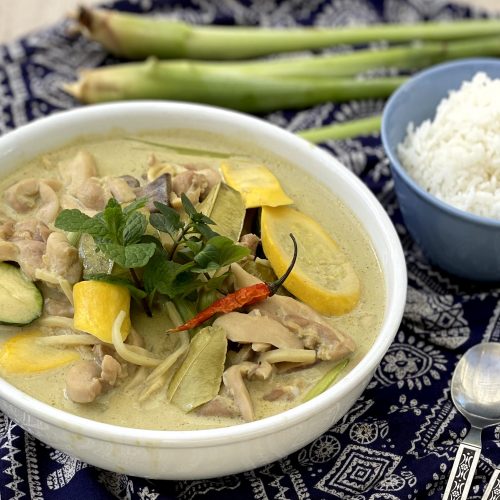 AMAZING THAI GREEN CURRY
This amazing that green curry reminds me of the curries I had in Thailand. It is SO delicious and is so easy to make. You'll make it before the rice has completed cooking! It is SPICY so if your tolerance is not that high, reduce the amount of spice and add more coconut milk!
Ingredients
Vegetables
1

zucchini

1

yellow squash

100

grams

bamboo shoots

depending on your taste

100

grams

mushrooms

1

stalk

fresh lemongrass

3

kaffir lime leaves

depending on your taste

Fresh Cilantro

depending on your taste

1

juice from fresh lime

fish sauce

to taste
Instructions
Meat
Slice meat into bitesize pieces.

Marinate meat in fish sauce for at least 30 minutes.
Vegetables
Slice vegetables ½ " (~1 cm) slices for easy cooking.

Cut lemongrass into 2 " lengths (~5 cm) and pound the stalks to release juice.

Crumple kaffir lime leaves to release oils. Do not have to break apart!
Prepare curry
Heat saucepan and add entire contents of pack.

When the paste sizzles, add coconut milk.

When the coconut milk starts to bubble, add your vegetables that require time to cook through.

Add lemongrass and kaffir lime leaves and cook with vegetables.

When vegetables are 80% done, add meat and stir to disperse meat in sauce to allow even cooking.

Remove from heat when done. You can add the juice from 1 lime and additional fish sauce at this time or let each individual add the condiments depending on their taste.

You can add the juice from 1 lime and additional fish sauce at this time or let each individual add their own condiments depending on their taste. Garnish with fresh cilantro.
Nutrition
Serving:
6
people
Calories:
328
kcal
Carbohydrates:
6
g
Protein:
19
g
Fat:
26
g
Saturated Fat:
16
g
Trans Fat:
1
g
Cholesterol:
63
mg
Sodium:
543
mg
Potassium:
576
mg
Fiber:
1
g
Sugar:
2
g
Vitamin A:
279
IU
Vitamin C:
16
mg
Calcium:
38
mg
Iron:
3
mg
Tried this recipe?
Let me know how it was or if you have any questions or suggestions!