During my senior year in college, I started Michelle's cookie-gram. Gourmet cookies were care packaged to students with a custom note from the sender. This doesn't seem a big deal these days, but back in the early eighties, with no internet, flowers were usually sent as gifts until they were able to send a cookie-gram! This browned butter sage sourdough chocolate chip cookies recipe is inspired by my original creation. I did a side-by-side taste test with some friends. Those who tasted the two cookies preferred these so here is the recipe, my 2022 cookie just in time for the Holidays and New Year!
Tips for making browned butter sage sourdough chocolate chip cookies
Sourdough.
Sourdough discard is ideal for these cookies. Do not use a levain that has been recently mixed as this results in bits of tough dough that is scattered throughout the batter. Sourdough in raw cookie dough is still active and continues to break down the gluten in the flour. If the cookie dough is left in the refrigerator, over time, the sourdough will break down the carbohydrates and the cookies will not rise as well. To avoid this from happening, leftover cookie dough made with sourdough needs to be frozen.
Browned sage butter.
Chiffonade the sage either with a very sharp knife or a pair of herb scissors.
Browned butter has a unique and more intense nutty, butter taste. One of my daughters thought that browned butter is bought in the grocery store. Hmm...nope! Browned butter is achieved by heating butter to a point where the milk solids separate and fall to the bottom of the pan. The heated pan caramelizes the solids and evaporates some of the water, producing a nutty and more intense butter flavor. For this recipe, add the sage to the butter and allow to brown. Constantly stir the butter over medium heat to ensure that the solids are browned evenly and do not burn. This may take 5-8 minutes while the butter bubbles and the water evaporates. Separate the butter from the sage leaves. The sage leaves will be used as a garnish and to intensify the earthiness of this complex cookie taste.
Cookie dough.
Using a paddle on a stand mixer, beat the cookie dough until light and fluffy.
Add the flour after the butter, sugar mixture is light and airy. When the ingrdients are thoroughly combined, fold in the chocolate chips.
At this point, the cookie batter is too soft to mold. The dough requires refrigeration for 24 hours. This allows the sourdough to work and the dough to harden. Once the cookie dough has hardened in the refrigerator, the color will have darkened and the dough will be stiff.
Use a cookie scoop to make cookie balls. Flatten the balls slightly to form discs. Using the crisp, chiffonade sage leaves, press in a few pieces to the top for an extra burst of buttery sage flavor!
Storing browned butter sage sourdough chocolate chip cookies
As mentioned above, the sourdough in these browned butter sage sourdough chocolate chip cookies dough will continue to consume the carbohydrate over time and the result will be very flat cookies. To prevent this from happening, freeze the cookie dough discs on the cookie sheet. Once frozen, place them in a freezer bag and bake as needed. Enjoy and let me know what you think of these sophisticated chocolate chip cookies!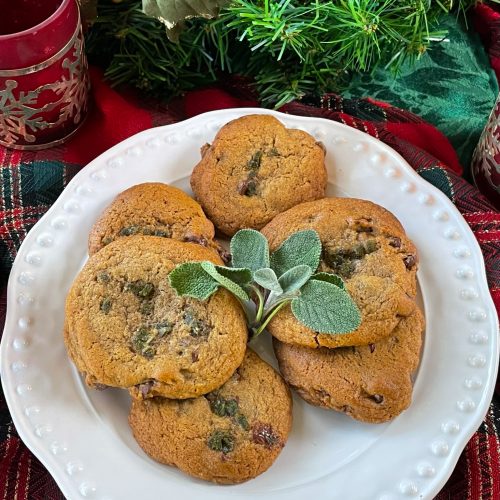 BROWNED BUTTER SAGE SOURDOUGH CHOCOLATE CHIP COOKIES
A sophisticated and delicious cookie with a browned butter flavor and a hint of sage earthiness. A winner when compared to a traditional chocolate chip cookie!
Ingredients
227

g

unsalted butter

215

g

brown sugar

150

g

granulated white sugar

2

eggs

1

tsp

pure vanilla extract

120

g

sourdough starter

100% hydration. Discard can be used.

240

g

all-purpose flour

60

g

whole wheat flour

1

tsp

baking powder

1

tsp

baking soda

1

tsp

salt

255

g

chocolate chips

5

g

fresh sage
Instructions
In a medium saucepan (no dark interior), heat the butter over medium low heat.

Chiffonade (cut into thin strips) sage leaves

Heat until the butter bubbles and begins to brown. This should take about 5-8 minutes depending on the heat.

Remove the sage leaves when crisp.

Once the butter turns golden brown, , immediately pour the mixture into the mixing bowl of the stand mixer and allow to cool to room temperature.

In a separate bowl, sift together the flour, baking powder, baking soda and salt.

240 g all-purpose flour,

60 g whole wheat flour,

1 tsp baking powder,

1 tsp salt,

1 tsp baking soda

When the butter has cooled to room temperature in the stand mixer bowl, add both the sugars, eggs, vanilla and sourdough starter.

215 g brown sugar,

150 g granulated white sugar,

2 eggs,

120 g sourdough starter,

1 tsp pure vanilla extract

Remove bowl from stand mixer.

Use a cookie scoop, spoon cookies onto a baking sheet lined with parchment paper or a silicone mat and slightly flatten into thick discs.

Preheat the oven to 325° F. Bake for 12 minutes
Nutrition
Serving:
1
cookie
Calories:
202
kcal
Carbohydrates:
28
g
Protein:
2
g
Fat:
10
g
Saturated Fat:
6
g
Polyunsaturated Fat:
0.3
g
Monounsaturated Fat:
2
g
Trans Fat:
0.2
g
Cholesterol:
27
mg
Sodium:
135
mg
Potassium:
64
mg
Fiber:
0.5
g
Sugar:
18
g
Vitamin A:
205
IU
Calcium:
28
mg
Iron:
1
mg
Net Carbohydrates:
27
g
Tried this recipe?
Let me know how it was or if you have any questions or suggestions!