I have been working on a healthy sourdough whole grain bread for a while. I wanted to create a healthy, completely whole grain, whole-wheat bread with seeds that wasn't dense. Whole wheat flour behaves so much differently that regular white bread flour. Whole wheat flours require higher hydration and gluten development is a lot slower. So, here is the crumb from this whole grain seeded sourdough recipe!
Tips.
Time.
In order for the sourdough lactobacilli to penetrate the outer shell of the wheat germ, it requires time. This process breaks down the flour and maximizes the bread's nutrition. I have found that a longer autolyse process, and an hour of warm fermentation before putting it into the fridge helps make this whole grain bread less dense and moist. (The chia seeds also help!) If your kitchen is very cold, I recommend you bulk and warm ferment your dough in the oven with just the oven light on. This provides enough heat to get the sourdough cultures to do its work without you having to buy a proofing oven. You will be surprised that this whole grain dough will almost double in size and you'll get a better rise!
Whole wheat flour.
In my experience, working with whole wheat dough will be pretty sticky throughout the dough making process. Avoid adding any flour during bulk fermentation. Rather, just use wet hands to make your stretch and folds until the shaping.
Because whole wheat flour requires high hydration, it is important to allow the flour to fully absorb the water with at least a 60 minute autolyse.
Inclusions. (Seeds)
When adding inclusions to your dough, some inclusions require a long, overnight soaking while others require a shorter soaking. This whole grain seeded sourdough has chia seed which, in my opinion, gives the moistness to the whole wheat bread as the chia seed retains moisture. I've experimented with various hydration ratios with chia seeds and found that a 1:3 chia seed to water ratio works well in bread. As a result, chia seeds require a long soaking. It is preferable to soak them overnight. The seed mix should be so thick that a teaspoon can stand on end!
I like adding these inclusions before bulk fermentation. The seeds will then have time to disperse throughout the dough during of the course of the various stretch and folds.
Toppings.
I experimented with adding the toppings before the long, cold fermentation in the fridge as well as after the long, cold fermentation. The toppings definitely stayed on better when it was added before the cold fermentation. The amount of toppings in the bowl dictates how much topping you have on your bread. If you are rolling your dough in seeds prior to cold fermentation, you do not have to flour your banneton as heavily as you would without the seeds.
When I added the toppings after the cold fermentation, I needed to spray the bread first with water and then sprinkle the toppings on. The toppings did not adhere as well to the bread than when the toppings were added before cold fermentation.
Regardless of how you added the toppings, the bread was delicious either way!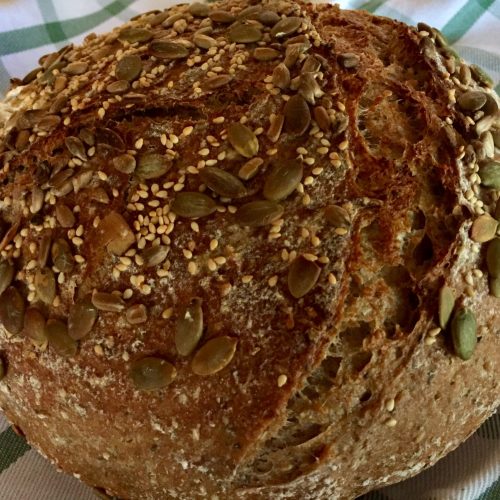 WHOLE GRAIN SEEDED SOURDOUGH
This whole grain, whole wheat, rye bread is packed with nutrition. Ingredients include bulgur, flax, sesame, chia, pumpkin, sunflower and sesame seeds.
Ingredients
Instructions
2 nights before
Mix your starter to create levain. Levain should be active and bubbly. (6-12 hours)

Combine seeds with boiling water and let soak for 12 hours.
Next day
In a bowl, add water, levain, whole wheat and rye flours. Mix until well combined

Autolyse by letting it rest for 60 minutes.

Add salt and soaked seeds to the autolysed dough and stretch and fold until seeds are somewhat incorporated. It will be evenly distributed with bulk fermentation. (You will now be stretching and folding 5 more times with 30 minute resting periods in between so a total of 6)

Cover with a cloth and let rest for 30 minutes

Stretch and fold 16 times.

Cover with a cloth and let rest for 30 minutes

Stretch and fold 16 times.

Cover with a cloth and let rest for 30 minutes.

Stretch and fold 16 times.

Cover with a cloth and let rest for 30 minutes.

Stretch and fold 16 times.

Cover with a cloth and let rest for 30 minutes.

The dough should appear relaxed and increased in volume. Stretch and fold 16 times.

If your dough does not appear relaxed and increased in volume, have it rest for another 30 minutes, and do an extra stretch and fold.

Take the dough out of the container onto a floured surface and shape your dough. The dough will be sticky, therefore requiring 2 shapings

Cover with a towel and allow dough to rest for 20 minutes

The dough should be somewhat sticky, roll the upward facing part of the bread dough in a bowl of seeds and wheat bran. The amount of seeds in the bowl will determine the seed coverage on the bread! If the surface has dried, wipe it with a wet paper towel.

Transfer dough to banneton with seed side down and let rest at room temperature (75° fahrenheit or 24° celcius) for 1 hour. (Closed oven with just the oven light works well for cold temperatures)

Place it in a sealed plastic bag and let rest in the refrigerator overnight.
Baking day
Preheat oven with dutch oven inside to 500° fahrenheit / 260° celcius for one hour.

Transfer dough onto parchment paper, score and place in oven with lid on. Due to the seeds and multigrain, this bread is not very conducive to elaborate scoring. Save the fancy scoring for your plain breads!

Reduce oven temperature to 450° fahrenheit / 232° celcius and bake for 25 minutes.

Remove lid and bake for another 20 minutes

Remove from oven and allow bread to completely cool on cooling rack before cutting.
Notes
Due to the hydration level of the chia seeds, this bread is very moist.  Cutting it before it's completely cooled will result in a gummy crumb.
Nutrition
Serving:
12
g
Calories:
182
kcal
Carbohydrates:
34
g
Protein:
7
g
Fat:
3
g
Saturated Fat:
1
g
Sodium:
392
mg
Potassium:
179
mg
Fiber:
6
g
Sugar:
1
g
Calcium:
45
mg
Iron:
2
mg