Although I make sourdough bread pretty regularly, I do like experimenting with extra sourdough starter to create other wild yeast products when I don't want to eat bread. Sourdough focaccia is my new creation after weeks of development, and my family loves it. Unlike regular bread, this sourdough focaccia is fluffy, soft, crispy on the edges and is great for entertaining, especially when you can decorate it for the occasion.
I have incorporated the sourdough technique with bulk fermentation and a long, cold proof in order to maximize the benefits of sourdough. This recipe results in a thick and airy focaccia, about 2 inches high! My one daughter says that she prefers a thinner focaccia so that she has a higher "topping to dough ratio!". With that being said, if you desire a thinner focaccia, you can either divide it into 2 pans or half the recipe. Having a thinner focaccia is probably equivalent to a thick pan pizza.
Tips.
Slow proofing.
Do not skimp on the timing for this recipe. The bulk fermentation and the cold proofing maximizes the health benefits and produces the wonderful airiness and crumb.
Toppings.
Fresh herbs and vegetables make great toppings. In order to keep the color of the vegetables and herbs, submerge the vegetables in water with an acid like lemon juice or vinegar. Although sundried tomatoes in olive oil sound like a wonderful topping, the sugars and oil caramelizes and burns the tomatoes. Use fresh tomatoes instead.
If you want to use mushrooms as a topping, make sure that you cut it very thin so that the moisture can evaporate and not leave your dough soggy. If you want to use a lot of mushrooms, I would suggest cooking it first to release the moisture before adding it as a topping.
After baking, the focaccia will appear matte. In order to create a sheen, spray the baked focaccia with olive oil and sprinkle with coarse ground salt for tasty surprises.
Re-heating.
The best way to reheat focaccia is to spray a pan with olive oil and place the focaccia in the pan with a lid on. The oil on the bottom of the pan crisps the base of the focaccia. Make sure that there is air circulation to allow the steam to be released.
Serving.
The thickness of the focaccia lends itself to be served either in thin slices or is great as a sandwich when cut in half.
I would love to know how yours turned out. Let me know in the comment section!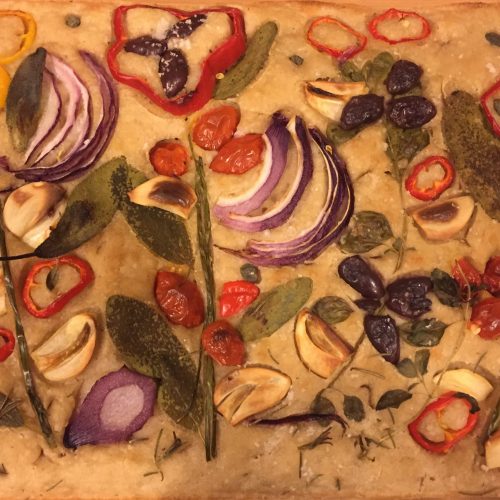 SOURDOUGH FOCACCIA
Original sourdough focaccia recipe that uses the sourdough technique to maximize the health benefits of sourdough. Delicious, airy with a great crumb!
Equipment
9 x 13" (quarter sheet) baking pan
Ingredients
Dough
300

grams

bread flour

300

grams

all purpose flour

120

grams

active levain

400

grams

lukewarm water

60

grams

additional lukewarm water

11

grams

sea salt

12

grams

olive oil

1

Tbsp

additional olive oil for oiling the pan
Toppings
2

Tbsp

olive oil

Vegetables of your choice

Herbs of your choice
Instructions
Dough
Combine 400 grams of water with levain (very active starter).

Add both flours until incorporated.

If dough is not very soft, start adding the additional water a little at a time (up to 60 grams). Dough should be soft but not a paste.

(Autolyse) Cover and let rest for 45 minutes.

Add salt and olive oil and mix to incorporate.

Stretch and fold for 16 times.

Cover and let rest for 30 minutes.

Stretch and fold for 16 times.

Cover and let rest for 30 minutes.

Stretch and fold for 16 times.

Cover and let rest for 30 minutes.

Stretch and fold for 16 times.

Cover and let rest for 30 minutes.

Stretch and fold for 16 times.

Transfer to oiled pan and stretch gently. Dough will not reach the edges.

Cover and let rest for 30 minutes.

Dough will be more relaxed. Gently pull and stretch dough until the pan is completely covered.

Cover and let rest for 60 minutes.

Transfer to refrigerator and let proof overnight.
Toppings
Preheat oven to 450° fahrenheit / 230 ° celcius.

Remove dough from refrigerator.

Gently poke holes all over surface of dough with wet fingertips to allow olive oil to infuse.

Pour olive oil over the top and using a pastry brush, gently brush the oil over the entire surface of the dough.

Add toppings or cut vegetables and herbs to decorate.

Bake for 25 minutes until top of dough is browned.

Spray with additional olive oil and sprinkle with coarse salt.
Nutrition
Serving:
1
piece
Calories:
221
kcal
Carbohydrates:
37
g
Protein:
6
g
Fat:
5
g
Saturated Fat:
1
g
Sodium:
357
mg
Potassium:
52
mg
Fiber:
1
g
Sugar:
1
g
Calcium:
12
mg
Iron:
1
mg
Tried this recipe?
Let me know how it was or if you have any questions or suggestions!