This cucumber tabbouleh salad is my own version of the traditional Mediterranean / Middle Eastern tabouli or tabbouleh salad. I learned how to make Middle Eastern food from my neighbor decades ago when we first moved out to California and lived in Pasadena. We had a house that we purchased from a rare fruit grower. It had over 100 different fruits growing on the property from cheramoyas, kiwis, avocados to something we call a fruit cocktail, a cross between a grapefruit and a very juicy orange! Madeline, my neighbor, wanted our fresh grape leaves and would show me how to cook Middle Eastern food. I would show her how to cook Chinese. It was a wonderful friendship and exchange of recipes and culture.
Prior to meeting Madeline, parsley, the main ingredient of tabbouleh was merely a garnish that Chinese restaurants used in their plating and was never part of a recipe in a Chinese meal. When I first tasted tabbouleh, I liked the refreshing taste of the combination of the parsley and the fresh lemon juice. It was such a wonderful and hearty salad. This year, I built a raised garden bed and used Happy DIY Home "How to grow and harvest parsley plant" to plant my own parsley so that I don't have to keep running to the store every time I have the urge to use parsley.
Tabbouleh is made with bulgur wheat. Bulgur is a whole grain made from cracked wheat so it's fiber-rich. Because it is a wheat, it does contain gluten so if you are gluten intolerant, this salad may not be in your diet!
Tips for making cucumber tabbouleh salad.
One of the nice things about a tabbouleh salad is that it somewhat dense and can be formed by packing it in a mold to create some interesting plating. You do not have to buy molds. I have found that shallow cans, with the lids cut off both sides, make excellent molds. Look around your pantry and save different sizes for different applications. The original cans that allow you to open both the top and bottom are better than cans that have a smoother bottom and opening that side is more challenging.
Bulgur wheat.
If you able to shop at a Middle-Eastern grocery store, you will notice that there are various size grains of bulgur wheat. I believe the size of the grain is personal preference. I was taught to use the fine grain which is #1, but through the years, I've experimented with the different size grains and I prefer the medium grain. It has more mouth feel and substance, but this is a personal choice.
Parsley.
I use the curly parsley. It gives the salad more body than the Italian flat-leaf parsley. If the stems are tender, I will also use the stems. Submerge the parsley for a few minutes in a bowl of water to thoroughly wash the parsley. Curly parsley can be sandy so a good bath is needed! Dry the parsley by placing it in a salad spinner or paper towels. I prefer the texture of parsley that has been chopped by hand. However, if making a large quantity of tabbouleh, chopping the parsley in a food processor is an option. Do not try to chop the onion in the food processor. A chemical reaction takes places, making the onion bitter!
Other vegetables.
Chop the onion, tomato and cucumber by hand to a 1/2" or 1 cm dice. Unlike other recipes, do not drain the juice! This recipe uses the vegetables juices to hydrate the bulgur wheat, maximizing the nutrition and taste of the tabbouleh salad!
After the vegetables are chopped, sprinkle salt, pepper and garlic onto the diced vegetables. This seasons the vegetables and extracts more of the juice that will be used to hydrate the bulgur wheat.
Assembling the cucumber tabouleh salad.
When the bulgur wheat and vegetables are mixed. Allow the tabbouleh to rest for at least an hour to completely hydrate the wheat. You will notice that most, if not all or the liquid is absorbed and the bulgur wheat will be soft and hydrated. If you want to make a molded salad, you can either place the tabbouleh in a seive to remove any excess liquid or avoid scooping the liquid when placing the tabbouleh in the mold. If by chance your tomatoes are not juicy and the bulgar wheat has not softened, add extra vegetables, extra lemon juice and olive oil to the salad! However, I don't think this will be necessary.
To form your cucumber tabouleh salad, first place your mold on the plate before adding the tabbouleh. Try not to scoop up any juice. Tap the tabbouleh down to compress the salad, much like making a sand castle! Gently remove the mold to expose the beautiful, tasy creation.
If you've made tabbouleh and have your own version, let me know what you do in the comment section!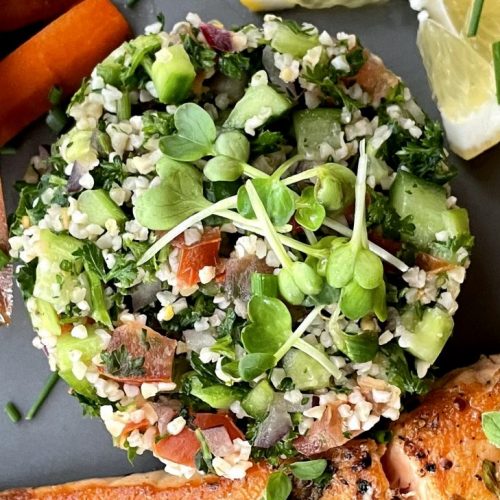 CUCUMBER TABBOULEH SALAD
This tabbouleh salad is a heartier salad with a non-traditional technique that maximizes the health benefits of the ingredients, while keeping it somewhat authentic.
Ingredients
300

g

fresh cucumbers

that have less seeds like Persian, Japanese, pickling, hot-house etc.

75

g

red onion

1/2 small

300

g

fresh tomatoes

4 for 1x

200

g

fresh chopped curly parsley. Parsley stems can be used if not tough.

1 bunch for 1x

¼-½

tsp

sea salt

½

tsp

fresh ground pepper

1

clove

fresh chopped garlic

1

Tbsp

olive oil

50

g

fresh mint

¼

cup

fresh lemon juice
Instructions
Place bulgur wheat in a bowl with lemon juice.

Dice tomatoes, cucumbers and red onion to ½" dice(~1cm)

Place in another bowl and add salt, pepper, fresh chopped garlic and olive oil. Let sit to allow salt to extract the vegetable juices.

Finely chop the parsley and mint leaves. I use the parsley stems if they are not tough.

Mix the bulgur wheat and chopped vegetables.

Allow to rest for an hour for the bulgur wheat to absorb the vegetable juices.
Nutrition
Serving:
6
g
Calories:
165
kcal
Carbohydrates:
29
g
Protein:
6
g
Fat:
5
g
Saturated Fat:
1
g
Sodium:
187
mg
Potassium:
764
mg
Fiber:
8
g
Sugar:
5
g
Vitamin A:
5426
IU
Vitamin C:
91
mg
Calcium:
133
mg
Iron:
5
mg