As a South African, there is nothing better than a good piece of beef! I love biltong (South African beef jerky), steak cooked medium rare and a good prime rib. Over the years, I've been experimenting with prime rib, especially dry aging. Last year, I bought dry ice, packed my dry-aged prime rib in a cooler and brought it with me to New York to cook for the girls. My husband thought I was crazy, but my girls were overjoyed!
Over the years, I've aged my prime rib for 1 , 2, 3 and 4 weeks. I've also experimented with the oven temperatures and my family decided that this year's prime rib was THE best. I agree! Prime rib dry aged for 28 days and roasted in a very low oven, called a reverse sear.
What is dry aging.
Dry aging beef is to a way of tenderizing the beef by allowing the beef to sit in a humidity controlled refrigerated environment for several weeks allowing the proteins of the meat to break down, making it tender and flavorful. The meat becomes more tender and the flavor intensifies as it ages.
Weight loss.
During the dry aging process, the meat will shrink as moisture in the meat evaporates and starts to dry out. In my experience, 20% of the original weight is lost after dry aging and cutting away and discarding the dried outside before roasting. That is the reason why dry aged beef costs so much. The dry aged prime rib roast that I dry aged would have cost about $500.00.
Tips for making aged prime rib.
Prime Rib Cut.
If you are planning to age your own prime rib, I suggest you pick a prime rib that has sufficient fat covering the meat. This will protect your meat from drying.
Some grocery stores will prep and marinate your meat for your. I ask the butcher if they can prep my prime rib into a Presidential cut which basically separates the ribs from the roast and then re-ties the meat back together again. I aslo ask if they can add olive oil and dry rub between the rib and roast before tying, giving the roast extra flavor! This year, the butcher actually added dry rub to the outside fat which is not necessary when aging as a thin layer of fat will be cut off before roasting.
I like buying a prime rib roast with the ribs. The ribs act as a built-in "rack" which enables air flow and more uniform cooking. My family also enjoys eating the ribs afterwards.
Buying Prime Rib.
When buying prime rib, the piece of prime rib depends on YOUR taste preference. There are are 2 main parts of the roast which I think are important besides the fat cap. The fat cap is necessary as it provides a protective layer during aging and roasting. The cap meat is the most flavorful, but not as smooth and tender as the eye. However, I have found that the reverse sear method of roasting has been a game changer. By reverse searing, you can prevent the cap from being overcooked.
How much to buy?
Estimate about a pound of prime rib per person. (This is for a bone-in prime rib). With weight loss from aging and trimming, plus cooking, this will be sufficient prime rib for everyone.
Dry Aging.
Dry aging requires space in your refrigerator so if you have refrigerator space constraints, dry aging may not work for you. Every time I dry age a roast in my extra refrigerator, I add a pan of water next to the roast so that there is some moisture in the refrigerator. However, it is important to keep your meat clean and dry so don't let the water touch the meat.
Baking soda.
It is helpful to place a box of baking soda near the meat to deodorize the refrigerator. It helps absorb all the refrigerator smells so that it doesn't permeate your meat. The meat will also emit a beefy smell.
Prepping your meat.
Remove as much excess moisture from your meat by dabbing the roast with a papertowel. Use at least 2 layers of cheesecloth to wrap your meat. Place it on a rack and place it in the back of a refrigerator allowing sufficient air circulation around the meat.
After a few days, check the meat to ensure that the entire roast is developing this hard crust. Replace the cheesecloth with 2 new layers. After 14 days, the prime rib should be darkening and drying out. At this point, you do not need to change the cheesecloth.
Remove the aged pieces.
After aging your beef, whether it is for a 1 or 4 weeks, you will need to cut the hard outside pieces of fat and meat away from the roast, leaving you with a rich, dark and smooth meat. A thin layer of fat should also be cut away to remove all the hard pieces.
Score the Fat Cap.
Prior to roasting the prime rib, score the fat by cutting the fat to allow the rub to penetrate easier and to allow the oils to exude during roasting. Cut the fat in a cross cross pattern, making sure you do not cut too deep to prevent cutting the meat.
Marinate with dry rub.
Rub the entire roast with olive oil and generously marinate it with a dry rub. Allow the prime rib to relax and marinate at room termperature for an hour before roasting.
Roasting the Prime rib.
The reverse sear.
I have always seared and browned the roast first and then dropped the temperature and cooked the rest of the roast until the internal temperature reached 130 degrees fahrenheit. (54 degrees celcius) and then let it rest for 15 minutes. My brother cooked it with this method this year.
This year, I decided to do a reverse sear, cooking the prime rib at a low oven temperature of 225 degrees fahrenheit convection (107 degrees celcius) until the meat reached 125 degrees fahrenheit (52 degrees celcius). It took about 3 hours for a 9 lb prime rib. I then removed the prime rib and allowed it to rest while the oven pre-heated to sear. I then briefly seared the skin to make the fat crisp. I like my prime rib medium rare at about 130 degrees fahrenheit (54 degrees celcius). If you prefer medium, I would allow the prime rib to cook to 135 degrees fahrenheit (57 degrees celcius) before removing.
The two images below show the results using the different methods. You can see that the prime rib that was seared first had more fully cooked meat whereas the one roasted with the reverse sear has more meat that is medium rare.
Desired doneness.
Here is the table for meat doneness. The meat will rise about 5 F or 2 C during resting.
| | |
| --- | --- |
| | 120 F- 125 F (48.9 C to 51.7 C) |
| | 130 F - 135 F (54.4 C to 57.2 C) |
| | 140 F - 145 F (60 C to 62.8 C) |
| | 150 F - 155 F (65.5 C to 68.3 C) |
| | |
Instant Read / Leave in thermometer
I cannot stress how important it is to use an instant read / leave in thermometer. This is a kitchen must-have. Oven temperatures vary and relying on time for a roast is not reliable. This particular thermomter has a leave in probe. Set the temperature to your desired doneness and the alarm will go off when the meat has reached that temperature. Place the thermomter into the center of the roast.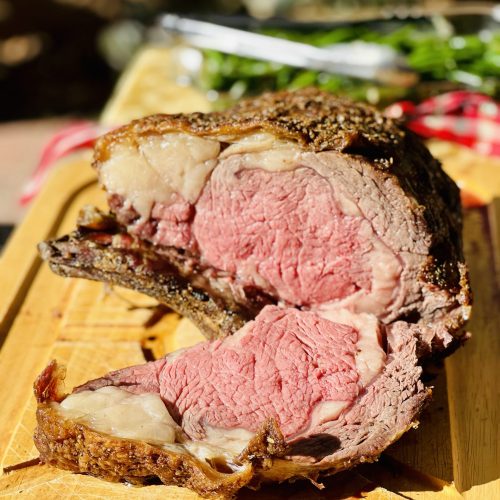 PRIME RIB ROAST
How to perfectly roast prime rib with the reverse sear method.
Ingredients
9

lb

bone-in prime rib.

¼-½

cup

olive oil.

¼-½

cup

dry rub with mixed herbs.
Instructions
Preheat oven to 225° fahrenheit.

Using a brush, baste prime rib all over with olive oil.

Cover with dry rub and mixed herbs.

Allow the meat to rest and marinate at room temperature for 1 hour.

Roast in oven until thermometer reads 120° F. Approximately 3 hours.

Turn on the oven broiler.

Return back to the broiler until thermometer reads 125°-130° F for medium rare. See chart for meat doneness.

Allow to rest for 15 minutes before slicing.
Video
Nutrition
Calories:
1412
kcal
Carbohydrates:
1
g
Protein:
62
g
Fat:
127
g
Saturated Fat:
51
g
Polyunsaturated Fat:
5
g
Monounsaturated Fat:
57
g
Cholesterol:
274
mg
Sodium:
203
mg
Potassium:
1015
mg
Fiber:
0.2
g
Sugar:
0.1
g
Vitamin A:
51
IU
Vitamin C:
0.2
mg
Calcium:
54
mg
Iron:
7
mg
Net Carbohydrates:
1
g
Tried this recipe?
Let me know how it was or if you have any questions or suggestions!