I first discovered Korean style grilled short ribs (galbi) many years ago in college. I met these Korean classmates who opened my palate to Korean food: the spiciness of all the pickled accompaniments (panchan) and the sweet-savory taste of all the marinades. No doubt, a Korean BBQ with all the fixins is one of my family's favorite meals.
My daughters who lived in New York City told me about how they were saving money by buying groceries at Whole Foods. To me, living in California, that sounded like an oxymoron. They were especially excited when the short ribs were on sale. They told me I should get the Whole Foods app and try some of the short ribs. I did and they were right.
Whenever the short ribs go on sale, I would buy a large quantity of both the Korean style flanken ribs as well as the traditional style short ribs. I would bulk marinade the Korean short ribs and freeze them for future easy meals and make simmered short ribs in red wine in an instant pot with the traditional style short ribs.
Tips for making Korean grilled short ribs (galbi)
Meat.
Flanken short ribs are ribs cut across the rib bones exposing about 3-4 cross cut bones. The thickness of the meat differs among butcheries. Some butcheries cut their short ribs really thin, about 1/2" (1.27cm) and others cut it a little thicker 3/4" (1.9cm). I tend to prefer the butcheries that sell thicker slices of short ribs for Korean grilled short ribs (galbi). When choosing short ribs, try to get the ribs that are small, because you don't eat the bones so why waste money paying for big bones!
Some butcheries cut the short ribs that leave "bone dust," fragments of bone, on the meat. In order to ensure that all this bone dust is removed, wash it well or soak the short ribs in a bowl of water for a few hours and then rinse thoroughly to get rid of any bone fragments.
Marinade.
The marinade comprises a combination of soy sauce, brown sugar, onion and some sort of acid. The traditional acid is the juice from an Asian pear. You can also use apple juice, pineapple juice etc. Rice wine also acts as an acid to tenderize the beef. According to my Korean friends, the traditional method of marinating galbi is to mix the marinade together and then grate the Asian pear and onion. This is quite time consuming. Here is a quick and easy way to prepare the marinade with the same end result. I put all the ingredients in a blender and blend it! The marinade will look lighter as a result of the blended onion and asian pear, but the end result is the same.
Marinate the Korean short ribs for at least 12 hours, preferably overnight for the flavor to soak into the meat. You will need to marinate your ribs longer if the thickness of your short ribs are thicker.
I usually freeze marinated ribs in freezer bags in portion sizes. This makes it easy to defrost and grill for those evenings when you want a quick meal.
Grilling.
Unlike regular grilled meats, Korean grilled short ribs (galbi) are much thinner and therefore getting it anything other than fully cooked is next to impossible. I have also found that when this cut is not fully cooked, it tends to be a bit sinewy. So, don't worry about these ribs not being medium rare. The flavor will make up for it!
Have a pair of scissors on hand to cut pieces of galbi between the rib bones. This makes it much easier to eat.
Accompaniments.
There are many simple accompaniments (panchan) that can accompany your Korean grilled short ribs (galbi) such as kimchi, pickled cucumbers, soybean sprouts, spinach, japchae noodles etc.
Roasted seaweed.
My daughters love rolling pieces of galbi and panchan with rice in Korean roasted seaweed. If you live near an Asian supermarket, roasted seaweed can be found in individual portion sizes or larger sheets. The larger sheets are half the price of the individual servings. Note that you want to look for the roaste, seasoned seaweed that is different from Japanese seaweed that is not seasoned.
The larger sheets can be made into indivudal portion sizes by folding the package into quarters, making sure you crease the edges, thus breaking the crisp seaweed. Open the bag and the seaweed should be quartered.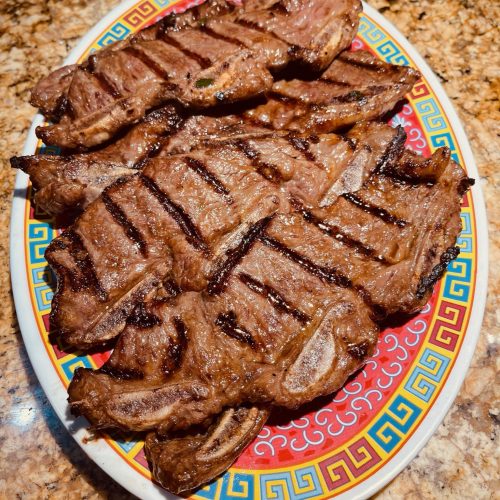 KOREAN SHORT RIBS (GALBI)
Use this marinade to make delicious Korean short ribs. You can always marinate a large quanitity of galbi and freeze it for later use.
Ingredients
1

kg

Flanken short ribs

¼

tsp

white pepper

¼

cup

light soy sauce

¼

cup

juice or water

2

Tbsp

mirin

cooking wine

1

Tbsp

sesame oil

3

cloves

fresh garlic

½

medium

onion

½

small

Asian pear

2

Tbsp

brown sugar
Instructions
Rinse ribs to remove any bone dust.

Place all marinade ingredients in a blender.

Blend ingredients until smooth.

Spread marinade over ribs, making sure each rib is well coated.

Allow to marinate for at least 12 hours.

Grill ribs over medium heat.

Place excess ribs in freezer bag for future use.
Nutrition
Serving:
4
g
Calories:
417
kcal
Carbohydrates:
17
g
Protein:
37
g
Fat:
22
g
Saturated Fat:
8
g
Polyunsaturated Fat:
2
g
Monounsaturated Fat:
9
g
Cholesterol:
108
mg
Sodium:
997
mg
Potassium:
756
mg
Fiber:
1
g
Sugar:
12
g
Vitamin A:
5
IU
Vitamin C:
3
mg
Calcium:
33
mg
Iron:
4
mg
Tried this recipe?
Let me know how it was or if you have any questions or suggestions!