I like spicy so I really enjoy Korean food. However, when we go to a Korean restaurant, we always have to order Japchae noodles because someone in the family cannot eat spicy! Korean Japchae noodles is very easy to make. The noodles are made from sweet potato starch instead of wheat. They tend to be firmer than noodles made from wheat and have more of an al-dente texture to them. They are also a little more forgiving than wheat noodles during cooking so are a easier to work with.
Tips.
Noodles.
There are some Japchae noodles that are very long and some that are cut. I find that it is sometimes difficult to swallow the long noodles, but maybe it's because I swallow it too quickly! Certain brands have it cut so they look more like spaghetti. These cut noodles are not only easier to manage as an eater, but it disperses better when trying to mix in the other ingredients. They have less of a tendency to stick together.
Sauce.
The sauce is essential to the final taste of the Japchae. The Korean flavor is sweeter and the sesame oil flavor is stronger. I think the key to a good japchae is the flavor of the noodles. I used to add the sauce at the end, but if you add half of the sauce after the noodles have cooked so that the noodles have time to soak up the flavor, that's a game changer!
Fixins.
Traditional japchae comes with seasoned beef, but you can make it with any type of protein and vegetables or just make it vegetarian. Cut the vegetables into uniform julienne strips. Traditional japchae ingredients include onion, mushrooms and spinach.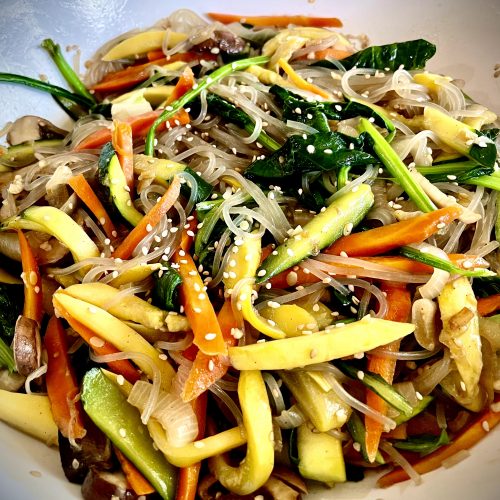 KOREAN JAPCHAE NOODLES
Stir fried glass noodles with meat and vegetables and a wonderful, flavorful sauce. A delicious side dish to accompany any Korean BBQ
Ingredients
250

grams

dried japchae noodles

250

grams

marinated meat, thinly sliced

500

grams

Assorted vegetables, julienned

3

Tbsp

cooking oil.

2

tsp

fresh minced garlic
Sauce
4

Tbsp

light soy sauce

3

Tbsp

brown sugar

2

Tbsp

sesame oil

¼-½

tsp

white pepper

according to your taste

1

Tbsp

mirin

1

Tbsp

roasted sesame seeds
Garnish
1

tsp

roasted sesame seeds

for garnish
Instructions
Make noodles
Mix all the ingredients for the sauce

Cook the noodles according to the instructions on the pack, usually 6-7 minutes

Drain noodles in a colander and run cold water onto noodles. Make sure all the noodles are well separated and well drained.

Place drained noodles into a bowl.

Add half of the sauce into the noodles and mix completely.
Stir fry fixins
Add 1 Tbsp oil and 1 tsp minced garlic. Stir fry marinated meat and remove so not to overcook.

Add 2 Tbsp oil and 1 tsp minced garlic. Stir fry vegetables until 90% cooked.

Add noodles to the vegetables and stir.

Mix Japchae until everything is well coated with sauce and plate.

Sprinkle sesame seeds as garnish. Serve!
Notes
This recipe's nutritionals is based on adding beef and a variety of  "traditional" japchae vegetables to this side-dish.
Nutrition
Serving:
6
people
Calories:
432
kcal
Carbohydrates:
55
g
Protein:
13
g
Fat:
19
g
Saturated Fat:
4
g
Cholesterol:
25
mg
Sodium:
755
mg
Potassium:
328
mg
Fiber:
4
g
Sugar:
7
g
Vitamin A:
4232
IU
Vitamin C:
9
mg
Calcium:
58
mg
Iron:
2
mg
Tried this recipe?
Let me know how it was or if you have any questions or suggestions!