I used to love ordering these Vietnamese spring rolls (Goi Cuon) when going to a Vietnamese restaurant until my friend, Vicky, showed me how easy they were to make. Vietnamese springs rolls are different from Chinese spring rolls. Vietnamese springs rolls are usually wrapped in rice paper which does not require any cooking. Chinese spring rolls are deep fried and crispy. The spring roll wrappers are usually thin and made from wheat. To make this even more confusing, the Vietnamese also have a deep fried roll which they call a fried egg roll!
I love making these Vietnamese spring rolls when the weather is hot and I don't feel like heating up the kitchen! These rolls are also great for a DIY meal (Do-it-yourself). I let my family and guests make their own rolls and sauce. They have fun making it. It allows them to make it the way they like it and it's fail proof.
Not only are they easy and fun to make, the ingredients are healthy except for the few strips of fried spring roll wrappers that are, in my opinion, a must!
Tips for making Vietnamese spring rolls.
For my Vietnamese spring rolls, I like to add a few extra ingredients. I like to add egg omelet strips for added color and protein and crispy fried "Chinese spring roll" wrapper strips.
Fillings.
The sky's the limit. I usually have an assortment of protein and veggies such as carrots and cucumbers that I julienne cut, with my mandoline. I also have blanched bean sprouts and chives. It's easier to assemble the rolls when all your ingredients are in strips except for the lettuce leaves. The lettuce leaves should envelop all your other ingredients so these should remain large. Try using just the tender parts so that it forms a roll.
Rice noodles.
I use rice noodles because they don't stick to each other and are not soggy. Keep your noodles al dente so that your roll doesn't get too wet and fall apart!
Egg strips.
Cook the egg like you would an omelette and cut into long strips.
Chinese "spring roll" wrapper strips.
This is KEY to my spring roll! The added crunch makes all the difference and gives it interest, guaranteed!
Herbs.
Vietnamese love their fresh herbs. These are very fragrant and aromatic. However, this may not be to everyone's liking. You could either set it out whole and people can pick what they like. It is better if they tear up the leaves so that it's easier to eat. On the other hand, if your guests like all the herbs, you can make it easier for them to assemble the roll by setting out a container with a mixture of chopped cilantro, Thai basil etc. for them to just sprinkle onto their rolls.
Protein.
Traditional Vietnamese rolls are usually made with shrimp. I usually sprinkle salt on peeled and deveined shrimp, blanch it in water. When the shrimp turn color, run it under cold water to stop the cooking and halve the shrimp along the spine. I have also done it with BBQ pork and chicken. You can really use any protein of your choice.
Rolling the Vietnamese spring rolls.
If you go to a Vietnamese restaurant and you order these DIY rolls, they provide a special rice paper water bowl which is cool looking and saves space on the table. This "bowl" allows you to submerge the CIRCULAR rice papers. When making these at home, I usually just use a container that will allow the rice paper to be submerged easily. The rice paper only needs to be briefly immersed in the water, but you need to make sure that the entire wrapper is moistened. It does not have to be soft.
The wrapper, when it does eventually soften, becomes somewhat tacky. I prefer to roll my wrapper on a plate that is slightly smaller than the wrapper which gives me access to the wrapper that overextends the plate. For either square or circular wrappers, place your "display ingredient", usually shrimp or any protein, a third of the way down from the top of the wrapper.
You can use one or multiple pliable lettuce leaves that will enclose all your other ingredients. Place the lettuce at the bottom third of your wrapper.
It is easier to first roll your lettuce, followed by the rice wrapper as shown in the video
Several dipping sauces can accompany these rolls. You can try my Spicy peanut dipping sauce with this. You can also use hoisin sauce as a dip.
Enjoy and let me know what you think of the addition of the fried Chinese spring roll wrapper strips!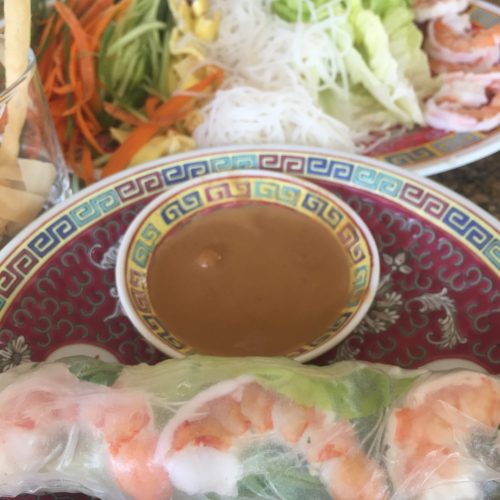 VIETNAMESE SPRING ROLLS
Vietnamese spring rolls are light, healthy and delicious. So easy to make, delicious and healthy.
Ingredients
Lettuce leaves

Carrots

Cucumbers

Egg

Chives

Thai Basil

Fresh Cilantro

1

pkg

Rice paper

Fresh medium - large shrimp

sea salt

1

pkg

Rice vermicelli
Instructions
Vegetables
Wash Lettuce leaves and remove the firm ends

Julienne cut the carrots and cucumbers

Strip and de-stem herbs. Chop or leave whole
Egg Strips
For every egg, add 1 Tbsp of water and whisk 'til combined

Fry thin layer of egg on a greased skillet.

Remove when cooked and cut into strips
Shrimp
Season de-veined, shelled fresh shrimp with sea salt

Add shrimp to boiling water and blanch. Remove shrimp when shrimp turns color. Do not overcook. Timing will depend on size of the shrimp.

Run shrimp under cold water to stop the shrimp from cooking.

Cut shrimp in half along the the spine of the shrimp
Rice Noodles
Cook noodles as directed according to package

Run noodles under cold water to stop the noodles from cooking.
Video
Notes
This recipe allows for 3 rolls per person.  Exact amounts are not specified as they depend on the size of rice wrapper and protein.
Nutrition
Serving:
3
rolls
Calories:
140
kcal
Tried this recipe?
Let me know how it was or if you have any questions or suggestions!