One of my favorite chicken dishes is soy sauce chicken. It's not just soy sauce, but a blend of soy sauce, sugar, star anise, ginger, cinnamon, five spice powder and water. Over the years I've tried many versions of soy sauce chicken. However, the best recipe I tasted was at church! It is simple and fool-proof.
When we first came to California, we attended First Evangelical Church in Glendale which was, at that time, predominantly an Asian church. Many of the attenders were part of fellowship groups and each fellowship group was responsible for making lunch for the entire church every Sunday. The more mature fellowships undoubtedly were responsible for more complex dishes like soy sauce chicken. At that time, our fellowship comprised the youngest married adults and were responsible for anything tofu!
A family friend was part of the fellowship responsible for the chicken recipe and those Sundays, I would ask for the leftover soy sauce which we would take home and reuse the sauce multiple times until it ran out. Needless to say, this fellowship perfected the taste of the soy sauce mixture after decades of making that chicken. I recently saw this family friend and asked her for the recipe.
Tips for making soy sauce chicken.
Saucepan size.
Choose a saucepan that is not too large but just big enough to fit the chicken. A saucepan that is too large will require more soy sauce than is needed in order to cover the entire chicken.
Chicken.
This recipe can be made with all chicken parts, including the whole chicken. "Poaching" a whole chicken does require a large amount of sauce. However, for certain festivals, the whole chicken is more appropriate than chicken parts.
This recipe does not require the initial browning of the chicken since it doesn't affect the taste, texture or color. From experience, browning the chicken tears the skin.
Sauce.
The amount of soy sauce mixture in which the chicken is boiled really depends on the size of the saucepan, size of the whole chicken or the amount of chicken parts used. Generally, the soy sauce mixture should cover all the chicken parts to ensure even penetration of the sauce. As a result, it is more important to know the ratios of the main ingredients rather than an actual amount.
Soy Sauce.
Light soy sauce is used in addition to a few tablespoons of dark soy sauce. The flavor comes from the light soy sauce and the dark color comes from the dark soy sauce.
Sugar
Sugar is added to somewhat neutralize the saltiness. The ratio of the main ingredients of light soy sauce, water and sugar is 2 : 2 : 1. I tend to use less sugar. For 3 cups of soy sauce, I use 1 cup of sugar.
Other ingredients.
Fresh sliced ginger, star anise, cinnamon sticks and Chinese five spice powder gives the chicken extra flavor. The cinnamon sticks and five spice powder are my additions to the original recipe. Flavor according to your taste preference.
Accompaniments for soy sauce chicken.
I enjoy dipping my chicken in strong, English mustard. However, the soy sauce is so tasty that it can be used as a dipping sauce as well.
Other dishes to make with excess soy sauce mixture.
Beef roll pancakes.
Simmered pork belly.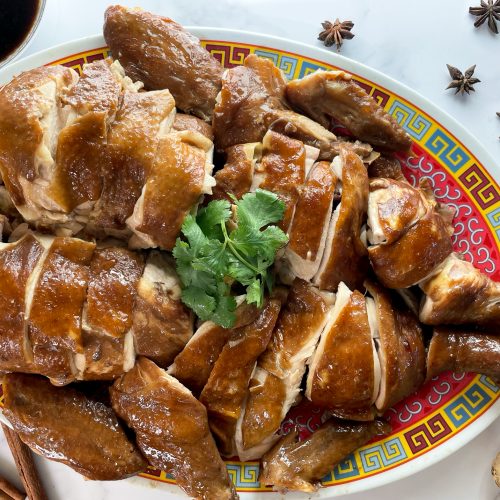 SOY SAUCE CHICKEN
This soy sauce recipe uses the whole chicken that is then cut into pieces, Chinese style.
Ingredients
3

cups

light soy sauce

Depends on size of chicken or pieces

3

Tbsp

DARK soy sauce

3

cups

water

Depends on size of chicken or pieces

1

cup

sugar

Depends on size of chicken or pieces

4

slices

fresh ginger

3

star anise

1

cinnamon stick

1

Tbsp

Chinese five spice powder

1

whole

chicken

Approximately 5 lbs.
Instructions
Wash and clean whole chicken.

Find a saucepan that is just large enough to fit the entire chicken to minimize the amount of soy sauce needed.

Fill the saucepan with water so that the entire chicken is submerged under the surface of the water.

Pour the water into a measuring container.

Add the same amount of light soy sauce as the remaining water measurement.

Pour the soy water mixture back into the saucepan.

Add sugar that is a little less than half the amount of remaining water.

Add the rest of the sauce ingredients into a saucepan. Stir.

4 slices fresh ginger,

3 star anise,

1 cinnamon stick,

1 Tbsp Chinese five spice powder,

3 Tbsp DARK soy sauce

Bring the sauce mixture to boil.

Add the chicken, breast side down and bring to a full boil.

Cover, reduce to a simmer and cook for 20 minutes.

DO NOT OPEN LID. Turn off heat and allow to continue to cook for additional hour.

Remove the chicken from the soy sauce mixture when internal temperature measures 160-165° F (71 - 74° C) and allow to cool.

Chop chicken into pieces. Serve with spicy, English mustard.
Video
Notes
You can substitute chicken thighs for the whole chicken if chopping a whole chicken seems daunting!  Preferably, use legs and thighs WITH the bones.  The bones do provide flavor to the sauce that can be used for other recipes.  DO NOT THROW THE SAUCE AWAY.  Use the sauce to make marbled soy sauce eggs, five-spice beef or soy sauce simmered pork belly.
Nutrition
Serving:
6
g
Calories:
14
kcal
Carbohydrates:
2
g
Protein:
1
g
Fat:
1
g
Saturated Fat:
1
g
Polyunsaturated Fat:
1
g
Monounsaturated Fat:
1
g
Cholesterol:
1
mg
Sodium:
509
mg
Potassium:
51
mg
Fiber:
1
g
Sugar:
1
g
Vitamin A:
7
IU
Vitamin C:
1
mg
Calcium:
22
mg
Iron:
1
mg
Net Carbohydrates:
1
g
Tried this recipe?
Let me know how it was or if you have any questions or suggestions!