These marbled soy sauce eggs are not only a great way to use up the soy sauce mixture from the soy sauce chicken recipe, but they are also very tasty and takes less than 10 minutes to make! If you don't have the leftover soy sauce mixture, I highly recommend making this sauce mixture from scratch, since it's simple and has the perfect balance of savory, sweet and other Asian flavors.
This recipe was born from a day when I was strapped for time and took all the shortcuts possible to make a quick lunch for myself with whatever I could find in the fridge. This technique turned out to be the fastest, easiest with the best outcome!
Boiling the eggs for the correct amount of time is key. Since I usually opt for very soft boiled eggs, my one daughter actually perfected the timing of these eggs when she was under quarantine with Covid. All she could eat were different kinds of eggs since she could not go out to buy groceries and wasn't motivated to do much cooking.
Tips for making marbled soy sauce eggs.
The key to making perfect soy sauce eggs is the timing. Overcooked boiled eggs creates a discoloration on the outside of the egg yolks. The yolk texture is also dry and chalky. Perfectly cooked boiled eggs have somewhat firm yolks with a softer center.
Soy sauce mixture.
These eggs are perfectly marinated when boiled in the soy sauce mixture from the soy sauce chicken. If making the soy sauce from scratch, follow the recipe below.
Boiling the eggs.
These eggs take between 6-7 minutes to boil. In order to eliminate a step of boiling the eggs in water and then marinating them in soy sauce afterward, wash your raw eggs well and then boil them in the boiling soy sauce mixture. After 3 minutes, take a spoon and tap the shell of the eggs directly in the saucepan until they are cracked. Allow them to cook for an additional 3 minutes before removing them from the sauce. Do not allow them to sit in the sauce as this will overcook the eggs.
Once cooled, peel your eggs and serve with the soy sauce mixture!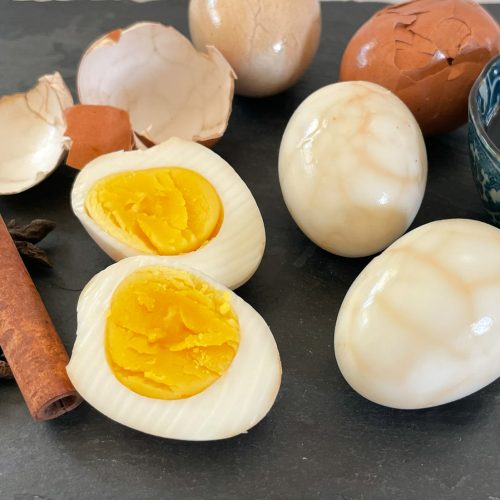 SOY SAUCE MARBLED EGGS
Perfectly boiled soy sauce marbled eggs that not only tastes and looks great, it takes less than 10 minutes to make!
Instructions
Use leftover soy sauce chicken mixture or combine soy sauce ingredients into a small saucepan and bring to a boil

1 cup light soy sauce,

1 cup water,

1 Tbsp DARK soy sauce,

⅓ cup sugar,

1 star anise,

½ tsp Chinese five spice powder,

small cinnamon stick,

1 slice fresh ginger

At a rolling boil, add eggs.

Using a back of spoon, tap the egg shells to crack the eggs to create the marbeled effect.

Cook for an additional 3 minutes.

Immediately remove eggs from sauce mixture to cool.

Once cool, peel and serve with soy sauce.
Video
Nutrition
Serving:
2
g
Calories:
137
kcal
Carbohydrates:
2
g
Protein:
12
g
Fat:
9
g
Saturated Fat:
3
g
Polyunsaturated Fat:
2
g
Monounsaturated Fat:
3
g
Trans Fat:
1
g
Cholesterol:
327
mg
Sodium:
634
mg
Potassium:
166
mg
Fiber:
1
g
Sugar:
1
g
Vitamin A:
480
IU
Vitamin C:
1
mg
Calcium:
64
mg
Iron:
2
mg
Net Carbohydrates:
2
g
Tried this recipe?
Let me know how it was or if you have any questions or suggestions!