I love having people over for dinner, but it can sometimes be stressful if you over-commit! In the bible, there's a story about 2 sisters, Mary and Martha. Martha is frantically trying to get a meal ready and Mary just wants to sit and listen to Jesus. Martha is so stressed and complains to Jesus that Mary is not helping her. I've been a Martha and it makes for a very long evening! The key is to make a dish that is not active preparation before the guests arrive but tastes like you've spent all day in the kitchen. This Marbella inspired "Michella" chicken is just that!
This chicken is my take on the Marbella chicken that is usually made with a whole skin-on chicken, red wine vinegar, green olives and prunes. The prunes bring a sweet flavor to the dish. My Marbella inspired "Michella" chicken substitutes dried apricots for the prunes. In my opinion, the prunes turn out mushy and pasty, but the apricots absorb all the delicious marinade, plump up and look like orange orbs of deliciousness! I also use skinless, bone-in thighs and add marinated artichoke hearts, capers and mushrooms during baking. Serve this dish with pasta or baked spaghtetti squash and a side salad and it's a memorable evening!
Tips for making Marbella inspired "Michella" chicken.
Marinade
This tasty marinade combines juices from capers, marinated artichoke hearts, dried oregano, wine, mushroom seasoning, pepper, brown sugar, white wine and tons of garlic!
Chicken
Thighs are the best for this dish as they end up being juicy and succulent after baking. It is much healthier to use skinless bone-in thighs to avoid having a thick layer of fat which is the delicious juice or gravy. I separate the skins and and save them for Crispy chicken skins.
Marinated Artichoke hearts.
The marinade of the artichokes will be used in the chicken marinade. The ingredient list of the artichokes should include herbs, spices, oil, vinegar and water. Check the recipe for the amount needed. Avoid the artichoke hearts that are NOT marinated.
Capers.
Both the capers and the caper juice are used. Capers do come in different sizes. The smaller capers are better because they are salty and the larger capers may be overwhelmingly salty!
Olives.
Green, pitted olives are used. For aesthetic reasons, cut the olives lengthwise. Using olive halves are better because they are easier to eat than whole olives, since they don't roll around the plate. The olive halves also appear more abundant in the dish.
Mushrooms.
Most firm mushrooms like button, baby portabello and cremini can be used. Cut the mushrooms into thick 1/4 - 1/2 inch (~1/2 - 1 cm) slices so they can absorb the delicious marinade.
Marbella inspired "Michella" chicken accompaniments.
The sauce of the chicken is SO delicious, there needs to be a side that will soak up all the tasty juices. Pasta, mashed potato, sourdough bread are great options. My favorite is spaghetti squash that's baked when the oven is preheated and while the chicken is cooking! See my tips on how to bake spaghetti squash so that it looks like spaghetti! Enjoy and let me know how your dinner went in the comment section!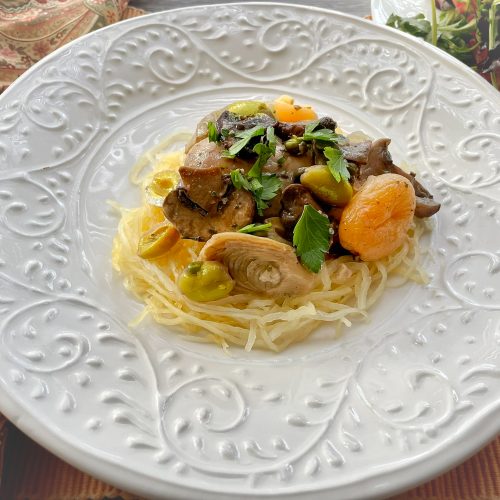 MARBELLA INSPIRED "MICHELLA" CHICKEN
Baked tasty and succulent skinless chicken thighs. A complete meal baked in the oven for stress-free entertaining!
Ingredients
8

bone-in skinless chicken thighs

6

cloves

chopped garlic

1½

Tbsp

dried oregano

more for fresh

1

tsp

mushroom bouillon

½

tsp

black pepper

marinated artichokes

125

grams

dried apricots

75

grams

pitted green olives, halved

25

grams

capers

2

Tbsp

caper juice

2

Tbsp

dark brown sugar

½

cup

dry white wine or chicken broth

2

Tbsp

fresh chopped Italian parsley

227

grams

sliced fresh mushrooms
Instructions
In a large pyrex dish, combine marinade ingredients and only the juice of the marinated artichokes.

6 cloves chopped garlic,

1½ Tbsp dried oregano,

1 tsp mushroom bouillon,

½ tsp black pepper,

125 grams dried apricots,

75 grams pitted green olives, halved,

25 grams capers,

2 Tbsp caper juice,

2 Tbsp dark brown sugar,

½ cup dry white wine or chicken broth,

3 bay leaves

Add the lean, bone-in, skinless chicken thighs.

8 bone-in skinless chicken thighs

Allow to marinate in refrigerator at least 12 hours, preferably 24 hours. Turning occasionally to ensure uniform flavoring.

Preheat oven to 375°F. Prepared spaghetti squash can be placed in oven at this time.

Remove from refrigerator.

Add the mushrooms and marinated artichokes. Mix together.

227 grams sliced fresh mushrooms,

marinated artichokes

Allow to come to room temperature for ½-1 hour.

Bake in the oven for 40 minutes or until the internal temperature of the chicken reaches 160°F.

Remove pan from the oven. Allow to cool slightly. Chicken temperature will continue to rise to 165°F.

Serve spaghetti squash as "pasta" with Michella Chicken, smothered with delicious sauce!
Nutrition
Serving:
2
thighs
Calories:
533
kcal
Carbohydrates:
37
g
Protein:
44
g
Fat:
21
g
Saturated Fat:
4
g
Polyunsaturated Fat:
2
g
Monounsaturated Fat:
5
g
Trans Fat:
0.04
g
Cholesterol:
194
mg
Sodium:
1245
mg
Potassium:
1139
mg
Fiber:
7
g
Sugar:
25
g
Vitamin A:
2457
IU
Vitamin C:
27
mg
Calcium:
120
mg
Iron:
5
mg
Net Carbohydrates:
31
g
Tried this recipe?
Let me know how it was or if you have any questions or suggestions!