This shrimp with sizzling rice recipe is another family favorite! We used to order a sizzling seafood dish at Chinese restaurants when the girls were young. They used to love it when the rice was on a hot cast iron plate and as the waiter poured the seafood mixture over the rice, table side, it would sizzle! A few years ago, these pre-made rice cakes were sold in the grocery store. I decided to make my own version of the seafood dish which is easy and delicious! This shrimp with sizzling rice is a great dish to make for a festive occasion like Chinese New Year, a celebration or when you have company over, because it takes less than 5 minutes to stir fry and it's pretty impressive with the sizzling!
Tips.
Rice Cakes.
These rice cakes are the ready-to-eat Chinese rice cakes. Do not get the rice cakes made with rice flour. Those rice cakes require cooking and are used for dishes such as Shanghai style rice cakes which will not work for this application. I recently found a healthier multi-grain rice cake at my local asian grocery store (Ranch 99) which I tried. The rice cakes were darker but tasted just the same as the white rice cakes. A definite healtheir alternative!
Heat these rice cakes in an oven or toaster oven so that they will sizzle when the sauce is poured over them. See video.
Shrimp.
I like using the larger size / colossal shrimp, about 15 count per lb. The shrimp needs to be peeled and deveined. Do not overcook the shrimp when stir frying this dish. Otherwise, the shrimp will end up tough and rubbery. You want your shrimp to be just cooked and "al dente".
Frozen Peas.
This recipe call for frozen peas. I recommend using petite pois. They are younger peas that are more tender and don't have a mealy mouthfeel.
Sauce.
The sauce is made with a combination of ketchup and tomato paste. (My cheater secret.) It is simple to make but flavorful.
Serving suggestion.
Place your hot rice cakes on a platter and the shrimp in another bowl. Pour the shrimp mixture over the rice.
Let me know what you think in the comment section!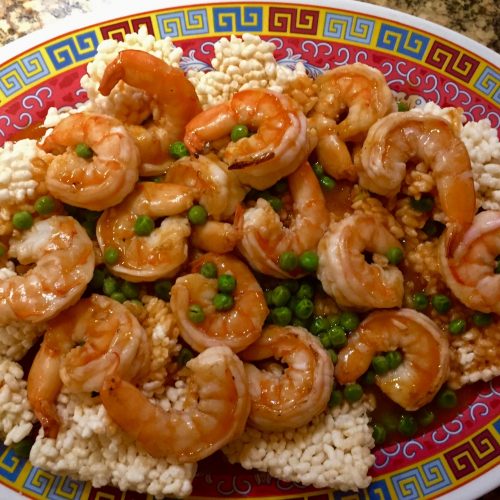 SHRIMP WITH SIZZLING RICE
This super easy shrimp dish is quick and easy to make and it definitely is an impressive dish to serve for company.
Ingredients
Tomato sauce
½

cup

ketchup

1

Tbsp

tomato paste

375

ml

water

1.5 cups water

1½

Tbsp

cornstarch

80

grams

frozen petit pois

1

tsp

fresh chopped garlic

1

tsp

fresh minced ginger

1

tsp

chopped scallions

for garnish

2

Tbsp

cooking oil
Instructions
Sprinkle salt and fresh chopped garlic onto cleaned, peeled and deveined shrimp. Let marinade for 30 minutes.

Preheat oven to 325° fahrenheit (163° celcius)

Place rice cakes on a baking tray and bake for 15 minutes. Switch off oven and let sit in oven until shrimp is cooked. Cooking the shrimp should take about 5 minutes.

Mix together ketchup, tomato paste, cornstarch and water.

Heat wok until smoking, add oil.

Add garlic, shrimp and scallion aromatics.

Add Shaoxing wine and stir fry until the shrimp changes color.

Stir your tomato sauce before adding to the shrimp

Place shrimp and sauce into a bowl. There should be enough sauce to spread over the hot, crisp rice.

Place hot rice cakes on a serving platter.

Pour shrimp with sauce over the sizzling rice cakes
Nutrition
Serving:
4
people
Calories:
222
kcal
Carbohydrates:
15
g
Protein:
20
g
Fat:
8
g
Saturated Fat:
1
g
Cholesterol:
221
mg
Sodium:
1281
mg
Potassium:
254
mg
Fiber:
1
g
Sugar:
8
g
Vitamin A:
368
IU
Vitamin C:
14
mg
Calcium:
139
mg
Iron:
2
mg