When Chinese New Year rolls around, my family was brought up with cleaning the entire house to start the new year clean and fresh and having a big family feast. My mother would make certain symbolic foods and this lion's head meatball soup is one of her traditional Chinese New Year's dishes.
Mom, the chef.
Mom grew up in a large family. She married my dad at 23 and became his medical assistant in the "surgery" / medical office in South Africa. My parents worked really hard to get their private practice off the ground. They worked seven days a week and rarely took a day off. They barely ate lunch and Mom hardly cooked during those days. I remember cooking many dishes during my elementary school years for the family. In the 1970s, my parents took Acupuncture classes from a visiting US professor and eventually became very successful Acupuncture doctors treating many dignatories including the South African rugby team, the Springboks! (Fun fact: They are mentioned in the movie Invictus!)
Later, when mom had more time to cook and bake, I discovered that she has an amazing palate. She has such sensitive taste buds that she can taste the nuances between various soy sauces. She is an incredible cook, and she has many delicious recipes that I will showcase. A few years ago, my girls attended Mom's lion's head meatball soup private lesson to hopefully learn how to make it! (They both lost the recipes, and I had to ask my mom for the recipe again! However, they did have some video footage that they saved.)
Lion's head meatball soup.
It's called lion's head because the meatballs are usually large and the Chinese cabbage looks like the mane of a lion. Many of the Chinese dishes served during a Chinese New Year feast have ingredients that are homophones of certain New Year wishes.
This lion's head meatball soup is one of the many dishes that my family serves. It has several ingredients of significance.
Pork (猪肉; zhūròu) - strength, wealth, abundant blessing.
Water chestnuts (荸薺; bíqí) - unity
Black moss (髮菜 fat choy) -wealth and good fortune (a must for the new year).
Lotus seeds/ -nuts/ -beans (蓮子; lián zĭ) -a full wallet and the hope of many (male) offspring.
Dried oysters (ho xi)- all things good or good luck.
Dried shitake mushrooms (冬菇; dōnggū) -longevity.
Chinese cabbage (pak choy, 白菜) - 100 types of prosperity luck.
Scallops (扇贝; shànbèi) - opening of new horizons
Tips.
Equipment.
My mother uses the traditional way of making the meatballs. She chops the meat using the blunt end of two cleavers and then slaps the meat in a bowl to tenderize and make the meatball texture smooth. She then braises the meatballs in a pan before simmering it in a crockpot for several hours. It is definitely a labor of love!
I have found that using a stand mixer with a paddle and ground pork gets the same meat texture in a fraction of the time.
Pork.
I usually use ground pork. If you plan to select your own pork and grind it yourself, the meat : fat ratio should be at least 80 : 20. Using too lean pork will result in tougher meatballs. However, if you choose to use a leaner cut, you can always add up to a 1/4 cup of water per 454g (1 lb) of pork to get the meatball consistency soft.
White fungus.
In addition to the Chinese cabbage, I use white fungus that when lightly cooked, adds a crunchy texture and more of a mane-like appearance for the lions head! Note that the white fungus expands quite a bit. If you don't have Chinese cabbage, you can substitute it with iceberg lettuce.
Making the meatballs.
The size of the meatballs are about 2" in diameter. You can make them bigger, but I find that people don't like meatballs the size of tennis balls and it's a little too much meat to eat as an appetizer! I use a melon baller to make the meatballs. When making the meatballs, dip your hands in water to prevent the meat from sticking to your hands. It will make it a lot easier to roll the meatballs!
Meatball flavor.
To ensure a good flavor in the meatballs, allow the ground meat mixture to marinate in the refrigerator for at least an hour.
Soup.
My mother uses fresh chicken stock that she saves after making a whole poached chicken which is another traditional New Year's dish. However, using chicken bouillon powder works. The delicious soup flavor comes from simmering the napa cabbage, shitake mushroom, dried oyster, dried scallop and marinated meatballs. Also pour the flavored shitake mushroom water into the broth will give it more umami. If you do not have a slow cooker and are cooking this soup on a stovetop, do not boil the soup as this will result in mushy vegetables and tough meatballs!
Serving the soup.
My family likes to serve this soup with a side of light soy sauce and white pepper for the meatballs.
The serving size in the recipe is for 8 small bowls of soup, served as an appetizer. However, I have cooked this recipe as hearty one-bowl meals for 4. Enjoy and let me know what you think in the comment section.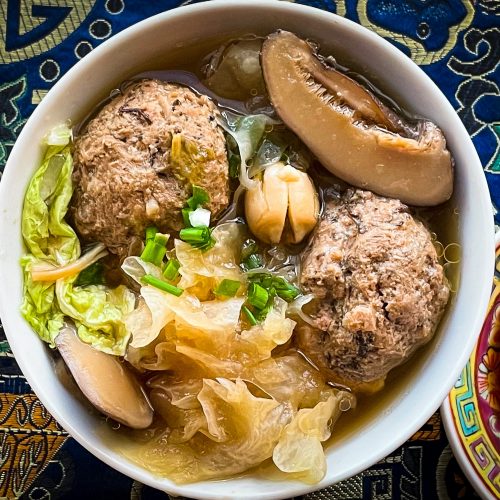 LION'S HEAD MEATBALL SOUP
Lion's head meatball soup made of ground pork and water chestnuts in a flavorful broth made with ingredients with Chinese New Year significance.
Ingredients
Soup broth
4

large

dried shitake mushrooms

236

ml

boiling water for soaking the mushrooms

1

Tbsp

light soy sauce

1893

ml

boiling water

1

Tbsp

chicken bouillon powder

10

lotus seeds / nuts

2

Tbsp

Chinese almonds

Optional

4

rinsed, dried oysters

Optional for flavor

1

large

rinsed, dried scallop

10

leaves

napa cabbage

1-2

dried white fungus

depending on taste and size

chopped scallions

for garnish

salt and white pepper

to taste
Instructions
Soak fat choy (black moss) in water.

RInse and soak dried shitake mushrooms in 1 cup of boiling water with 1 Tbsp of soy sauce.

Rinse and soak dried white fungus in water.
Meatballs
Finely dice water chestnuts.

In a stand mixer, add all the meatball ingredients except for the black moss and diced water chestnuts.

Beat at medium speed for 10 minutes, scraping bowl occasionally to ensure that all the pork is well incorporated.

Add the water chestnuts and black moss.

Mix at medium speed until blended.

Refrigerate and let marinate for at least 1 hour.
Broth
Slice shitake mushrooms to ½ " (1cm) widths.

Cut napa cabbage into strips 2" (5 cm) wide.

In a slow cooker, add all the soup broth ingredients except the white fungus.

Add the flavored shitake mushroom water.

Using a melon baller or spoon, shape the meatballs into large 2" balls. Wet hands help prevent the meatballs from being too sticky.

Gently place the meatballs on top of the napa cabbage without allowing them to touch each other.

Allow the soup to simmer in a slow cooker for 45 minutes. The meatballs should be cooked and the napa cabbage soft.

Break up the white fungus and add it to the broth. Allow to cook for an additional 15 minutes until fungus is cooked.

Taste and add additonal salt and white pepper if needed.

Garnish with chopped scallions.
Nutrition
Serving:
8
g
Calories:
261
kcal
Carbohydrates:
8
g
Protein:
15
g
Fat:
18
g
Saturated Fat:
6
g
Trans Fat:
1
g
Cholesterol:
74
mg
Sodium:
845
mg
Potassium:
377
mg
Fiber:
1
g
Sugar:
2
g
Vitamin A:
152
IU
Vitamin C:
10
mg
Calcium:
63
mg
Iron:
1
mg
Tried this recipe?
Let me know how it was or if you have any questions or suggestions!