Have you ever had GOOD hot and sour soup and not the freebie that you get with Chinese takeout? I would define that "soup" as a hot and sour slurry with token tofu bits. Homestyle hot and sour soup is wonderful, especially on a cool day. I love the perfect balance of spiciness from both the dried chili peppers and white pepper and the sour and fruitiness from both the white wine vinegar and black vinegar. Combine these flavors with strips of tasty pork, shitake mushrooms and crunch from the bamboo shoots and black fungus, and you have a delicious, no-carb, tasty and hearty soup.
Alex, my husband, makes great hot and sour soup. I've combined what I like in his soup with what I like in my soup and the ultimate result is SO GOOD. It's so good that we've been making it even when the weather is in the 80s (fahrenheit).
Tips for making homestyle hot and sour soup.
Uniform size.
For purely aesthetic reasons, I like all the ingredients in the soup to be uniformally cut: the meat, the tofu and the veggies! I like the ingredients to be cut into strips. Some of the veggies can be purchased as strips, saving you time!
Meat.
I like adding strips of pork into the hot and sour soup for extra protein. Alex usually makes his vegetarian. Use lean pork, like sirloin for this recipe. Marinate the pork before adding it to the soup to enhance the pork's flavor as well as to tenderize the pork. The pork will be added towards the end to avoid overcooking and toughening the meat.
Bamboo shoot strips.
The bamboo strips provide a little crunch. Try to purchase the bamboo shoot strips instead of the slices which avoids you having to cut them.
Shitake mushrooms and black fungus.
These dehydrated mushrooms require rehydrating in a water and soy sauce solution. Soy sauce is added to the solution so that the mushrooms will absorb the flavor. The black fungus comes shredded and whole. Purchasing the shredded black fungus saves you from having to slice them. If you purchase the whole black fungus, the amount needed may seem small but these fungi do grow when rehydrated!
Lily bud flowers.
Alex like to add these lily bud flowers. It does provide a tangy taste and somewhat crisp texture. These lily bud flowers do not require rehydrating as the flavor tends to leach out. It is better to rinse these lily bud flowers and add it directly to the soup stock.
Tofu.
There are various varieties of tofu. For the homestyle hot and sour soup, firm tofu is required as the softer types tend to break apart easily. In order to keep the integrity of the strips of tofu, this is added last, just before serving.
Soup flavoring.
This soup is packed with flavor with two kinds of soy sauces and two kinds of vinegars. Each type of soy and vinegar contributes something different to the soup. The light soy sauce is salty and the dark soy sauce is mainly for color. The wine (or rice) vinegar provides the sour and the black vinegar provides the fruitiness. In my opinion, the hot and sour soup is "flat" without the black vinegar. When purchasing black vinegar, read the ingredient label and make sure that the black vinegar contains a sweetener like fruit juice. I like this brand, and it can be purchased at most asian grocery stores. I usually have an amazon link, but this product is way too expensive through amazon!
This soup also calls for white pepper. White pepper tastes very different from black pepper and I highly recommend not substituting the white pepper as it has its own unique flavor and is great in soups!
Cooking process.
There is a definite cooking procedure for this soup. Adding the tofu and pork at the beginning seems logical, but this will result in small bits of tofu and tough strips of pork at the end. How you add the egg also affects the outcome. The consistency of the egg in the hot and sour soup is personal preference. For a light, wispy consistency, use the technique from the youtube video below. For more substantial egg pieces, follow the directions in the homestyle hot and sour soup instructional video.
Enjoy and let me know your thoughts in the comment section.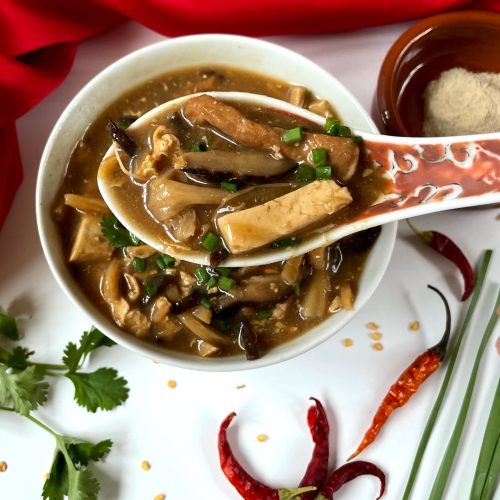 HOMESTYLE HOT AND SOUR SOUP
This absolutely delicious hot and sour soup is so packed with flavor and textures. One spoonful and you'll be sold! Make sure you follow the procedure carefully to get the best results.
Ingredients
150

g

boneless sirloin pork chop

3

cups

water

Estimate ¾ cups water per serving.

150

g

firm tofu

60

g

bamboo shoot strips

2-4

dried red chilies

optional

1

egg
Soup thickener
1

Tbsp

potato starch

or tapioca starch. Avoid using corn starch as it results in a cloudy soup.

2

Tbsp

water
Garnish
scallion

optional

cilantro

optional
Instructions
Rehydrate mushrooms and black fungus
Rinse mushrooms and black fungus before soaking.

50 g dried shitake mushrooms,

10 g shredded dried black fungus

In a small bowl, rehydrate mushrooms in mushroom mixture.

½ cup boiling water,

½ tsp light soy sauce

Allow mushrooms and black fungus to rehydrate for at least 1 hour.
Meat preparation
Soup thickener
In a small bowl, combine the cornstarch and water. Set aside.

In a small bowl, whisk egg. Set aside.
Ingredient prep
Slice shitake mushrooms (and black fungus if necessary) into strips.

50 g dried shitake mushrooms,

10 g shredded dried black fungus

Rinse dried lily bud flowers.

20 g dried lily bud flowers

Chop dried red chili peppers for extra spiciness. Otherwise, leave them whole. The seeds give the spiciness!

Chop cilantro and scallion for garnish. Set aside.
Soup
Boil the water in a large saucepan or pot.

Add chicken bouillon to the water.

3 tsp chicken bouillon powder

Add chopped or whole chilies

Add rinsed dried lily bud flowers

20 g dried lily bud flowers

Add shitake mushroom and black fungus with the mushroom mixture.

50 g dried shitake mushrooms,

10 g shredded dried black fungus

1 tsp DARK soy sauce,

2 tsp light soy sauce,

1 tsp sesame oil,

2 Tbsp white wine vinegar,

1 Tbsp black vinegar,

½-¾ tsp white pepper

Add pork strips and allow to cook.

Mix the soup thickener slurry again as the starch may have settled to the bottom.

Stirring the soup while at a rolling boil, slowly add in the thickener.

1 Tbsp potato starch,

2 Tbsp water

Add in the tofu strips. Stir.

Garnish with chopped cilantro and scallions.
Video
Nutrition
Serving:
4
g
Calories:
173
kcal
Carbohydrates:
16
g
Protein:
16
g
Fat:
6
g
Saturated Fat:
1
g
Polyunsaturated Fat:
2
g
Monounsaturated Fat:
2
g
Trans Fat:
1
g
Cholesterol:
66
mg
Sodium:
796
mg
Potassium:
447
mg
Fiber:
3
g
Sugar:
1
g
Vitamin A:
128
IU
Vitamin C:
1
mg
Calcium:
71
mg
Iron:
1
mg
Tried this recipe?
Let me know how it was or if you have any questions or suggestions!