Not many people have eaten corn "pancakes", but for me, these adapted 3-corn sourdough griddle cakes brings back fond memories. My grandmother in South Africa often made corn pancakes for me. I recall sitting in the corner of her kitchen while she fried up corn pancakes which I absolutely loved. This recipe is similar to Grandma's except I've incorporated some sourdough, frozen corn niblets and corn meal into my grandmother's version.
I recently made this recipe for my parents which I served with whipped honey butter and they loved it. If sourdough starter is not available, substituted the starter with all purpose flour. Sourdough adds tanginess to the recipe. The tanginess from the sourdough starter, combined with the savoriness from the creamed corn and the sweetness from the honey butter creates a real complex taste. The corn meal adds a different texture than regular pancakes. The individual corn niblets, scattered through the griddle cake, adds a satisfying crunch with every bite. Not only does the sourdough contribute to the taste of the pancake, but also enhances the nutrition of these cakes. See below.
Tips for making 3-corn sourdough griddle cakes


Sourdough starter
This recipe uses sourdough starter as a levening or rising agent as well as for its lactic acid bacteria which helps break down the corn meal. An interesting research study was done to improve the health benefits of the staple maize flour in Africa. The lactic acid bacteria found in kefir, sourdough and yoghurt breaks down the hard-to-digest components of the corn meal, reduces the sugars, increases the protein and mineral content for the body to easily absorb. Unlike when making sourdough bread, the starter needs to be completely mixed into the egg with no sourdough lumps visible. Otherwise, there will be bits of sourdough in the griddle cake.
Corn types
As mentioned earlier, 3 forms of corn are used: canned cream corn, corn meal and corn niblets (fresh or frozen). Corn meal requires rehydrating so that it is easier to cook so allow the "batter" to rest for at least 15 minutes but preferably overnight to allow the sourdough to break down the corn meal. For the corn niblets, frozen corn or fresh corn can be used. Roasting the corn on the stovetop adds a wonderful smokiness to the griddle cakes.
Cooking the griddle cakes.
Cook the griddle cakes on medium heat in a non-stick skillet and lightly spritz the pan with oil for the initial set of pancakes. The pancakes are ready to flip with the sides appear to be cooked and holes start to appear on the top of the griddle cakes.
3-corn sourdough giddle cakes accompaniments
These pancakes can be made either savory or sweet. For savory pancakes, serve them with sour cream and garnish with chives. You can also add 1/4 cup shredded sharp cheddar cheese and 1 tablespoon of chopped jalapeno for some cheesy jalapeno savory corn griddle cakes.
My favorite is to complement the savoriness of the creamed corn with whipped honey butter by combining softened butter with honey at a 2:1 butter to honey ratio.
Enjoy and let me know what you think in the comment section.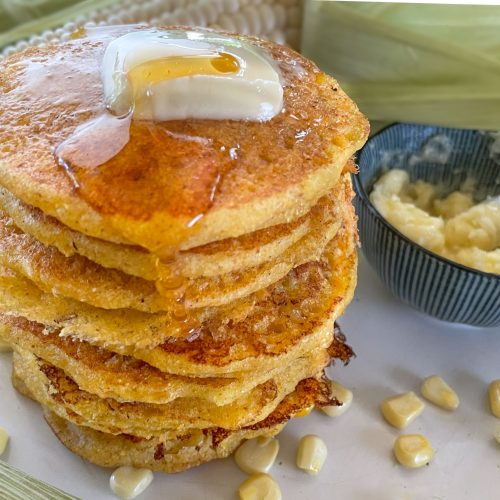 SWEET CORN GRIDDLE CAKES
These sweet corn griddle cakes can be served both as a savory or sweet dish. Add jalapeno and shredded cheese for a savory griddle cake or serve with honey butter for a sweet option.
Ingredients
1

can

creamed corn

125

g

sourdough starter

1

large

egg

1

cup

corn meal

¼

cup

frozen corn

or niblets from one roasted corn.

1

Tbsp

unsalted butter
Sweet option
Honey butter.

2:1 ratio of butter to honey
Savory option
¼

cup

shredded cheese

preferably sharp cheddar

1

Tbsp

finally chopped jalapeno

more can be added according to taste

finely chopped chives

for garnish
Instructions
Add frozen corn, mix and allow to rest for 15 minutes to allow cornmeal to absorb liquid and fully rehydrate. Longer is preferable, see blog notes.

In a non-stick skillet, spray oil to prevent sticking and pre-heat pan over medium heat.
Sweet option
Serve with whipped honey butter by mixing soft butter with honey at a 2:1 butter to honey ratio.
Savory option
For a savory option, add ¼ cup shredded cheese and 1 Tbsp chopped jalapeno

Garnish with chopped chives
Nutrition
Serving:
10
pancakes
Calories:
114
kcal
Carbohydrates:
20
g
Protein:
3
g
Fat:
3
g
Saturated Fat:
1
g
Polyunsaturated Fat:
1
g
Monounsaturated Fat:
1
g
Trans Fat:
1
g
Cholesterol:
20
mg
Sodium:
126
mg
Potassium:
117
mg
Fiber:
2
g
Sugar:
2
g
Vitamin A:
111
IU
Vitamin C:
3
mg
Calcium:
17
mg
Iron:
1
mg
Net Carbohydrates:
18
g
Tried this recipe?
Let me know how it was or if you have any questions or suggestions!