Chinese boiled dumplings can come in various forms. There can be the thin wonton and "Sui kow" wrappers to the thicker dumpling wrappers. My daughters seem to prefer the thicker wrappers which seem to fare better after freezing since they are not as thin and brittle. For this recipe, I've added some shrimp which is more of the traditional "Sui kow" recipe. However, Chinese meat and vegetable dumplings can be made with most meats and leafy green veggies.
A few years ago, I spent a day working in a dumpling restaurant in New York City and learned how to master the art of dumpling making. After several hours of making dumplings "their way," my dumplings were considered good enough to be part of their tray. My experience there left me thinking that making "hand-made" dumplings commercially is not an easy job! For every one dumpling I made, these dumpling masters made five. My homemade technique is easier to do, although not as "beautiful."
I very seldom make my own wrapper dough. It is very time consuming and in my opinion, not worth the time and effort. However, I did visit a mom and pop shop in Taiwan that made their own wrappers that were AMAZING! I'm going to have to experiment with sourdough to see if I can "re-create" that type of wrapper and then update this blog. For now, I'll just buy my wrappers.
Tips for making Chinese meat & vegetable dumplings.
As I mentioned earlier, Chinese meat and vegetable dumplings can have various meat and veggie combinations. This particular dumpling restaurant, which unfortunately no longer exists, made an organic duck dumpling. It was delicious and the broth was out of this world.
Dumplings freeze well and are great for the quick meal. I usually make enough dumplings for the meal plus plenty more for freezing. Freezing dumplings by placing them on a silicone mat, parchment paper or foil on a baking tray. Make sure they do not touch each other and freeze them. Once they are completely frozen, you can remove them from the baking tray and store them in a freeze bag for future use.
Dumpling wrappers.
If you go into a Chinese grocery store, there may be several dumpling wrappers to choose from. Wonton wrappers are usually square. Sui mai and potsticker dumplings tend to be oval. Sui mai wrappers are thinner than potsticker wrappers, almost 50% thinner. Sui mai wrappers are therefore more delicate and don't hold up as well during frying. They also break easier when frozen. They are better for boiling and don't have as many carbs! So pick the appropriate wrapper depending on whether you prefer boiled or fried dumplings or whether you're going make a bunch and freeze them for future use.
Dumpling wrapper shape.
I tend to go with the oval shaped wrappers as they are more versatile and larger. Given that we are making homemade dumplings, we shouldn't be skimping on the filling!


Folding dumplings.
You can see my youtube video that will show you an easy way to fold your dumplings that can be used for both boiling and pan-frying.
Cooking the dumplings: See Boiling perfect dumplings in my Tips & Tricks section to see how to boil your dumplings to ensure that you don't have a raw center (especially if they are frozen), nor do you overcook them so that the wrapper disintegrates.
Dumpling accompaniments.
These dumplings are so tasty they can be eaten plain. However, if you are having a dumpling party, you can try the dumplings with the usual soy sauce, vinegar, chili sauce, sesame sauce or try it with my spicy peanut sauce.
Enjoy and let me know what you think!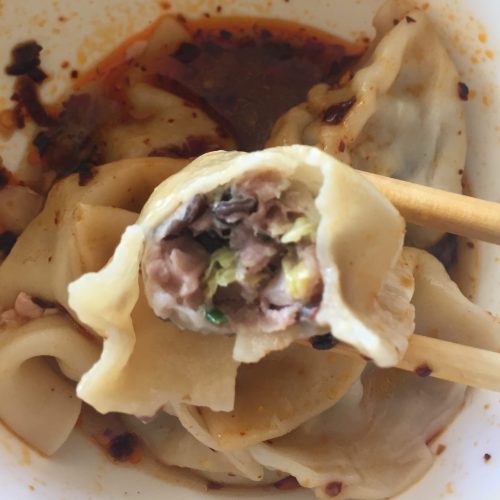 MEAT & VEGETABLE DUMPLINGS
Healthy Chinese dumplings made with meat and vegetables. A few surprises to provide a "crunch"
Instructions
In a bowl, wash and soak mushrooms and fungus overnight with 2 cups water and 2 Tbsp soy sauce.

20 grams dried shitake mushrooms,

10 grams dried black fungus,

2 Tbsp light soy sauce

Chop vegetables and mushrooms into small dice sized pieces

227 grams water chestnuts,

20 grams dried shitake mushrooms,

10 grams dried black fungus,

50 grams scallions,

25 grams Fresh chopped cilantro

56 grams fresh raw shrimp

In a bowl, add ground meat, chopped vegetables, mushrooms and shrimp

454 grams ground meat,

56 grams fresh raw shrimp,

227 grams water chestnuts,

20 grams dried shitake mushrooms,

10 grams dried black fungus,

50 grams scallions,

25 grams Fresh chopped cilantro,

225 grams napa cabbage

1 tsp chicken bouillon powder,

¼-½ tsp salt,

½ tsp white pepper,

½ tsp sugar,

1 Tbsp light soy sauce,

½ Tbsp sesame oil,

1 Tbsp whiskey,

1 Tbsp cornstarch

Mix and let marinate for at least 1 hour

Microwave a teaspoon of filling in the microwave for 10-15 seconds to taste if additional seasonings are needed.

2-3 packs dumpling skin wrappers
Video
Notes
See Youtube video for how to chop vegetables, fold wrappers and fry dumplings for Perfect Potstickers
Nutrition facts per dumpling.
Nutrition
Serving:
6
dumplings
Calories:
28
kcal
Carbohydrates:
1
g
Protein:
2
g
Fat:
2
g
Saturated Fat:
1
g
Polyunsaturated Fat:
1
g
Monounsaturated Fat:
1
g
Trans Fat:
1
g
Cholesterol:
8
mg
Sodium:
67
mg
Potassium:
51
mg
Fiber:
1
g
Sugar:
1
g
Vitamin A:
48
IU
Vitamin C:
1
mg
Calcium:
7
mg
Iron:
1
mg