Have you ever been to a restaurant where they inform you that you need to "pre-order" your chocolate lava cake and they then charge you an exhorbitant amount for it? Because of this, I always thought that chocolate lava cake was time consuming and difficult to make.
One of my daughters actually got me into chocolate lava cakes. She painstakingly tempered the chocolate in a bain-marie (waterbath) on the stovetop, and took a while to makes this delicious dessert. It was definitely a labor of love. Everyone in our neighborhood LOVED her chocolate decadence. I thought that I'd take her recipe and make it easier and less time consuming. I experimented with adding sourdough and I've had a chocolate lava cake at least every other week since then. Sourdough adds an interesting layer to the sweetness of the chocolate, giving it a complex rather than a basic chocolate butter taste. This easy 15 minute sourdough chocolate lava cake is a great crowd pleaser, especially when served with berries and ice cream!
Tips:
My recipe uses a sourdough starter. It is preferable to bring your starter to room temperature so that it is more active. However, if you don't have starter, you can substitute the starter for one tablespoon of all purpose flour.
Melting the Chocolate:
Instead of melting the chocolate in a bain-marie, I microwave the chocolate and butter together. Depending on the strength of your micowave, the melting times will differ. I usually set it for a minute and observe through the microwave door to determine when all the butter has liquified. When no butter solids remain and the chocolate chips are soft and appear shiny, the mixture is ready.
I like to mix the eggs and sugar with a hand blender. I have a compact hand blender that was gift given to me by a family friend who was tired of whipping cream with a hand whisk during our family get-togethers. However, I have made this recipe with just a hand whisk and it came out perfectly. You could even make this with the whisk attachment of your immersion blender. Make sure you whip the eggs and sugar until it is frothy and light in color.
After the egg and sugar is frothy and light in color, you can add the sourdough starter (or flour), vanilla essence and salt and beat until well blended
Eventhough there's a fair amount of butter in the recipe, the cake does not dislodge from the ramekin easily. Make sure you grease the ramekin well. I usually spray the ramekins with cooking spray rather than using butter because it dislodges easier.
Baking Time:
The amount of time in the oven will affect the amount of "lava" in your cake. From my experience, there's a range of doneness depending on what lava cake you're looking for. Baking time ranges from 8-12 minutes. The best way to determine whether YOUR lava cake is ready is to look at your lava cake without opening the oven door. If the sides of the chocolate lava cake has bubbles, the edges are cooked. The lava, in the center, that is less cooked will not have bubbles.
At 8 minutes, it's pretty gooey. Some people, like my daughter, prefer it this way. I prefer it baked for 10 minutes so it's mostly fudgy with a small amount of lava.
When you remove your ramekins from the oven, the chocolate lava cake is still cooking. Allow it to rest for two minutes. Since the ramekins are still hot, it is best to first use a knife to dislodge the sides of the chocolate lava cake from the ramekin. Place your plate on top of the ramekin and turn the ramekin and plate over. Make sure you place the ramekin exactly where you want it on the plate since it will be a little difficult to move once plated.
If you've turned it out onto your dessert plate and find that it's too gooey for your liking, pop it into the microwave for a few seconds.
If you want to serve your chocolate lava cakes in the ramekins, it will continue to bake in the ramekins so you will need to adjust your baking time to ensure that you have lava!
This sourdough chocolate lava cake goes well with ice cream. If ice cream is too rich or sweet, you can accompany this with fresh whipped cream without sugar. You can also add berries to cut the sweetness. However, this recipe tends to be on the "less sweet" side.
Let me know what you think in the comment section!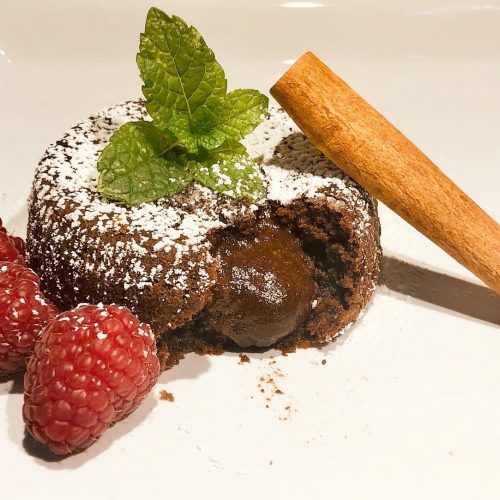 EASY CHOCOLATE LAVA CAKE with sourdough
15 minute simple and delicious chocolate lava cake can be made with or without sourdough starter.
Ingredients
70

grams

chocolate chips

Semi sweet

45

grams

butter

25

grams

sourdough starter

You can substitute this for 1 Tbsp of all purpose flour.

8

grams

sugar

1

large

egg

1

egg yolk

¼

tsp

pure vanilla extract

⅛

tsp

salt

Cooking spray for ramekins
Instructions
Preheat oven to 395° Fahrenheit , 200° Celcius.

Combine chocolate chips and butter into a microwave safe bowl.

Melt chocolate chips and butter until all the butter is completely melted. Approximately 1 minute depending on the strength of your microwave

Stir to mix melted chocolate and butter until well blended.

Beat eggs and sugar together in another bowl until frothy and light in color.

Add starter, vanilla and salt to egg mixture and beat until incorporated

Add chocolate mixture and beat until incorporated

Place mixture in 2 greased ramekins (preferably with cooking spray). If they are not well oiled, the chocolate lava cakes will not dislodge from the ramekins

Place the ramekins onto a baking tray and bake according to your desire of doneness. 10-12 minutes.

Set timer for 10 minutes

Remove from oven and let cool for 2 minutes. The lava cake should retract from the edges. If not, separate with knife.

Remove chocolate lava cakes from ramekins and plate to avoid overbaking.
Notes
Makes 2 chocolate lava cakes.
Although this recipe has a built-in timer, the clock will stop if you exit the program or your device goes to sleep. Sorry!
Nutrition
Serving:
4
oz
Calories:
390
kcal
Tried this recipe?
Let me know how it was or if you have any questions or suggestions!