I am starting to appreciate hearty breads that keep me feeling full for longer periods of time but are not too dense. Try making avocado toast with this nutritious high fiber seeded bread. It's so delicious and filling! Whole wheat flour behaves so much differently that regular white bread flour. Whole wheat flours require higher hydration and gluten development is a lot slower. So, here is the crumb from this high fiber seeded sourdough recipe! The key to having this bread be less dense than usual is in the long cold proofing process! This is definitely a slow-grow process, but the results are well worth it.
Tips for making high fiber seeded sourdough
Time.
In order for the sourdough lactobacilli to penetrate the outer shell of the wheat germ, it requires time. This process breaks down the flour and maximizes the bread's nutrition. I have found that a longer autolyse process, and an hour of warm fermentation before putting it into the fridge for a 36 hour cold proof helps make this high fiber bread less dense and moist. (The chia seeds also help!) It also results in a fabulous ear for those who care about their sourdough aesthetics!
If your kitchen is very cold, I recommend you bulk and warm ferment your dough in the oven with just the oven light on. This provides enough heat to get the sourdough cultures to do its work without you having to buy a proofing oven. You will be surprised that this whole grain dough will almost double in size and you'll get a better rise!
High Fiber.
This particular high fiber seeded sourdough bread has 7g of fiber per slice. The high fiber comes from the addition of whole wheat flour, spelt flour and bulghur wheat.
Whole wheat flour.
In my experience, working with whole wheat dough is pretty sticky throughout the dough making process. Avoid adding any flour during bulk fermentation. Rather, just use wet hands to make your stretch and folds until the shaping.
Spelt flour.
Spelt flour is known as an ancient whole grain flour. It is the entire head of the wheat head, including the outer layer or bran that is ground which is where the B vitamins, fatty acids, protein, minerals and fiber are.
Bulghur wheat.
Bulghur wheat is cracked whole-grain kernels of wheat. It is usually used in Mediterranean dishes and is very nutritious.
The bulghur wheat comes in various coarse sizes. I prefer the medium grind as it provides just enough mouth feel without being too large. This too requires time to rehydrate. Bulghur wheat is also used for tabouleh which is a delicious salad.
Because whole wheat flour requires high hydration, it is important to allow the flour to fully absorb the water with at least a 60 minute autolyse.
Inclusions. (Seeds)
When adding inclusions to your dough, some seeds require a long, overnight soaking while others require a shorter soaking. This high fiber seeded sourdough has chia seed which, in my opinion, gives the moistness to the whole wheat bread as the chia seed retains moisture. I've experimented with various hydration ratios with chia seeds and found that a 1:3 chia seed to water ratio works well in bread. As a result, chia seeds require a long soaking. It is preferable to soak them overnight. The seed mix should be so thick that a teaspoon can stand on end! If you forget to soak your chia seeds overnight, you can hydrate them with boiling water, and allow the seeds to soak for at least an hour until all the water has been absorbed and the mixture is at room temperature before adding it to the dough.
I like adding these inclusions before bulk fermentation. The seeds will then have time to disperse throughout the dough during of the course of the various stretch and folds.
Cold proofing
After the stretch and folds and the shaping, allow the dough to rest in a covered banneton for an hour at room temperature to allow it to rise a little. Then place it in the refrigerator for 36 hours! Yes, it's a long cold proof time, I know! Remove the dough from the refrigerator just before scoring and placing it in the preheated dutch oven for baking.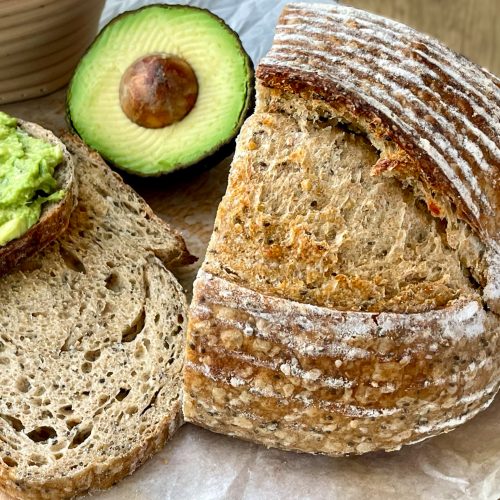 HIGH FIBER SEEDED SOURDOUGH BREAD
High fiber multigrain sourdough bread is more moist and nutritious than regular sourdough with a combination of whole wheat, spelt and bread flour plus a variety of nutritious seeds. Moist, nutritious and absolutely delicious!
Equipment
Cast Iron dutch oven

2 Large Bowls

Bread lame, razor or pair of scissors

Dish towel to cover dough
Ingredients
Seed mixture
40

grams

chia seeds

20

grams

sesame seeds

20

grams

bulghur wheat

160

grams

boiling water

water for soaking seeds

rice / bread flour mixture

Used for dusting your proofing bowl / banneton
Instructions
Prepare Ingredients the night before
Making your bread dough
Sift you bread, spelt and wheat flour into a bowl.  I do this because some bread flours are very refined and clumpy.  Sifting helps remove those clumps.

In another bowl, add your levain to your lukewarm water and stir to mix.  It does not have to dissolve.

Add your flour mix to the levain water.  Combine to a shaggy dough.

Let it rest for 1 hour to autolyze. This allows the flour to completely absorb all the liquid making it easier to work with.
Kneading your bread dough
The dough is now ready for bulk fermentation where it will develop its flavor and body! Ambient temperatures between 70-80 degrees Fahrenheit will take 3 hours for bulk fermentation

Using wet hands, pull and stretch the dough out at the top and fold it back on itself, I then rotate the dough a quarter turn and do the same thing 16 times. (4 complete revolutions!) See https://sammywongskitchen.com/kneading/

Let dough rest for 30 minutes. You will notice that the dough will become more pliable with time. Cover and let sit for 30 minutes. Don't forget to set your timer! 

Set timer for 30 minutes

Let it rest for 30 minutes.

Set timer for 30 minutes

Let dough rest for 30 minutes

Set timer for 30 minutes

Let dough rest for 30 minutes

Set timer for 30 minutes

Let dough rest for 30 minutes

Set timer for 30 minutes

Let dough rest for 30 minutes

Set timer for 30 minutes

Knead dough. The dough should be soft and pliable. If not, continue bulk fermentation for another 30 mins - 1 hour.
Shaping your bread dough
Pull dough out of the container, weigh your dough and divide accordingly if making smaller bolles.  This recipe is for 1 large loaf.  However, you can make 2 smaller bolles by dividing you dough into 2 bolles and using  a 2 quart cast iron dutch oven.

On a floured surface, lightly dust your divided dough with flour and work it into a round by pulling it towards you and rotating.  It should become somewhat taut as you pull the dough. Part of your goal is to remove most of the air bubbles that were created during the fermentation process. See Cutting and Shaping your Dough in my Tips & Tricks section.

Let it sit for 15 minutes.

Prepare your banneton (Coiled rattan baskets for proofing) by generously dusting the bowl or banneton with your bread and rice flour mixture. Dust the tops of your loaves with flour and place it in a bowl or banneton to rise. 
Cold Proof
Place your bowls in a plastic bag and allow to proof in a warm place for one hour.

After proofing in a warm place, place the bread dough in the refrigerator for 36 hours!
Scoring your dough
The dough should be loose but not impossible to handle after proofing.  If you are new to bread baking, ​you can use the following ways to get your dough into the cast iron pot. Take a piece of parchment paper that will generously cover the top of the bowl/banneton.  Place it over the bowl/banneton. Move your bowl / banneton over the cast iron dutch oven, flip the bowl / banneton and gently lower into the dutch oven.

If you have a cast iron skillet / dutch oven set as shown on my "Helpful Tools" section.  Place the shallow skillet over the proofing bowl / banneton and flip.  After scoring, cover the dough with the dutch-oven section and place it in the oven with the skillet on the bottom.

If you have a cast iron pot, transfer your dough into the cast iron pot.

Dust the top of the dough with a little more flour and score the bread by cutting it with a razor blade, bread lame,  or a pair of scissors..  Scoring the bread allows the dough to expand during baking and gives your dough a pretty design. See Scoring your dough in my Tips & Tricks section.  Cover with lid.

Reduce oven temperature to 450°F

Bake for 25 minutes.  Smaller 2 quart bolles should bake for 20 minutes.

Set timer for 25 minutes for large bolle

Set timer for 20 minutes for small bolle

Remove the lid and continue baking for an additional 25 or 20 minutes respectively.

Set timer for 25 minutes for large bolle

Set timer for 20 minutes for small bolle

Remove from oven and remove from dutch oven and let cool on wire rack. 
Notes
Makes 1 loaf / bolle in a 3.3 qt (24cm) cast iron dutchoven.  I have allowed this bread to cold proof for 36 hours in the refrigerator and the bread had good oven spring and one of the best crumbs that I've had!
Nutrition
Serving:
1
Slice
Calories:
285
kcal
Carbohydrates:
52
g
Protein:
10
g
Fat:
4
g
Saturated Fat:
1
g
Polyunsaturated Fat:
2
g
Monounsaturated Fat:
1
g
Trans Fat:
0.01
g
Sodium:
441
mg
Potassium:
142
mg
Fiber:
7
g
Sugar:
0.2
g
Vitamin A:
5
IU
Vitamin C:
0.1
mg
Calcium:
75
mg
Iron:
2
mg
Net Carbohydrates:
45
g
Tried this recipe?
Let me know how it was or if you have any questions or suggestions!