My husband and I love this salad. It reminds us of the good ol' days, pre-kids and living in Pasadena, CA. We used to go out with friends to a small hole-in-the-wall Chinese restaurant called Wong's Family Restaurant which has since closed down. This mom-and-pop establishment served home-style dishes. One of our favorites was the Chinese chicken salad with peanut dressing. On a hot summer's day when the temperature was over 90 degrees, there was nothing better than this cold delicious salad. This salad had noodles, lettuce, some carrots and this wonderful peanutty dressing. Over the years, I developed my own version of this dressing and added a few ingredients that I thought were lacking in the original dish. This salad is so easy to fix and great to bring for potlucks!
TIPS
This Chinese chicken salad is a meal all on its own. It has vegetables, protein and carb topped with a delicious dressing.
Matchstick vegetables: For the vegetables, you can use thinly shredded lettuce or julienne carrots and cucumbers. I like to use my mandoline cutter which cuts the carrots and cucumbers quickly and uniformly. A mandoline is a handy tool for these kind of tasks. See Helpful Tools.
Peanut Butter: The peanut dressing that I developed over the years is a combination of sweet, salty, tangy with a little "heat." You can always omit the chili sauce if you don't like spicy. If anyone is allergic to peanuts, you can substitute it with another nut butter like almond butter. I prefer to use creamy peanut butter that has no added sugar or salt. If you have another style of peanut butter in your pantry, don't go running out to purchase a new one. Use the one you already have but tweak the recipe accordingly by reducing either the salt or the sugar.
Heat: I like a hint of spiciness in this dressing. It calls for chili sauce. It is preferable to use the Chinese chili paste like Sriracha or Sambal Oelek and not the liquid type like Tabasco.
Noodles: I use any noodle that would retain its integrity. There are some noodle like rice vermicelli or mungbean noodles that are better in soups and would separate in liquid. I would stay away from these types of noodles as it would be difficult to mix your other ingredients into noodles. Since the dressing is tasty and delicious, you would want to have this taste to be absorbed into the noodles. Do not overcook your noodles. Cook noodles al dente which will not only give the noodle firmness, but it will also allow the noodle to absorb some of the tasty dressing, resulting in a tasty noodle. That being said, I tend not to salt my water when cooking the noodles for this dish.
Otherwise, let me know what you think in the comment section.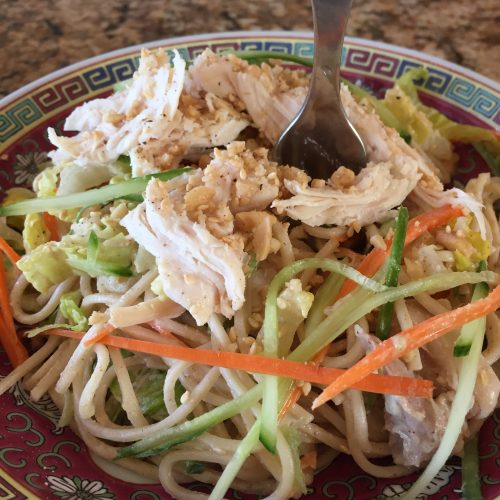 CHINESE CHICKEN SALAD WITH (SPICY) PEANUT DRESSING
Chinese chicken salad with peanut dressing. This salad is a meal on its own with noodles, chicken, vegetables and a unique peanut dressing. Simply delicious.
Ingredients
50

grams

dried noodles.

Use noodles that don't stick together

25

grams

shredded lettuce

25

grams

julienne cut carrots

25

grams

julienne cut cucumbers

50

grams

shredded cooked chicken
Peanut Dressing
2½

Tbsp

peanut butter

Preferably without sugar and salt

2

Tbsp

rice vinegar

1

Tbsp

sesame oil

2

tsp

honey.

Can use sugar if you don't have honey

1½

Tbsp

light soy sauce

1

tsp

chili sauce.

Like Sriracha

1

scallion

1

clove

garlic

⅛

tsp

salt

⅛

tsp

white pepper

2

Tbsp

water
Salad Topping
Crushed roasted peanuts

optional

Toasted sesame seeds

optional
Instructions
Make Peanut dressing
Combine all the ingredients for the peanut dressing into a blender

In a large mixing bowl, mix together noodles, chicken and vegetables

Add peanut dressing depending on your taste.

Sprinkle with roasted peanuts and sesame seeds. You can serve this individually as well.
Nutrition
Serving:
2
people
Calories:
250
kcal
Tried this recipe?
Let me know how it was or if you have any questions or suggestions!