South Africa, being once a British colony, adopted many British traditions: from morning and afternoon teas to savory pies like steak and kidney, mince, cornish and sausage rolls. When I attended a private Chinese School during my elementary school years, since Chinese were not allowed to go to government public schools, I remember being able to buy a savory mince pie for 25c from the "tuck shop". They were so delicious. I have to admit that my favorite was the steak and kidney or the chicken pie. Unlike the pot pies in the US that need to be eaten with a fork and knife, these pies are usually hand held with just the right amount of gravy so that they don't fall apart.
The dough is made with a puff pastry. I used to make my own puff pastry until I realized that the GOOD store-bought ones were just as good without having to spend hours to get the same result! It is the quality and quantity of the home made filling that makes the difference!
When making these pies, I usually make extra since these pies freeze well. It makes an easy mid-week dinner when you don't feel like cooking. You just need to bake them, toss a salad or make a soup and voila, dinner is served.
Tips:
Filling. You can literally make any type of filling for your hand-held savory pie. I have made a non-spicy turkey mince and a curried turkey mince filling simultaneously, assembled several dozen with family members and froze most of them for future use.
The filling should be moist and not dry. If your filling is soupy after simmering, thicken it by adding a little bit of cornstarch mixed with water. The gravy should congeal after refrigeration. It is best to fill the pies when the filling is cold as the pastry dough will be easier to work with when the butter in the dough is not melting. It also helps during the baking process. The bottom of the pie will cook and crisp up before the gravy liquifies and makes the dough soggy. I usually make the filling the night before and refrigerate it before making the pies.
Puff pastry. Not all puff pastry is the same. One time, I purchased a few packages that were on sale without looking at the ingredient list. When I tasted it, I was so disappointed. I could taste and smell the margarine! So, look at the ingredient list. It is preferable to buy puff pastry made with butter. Puff pastry is SO versatile, you can make appetizers, entrees and desserts with them. I will be uploading recipes of some of the creations that I've made in the past with puff pastry so don't throw away your excess dough!
Rolling the pastry dough.
I have found that some brands of frozen dough for these pies are a little too thick. I usually roll the dough to a a little thinner than 1/8" (3mm) thickness which is perfect for these pies. (The Trader Joe's brand is 1/16" thick). How do you get your dough to a certain height? I usually eye-ball the thickness until my sister showed me her dough measuring sticks. They are great for making a pastry dough of uniform thickness. However, I have found that you can get FREE measuring sticks that work well.
Any paint store or home improvement store like Home Depot or Lowes will give you paint sticks. The 1 gallon paint stick is 1/8" in height which works well for pie crusts, the 5 gallon paint stick is 1/4" in height.
Cutting the pastry dough.
You don't have to buy a special pastry dough cutter to cut your pastry. You can either use a knife or a pizza cutter.
Filling and sealing the dough.
It is easier to make rectangular pies rather than triangles, unless you purchase dough that already comes in squares. Do not over stuff your pie with filling as the filling will ooze out, but you also do not want to be stingy with your filling! Fill the bottom half with filling, ensuring sufficient space on the sides for proper sealing. Dip your fingers in a bowl of water and run it along the edge of the pastry to make it sticky. Fold the top of the pastry over and using the tines of a fork, depress it into the pastry to seal it.
Brushing your pies with an egg wash helps to give your pies the glossy appearance.
Baking the pies.
Bake in a 350 degree farenheit oven. I suggest 25 minutes as a ballpark. The entire pie should be golden brown. The bottoms should be cooked and crispy. If the top of the pies are somewhat translucent, it is not completely cooked. Also, if you are baking pies from a frozen state, you may need to reduce the temperature after the crust has browned to allow the filling to heat up.
Freezing the pies.
Brush the egg wash onto the pies before freezing. Freeze your pies by placing them on a baking tray, making sure that they do not touch each other. Once the pies are completely frozen, remove them from the tray, place them in a freezer bag and store. You will now be able to stack the frozen pies without them sticking to each other.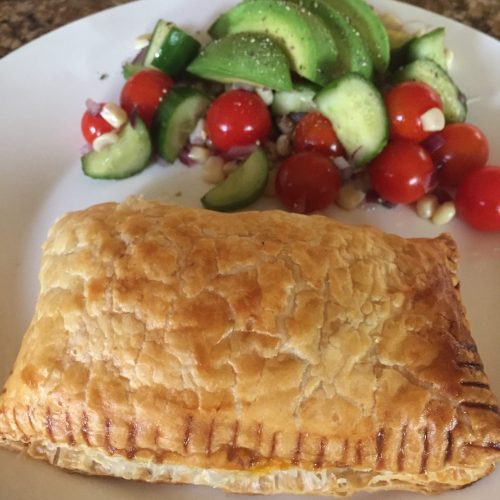 SAVORY CURRIED MINCE PIES
These savory curried mince pies are made with a curried ground meat enveloped in a puff pastry and baked to perfection!
Ingredients
454

g

Ground beef / chicken / turkey

1 lb

2-3

Tbsp

oil

1

potato

1

medium

onion

½

Tbsp

minced garlic

½

Tbsp

minced ginger

(You can substitute with 1 Tbsp of garlic ginger paste)

2

Tbsp

tomato paste

½

tsp

salt

¼

tsp

pepper

¼

cup

kefir

(Substitute with yoghurt or stock)

3

Tbsp

fresh chopped cilantro

½

cup

frozen peas

1

egg

water

For sealing the pies and egg wash.
Spices
2

tsp

ground coriander

2

tsp

ground cumin

2

tsp

tumeric powder

1

tsp

cayenne chili powder

1

tsp

curry powder
Instructions
Curried Mince
Dice potato to a medium 1/2" cube.

In a large saucepan, heat 2 Tbsp oil before adding garlic, ginger paste.

Add diced onion and fry until translucent.

Add the ground coriander, cumin, tumeric, chili and curry powder to roast the spices. Move this to one side of the saucepan.

Add the ground meat and brown. If you are using a high fat content meat such as beef, fat/oil will exude from the meat. Drain excess fat, but retain enough to fry potatoes. Move meat to side of saucepan with spices.

When the potatoes are partially cooked, stir it with the spices and meat.

Add tomato paste, kefir, salt and pepper.

Add frozen peas and simmer for another 5 minutes.

Add chopped cilantro and stir.

Cool mixture completely before making pies
Folding Puff Pastry
Depending on the puff pastry you purchased, the thickness should be slightly less that 1/8" or 3 mm.

Cut your pastry dough with a pastry cutter, pizza cutter or knife to squares or rectangles, depending on the original shape of the dough.

Add the cold filling to the bottom half of the pastry, making sure you have sufficient space to seal the pie.

Dip your fingers into the water and run it around the pastry edge to make it tacky.

Fold over the top half of the pastry to seal.

Seal the dough edges by lightly pressing the fork tines into the pastry.

Whisk egg in a bowl with 2 teaspoons of water.

Brush pies with egg wash.
Baking Pies
Preheat oven to 350° farhenheit

Bake for 25 minutes or until pies are golden brown. The bottoms should be crisp and the tops should not look translucent.
Freezing Pies
Place unbaked pies on a baking tray, making sure they don't touch.

Store in a freezer bag for future consumption.
Notes
Nutritional values are based on recipe using ground beef.
Nutrition
Serving:
6
g
Calories:
313
kcal
Carbohydrates:
13
g
Protein:
17
g
Fat:
22
g
Saturated Fat:
7
g
Trans Fat:
1
g
Cholesterol:
82
mg
Sodium:
315
mg
Potassium:
548
mg
Fiber:
3
g
Sugar:
3
g
Vitamin A:
372
IU
Vitamin C:
15
mg
Calcium:
70
mg
Iron:
4
mg
Tried this recipe?
Let me know how it was or if you have any questions or suggestions!