The basis of this cheese twists recipe comes from my years at a private school in South Africa. I attended a British all-girls boarding school during junior high where part of the curriculum was to take a "domestic science" class. In domestic science, we learned how to cook and sew! Although these classes would now be considered politically incorrect, I did learn a few things that have stuck with me like the cheese twists and sausage rolls recipe.
I remember that just making the pastry dough took an entire class, it was that time consuming! These days, I just buy a good store bought puff pastry.
Tips.
Cheese. Use good sharp tasting cheese that melts! Besides the basic cheese and mustard, you can experiment with other ingredients. My advice would be to make sure that the ingredient does not make the pastry soggy and won't weep during the baking process. For example, spinach may not be good, but crisp bacon crumbles will work. Herbs and spices are a good option.
See my blog on Puff pastry to the rescue in my Tips & Tricks section for other basic puff pastry tips.
Puff pastry is easier to manage when the pastry and surface is cold and well-floured. If you have store bought pastry that contains a fat other than butter, it will probably soften faster, making it a little more difficult to work with when it's warm.
Spreading a thin layer of good mustard brings out the cheese flavor.
Use half the cheese on the first layer, making sure that the cheese goes to the edge of the pastry.
Add the second pastry layer onto the first, making sure the edges touch each other.
Sprinkle the other half of the cheese onto the top of the 2nd layer of pastry dough.
I use the measuring sticks to roll the pastry and embed the cheese into the dough. By placing the measuring sticks on either side, it keeps the pastry in shape. The measuring sticks also help obtain a uniform pastry height.
Adding the egg wash after the pastry has been rolled and before being cut is easier than trying to add the egg wash when the dough is cut and twisted.
Cutting dough with a pizza cutter is easier than with a knife. If you don't have a pizza cutter, I would suggest using a long non-serrated chef's knife that covers the width of the pastry and depressing the knife to separate the pastry. Otherwise, the pastry tends to pull, especially when it's not cold.
Twist the pastry and pull it slightly to lengthen the dough. You want the dough about 1/2 - 3/4 " (1.25-2 cm) thick. If it is too thick, it will not crisp up, but will still taste delicious.
For the cheese twists, I don't put them on a silicone mat. You could use foil or parchment paper. You want the baking tray surface to get hot quickly so that it will cook and crisp the twists. Otherwise, you end up with soggy bottoms and burnt cheese!
If you've tried this recipe and made your own creations, let me know in the comment section! I'd love to know other people's suggestions.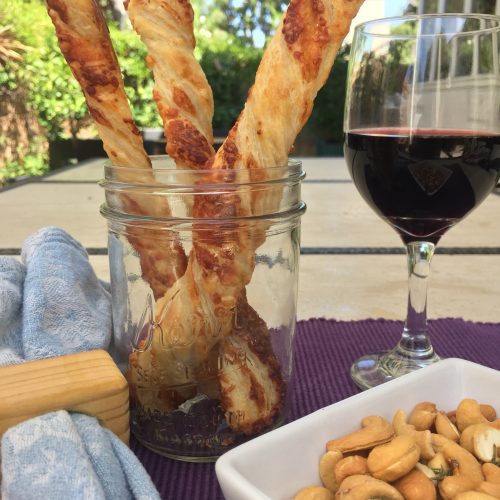 CHEESE TWISTS
Quick and easy gourmet cheese twists made with cheese, puff pastry, dijon mustard and egg. Simply delicious.
Ingredients
510

g

puff pastry

1 package

100

g

grated cheese of your choice

Extra sharp cheeses work better than subtle tasting cheeses

2

Tbsp

dijon mustard
Egg Wash
1

egg

for egg wash

1

Tbsp

water
Instructions
Preheat oven to 350° fahrenheit

Roll your puff pastry dough until it is ¼ "(about ½ cm) in height. If using store bought pastry, unroll pastry.

Using a spatula or knife, spread a thin layer of dijon mustard onto the dough.

Add half the grated cheese to the first layer of the dough.

Place the second pastry dough onto the first pastry

Roll the pastry out to compress the cheese until it is about 3/8 "(a little more that 1cm) in height.

Combine and whisk water and egg to form an egg wash.

Brush pastry with egg wash.

Using a sharp knife or pizza cutter, cut dough into 1/2" (1.25 cm) strips.

Twist and pull slightly and place it onto a baking sheet. If the twists are too thick, they won't crisp and will be softer.

Bake for 12-15 minutes until golden brown and crisp.

Let cool slightly and serve warm.
Notes
For this recipe, you will need 2 sheets of puff pastry.  Make sure that each sheet is the same size.
Nutrition
Serving:
12
g
Calories:
275
kcal
Carbohydrates:
19
g
Protein:
6
g
Fat:
19
g
Saturated Fat:
6
g
Trans Fat:
1
g
Cholesterol:
22
mg
Sodium:
191
mg
Potassium:
43
mg
Fiber:
1
g
Sugar:
1
g
Vitamin A:
106
IU
Vitamin C:
1
mg
Calcium:
68
mg
Iron:
1
mg