This braised soy sauce pork belly dish is adapted from the traditional braised pork belly with black bean sauce. I love this dish because you can make it a one pot meal with mung bean noodles that soak up the delicious sauce from this stew.
This dish can either be made in a regular saucepan or pressure cooked in an instant pot.
Tips to making this braised soy sauce pork belly.
For this dish, I usually cook the pork a day ahead of time so that the pork can be cooled in the refrigerator to remove most of the fat that is rendered (melted) during the initial cooking process.
Pork.
When buying pork belly, find a piece with minimum fat. However, this is personal preference. Some of the fat will render into oil which can be removed when refrigerating the sauce overnight. Removing the fat layer may not be necessary if the pork is very lean and you can tolerate fatty foods. However, I tend to be health conscious and tend to buy lean pork AND remove the fat, much to my one daughter's disappointment.
The pork skin exudes more oil during browning when the skin is pricked with a tenderizer or lacerated with a sharp knife.
Tenderize the pork skin prior to cutting the pork belly into 1.5" (4 cm) cubes.
Brown the cubes of pork belly before adding the diluted soy sauce chicken mixture helps render the fat due to the higher surface temperature.
Allow the pork belly to pressure cook with the soy sauce chicken mixture for 15 minutes to somewhat soften the meat. After this step, the meat can be cooled and the congealed fat can be removed.
Vegetables.
Shitake mushrooms, Chinese radish (daikon) and potatoes are usually added to this pork stew. The potatoes absorb the saltiness of the sauce. Do not use baking potatoes as they tend to disintegrate under pressure! However, this will just create a thicker sauce. Cut the vegetables in chunks similar in size to the cubed pork.
Pressure cook this for an additional 10 minutes to soften the vegetables and allow the sauce and vegetables to blend together.
Thickening the sauce.
Thicken the sauce with a cornstarch water slurry by adding it to the soy sauce mixture while the mixture is at a boil on the "saute" mode of the instant pot.
Making the braised soy sauce pork belly a one dish meal.
To make this a one dish meal, add softened mung bean noodles, or any other noodles that do not get too soggy in a liquid, to the stew before serving. The sauce for the stew will flavor the noodles.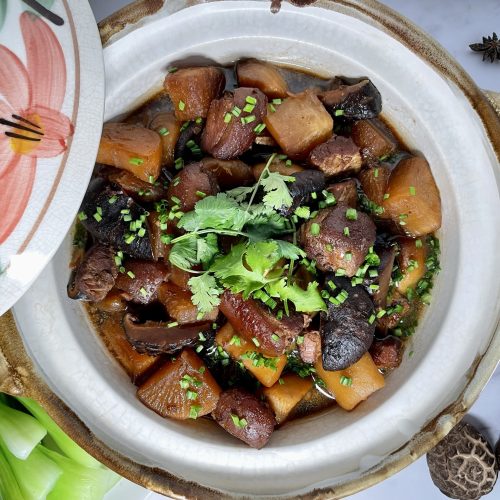 BRAISED SOY SAUCE PORK BELLY
Pork belly is braised in a soy sauce or from your leftover soy sauce chicken mixture, shitake mushrooms, daikon and potatoes. This dish can either be made in a saucepan or instant pot.
Ingredients
1

kg

large piece of pork belly

2

cups

chicken soy sauce mixture

to cover meat from soy sauce chicken recipe

1

Tbsp

cooking oil.

½

cup

water

to dilute sauce
Soy sauce mixture from scratch
Thickener
1

Tbsp

corn starch

¼

cup

water
Vegetables
4

medium

non-baking potatoes

1

small

daikon
Instructions
Preparing the shitake mushrooms
Wash shitake mushrooms and soak in some of the soy sauce chicken mixture overnight.

Slice in half or 1" slices.
Brown pork
In saucepan or instant pot, heat with oil

Cook all sides until browned and fat starts to render.
Combine soy sauce from soy sauce chicken recipe
Make soy sauce mixture from scratch
Combine ingredients in saucepan or instant pot

1 Tbsp Shaoxing Chinese cooking wine,

1 cups LIGHT soy sauce,

1½ cups water,

1 Tbsp DARK soy sauce,

¼ cup sugar,

¼ Tbsp Chinese five spice powder,

1 star anise,

1 small cinnamon stick
Making pork belly in saucepan
Making pork belly in instant pot
Cooking vegetables
After removing fat from pork belly, add vegetables to pork belly stew and pressure cook for another 15 minutes or cook in saucepan on stovetop for ½ an hour until potatoes and daikon are soft.

To thicken sauce, combine cornstarch and water to create a slurry.

1 Tbsp corn starch,

¼ cup water

Bring the stew to a boil, add cornstarch slurry and allow to thicken.
Nutrition
Serving:
4
g
Calories:
697
kcal
Carbohydrates:
8
g
Protein:
12
g
Fat:
68
g
Saturated Fat:
24
g
Polyunsaturated Fat:
8
g
Monounsaturated Fat:
32
g
Trans Fat:
1
g
Cholesterol:
90
mg
Sodium:
168
mg
Potassium:
243
mg
Fiber:
1
g
Sugar:
6
g
Vitamin A:
15
IU
Vitamin C:
1
mg
Calcium:
15
mg
Iron:
1
mg
Net Carbohydrates:
8
g
Tried this recipe?
Let me know how it was or if you have any questions or suggestions!