Besides serving the braised Cantonese five spice beef shank on its own as an appetizer, this scallion pancake beef roll is another delicious way to serve the meat. The scallion pancake has just the right crispy consistency and chewiness and the addition of the cilantro for freshness, hoisin sauce for sweetness, beef for savory and pickled cucumbers for "crunch" makes this SO tasty and delicious.
Tips for making scallion pancake beef roll
Scallion pancake.
Since the scallion pancake needs to be rolled like a wrap, if you are making the scallion pancake from scratch, roll the dough out thinner. This will result in a lighter dough. However, do not overcook the pancake as this will make it more difficult to roll. Cook the pancake until there are some golden spots on each side. See the tips from the Scallion pancakes with Chinese sausage recipe.
Don't want to make scallion pancake?
If you don't want to make scallion pancakes from scratch, here's a cheater method that makes a comparable substitute. Some grocery stores sell the uncooked tortillas. Fry these flour tortillas in oil to crisp them. Depending on the amount of saltiness you desire, since the beef is full of soy sauce flavor, sprinkle some salt onto the tortillas according to your taste preference.
Beef.
I prefer to cut the beef into smaller pieces because less is used and it is easier to eat. Sometimes the beef may be a little tough and chewy and cutting the pieces of beef before making the rolls avoids the entire piece of beef from being pulled out of the roll when trying to bite into it.
Sauce.
Hoisin sauce spread on the pancake creates a layer of sweetness and fruitiness. Additional hoisin sauce can be served on the side. Do not overpower your scallion pancake beef roll by adding too much hoisin sauce.
Other fixins.
I like adding chopped cilantro and thinly sliced cucumber. It is preferable to cut the cucumber into julienne cut pieces using a mandoline of sharp knife. Pickle the cucumbers by adding salt, sugar and rice vinegar.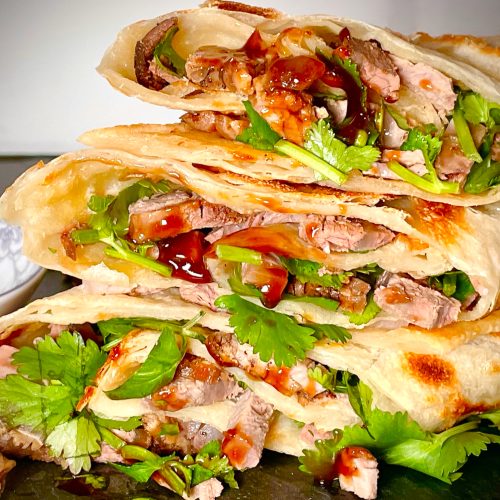 CHINESE SCALLION PANCAKES
Traditional scallion pancakes. The failproof technique results in a flaky, tender pancake with the perfect chewiness and crunch.
Ingredients
125

g

cake flour or all purpose flour

80

g

boiling water

20

g

room temperature water
Filling paste
¼

tsp

sea salt

15

g

chopped scallions

chives

1

Tbsp

cooking oil

or coconut oil

1

Tbsp

all purpose flour
Instructions
Dough
125 g cake flour or all purpose flour

Using a chopstick, add the BOILING water to the dough and mix.

Gradually add the room temperature water and mix.

20 g room temperature water

Cover the bowl and allow to rest for 45 minutes.
Filling
Finely slice scallions. Cut the white part length-wise before slicing to ensure tender scallions.

Combine scallions, salt, oil and flour to make a paste. Cool in refrigerator until dough is ready.

¼ tsp sea salt,

15 g chopped scallions,

1 Tbsp cooking oil,

1 Tbsp all purpose flour
Rolling the pancake
On an oiled surface, roll the dough into a fairly thin large rectangle

Spread the filling over the entire surface of the rectangle.

Cover and allow to rest for at least 1/2 hour or overnight.

Heat about ½ " (1.25 cm) oil in a skillet until 375° fahrenheit (191° celcius)

Remove from oil and place on a wire rack to cool
Nutrition
Serving:
3
pancakes
Calories:
204
kcal
Carbohydrates:
34
g
Protein:
5
g
Fat:
5
g
Saturated Fat:
1
g
Polyunsaturated Fat:
2
g
Monounsaturated Fat:
3
g
Trans Fat:
1
g
Sodium:
197
mg
Potassium:
61
mg
Fiber:
1
g
Sugar:
1
g
Vitamin A:
50
IU
Vitamin C:
1
mg
Calcium:
11
mg
Iron:
2
mg
Net Carbohydrates:
33
g